Read our testimonials also on Trip Advisor »

17. This is an email we received on 25th August 2014
Hi all
I am sorry that it has taken me a while to write formally but I do want to record my thanks to you all for another successful and wonderful evening in Lajatico (both rehearsal and concert) this year.
I am aware that some people were disappointed in the content and, indeed we had no idea that the format would be different to what we have come to accept from Andrea in concert, but to see Cavalleria Rusticana performed was special and we would not have missed if for the world.
As always, your organisation to and from Lajatico was first class and we probably could not, or would not want to do it, without you. We would be grateful if you could let us know as soon as tickets for the
2015 concert are available.
Many many thanks once again.
Evelyn and Michael



16. This is an email we received on 19th August 2014
Dear all
Firstly I would like to apologise for taking so long to send you all this email.

Our time in your beautiful region of Tuscany was truly fantastic, the five days just went so quickly.

Our accommodation was lovely, Alessandro and his team made us welcome and very soon after arriving we felt we were among friends.

Now for the concert........what can I say about such a beautiful venue under the stars and the wonderful Andrea Bocelli. It was a truly memorable evening with the additional surprise of the great Placido Domingo and the fantastic seats that we both had.

We will definately be back, and a big thank you once again for organising it all so well.

Best wishes
Marie & Ray


15. This is an email we received on 18th August 2014
Hi good morning
Just to thank you for all the assistance and wonderful time we've spent there.
We're considering the possibility of returning there next year for the concert so, please keep me in the mailing list.
Cheers Vitor


14. This is an email we received on 6th August 2014
Dear Veronica,
Well, the 2014 Concert is over and we are back home and back to work. The Concert, as expected, was incredible, even though it was very different from Andrea's usual concerts, but the weather was great by the time the concert started and the seats were great. Our seats were not as good as last year but, nevertheless, they were great - maybe next time we can get tickets a little more to the center.
All of the rest of the package you prepared for us was also excellent. We stayed in Volterra and we loved it there. Volterra is a very beautiful area of Tuscany and we truly enjoyed the tour of the vinyard and winery. Everything was exactly as you told us it would be.
In fact, Tony and I so loved Volterra, that we are already talking about next year. Andrea's Facebook page says they are already working on next year's concert and as soon as all papers & contracts are signed, they will announce the date. If you get that date first, please keep us in mind as we would like to make our plans with you again.
Thanks very much and we hope to hear from you.
Ciao,
Tony & Carol


13. This is an email we received on 5th August 2014
Buon giorno, Veronica
Buon giorno a tutti voi
Ancora una volta vi debbo ringraziare per averci dato la possibilità di assistere ad un concerto unico e irripetibile in un luogo magico, nonostante la pioggia caduta copiosa prima del concerto.
L'hotel di San Gimignano lo conscevamo già e, come lo scorso anno, ci siamo trovate bene tra gente cordiale e disponibile in un paese bello e vivibile, tranquillo, per lo meno dentro le antiche mura.
Grazie e a tutti voi e al prossimo anno
Buone ferie a tutti
Michelina


12. This is an email we received on 3rd August 2014
Dear Arianna and Friends
Jeff and I wish to thank you all for our wonderful trip to Tuscany. Your friendly efficiency made our whole trip one that we will never forget.
It was such a pleasure to meet you in person Arianna - on our pasta factory tour and olive farm lunch - your enthusiasm was refreshing and contagious - photos attached as promised. We met some amazing people - all who had booked through your company, and were singing your praises.
Thank you once again.
Very best wishes to you all
Rose and Jeff
The concert was truly a "somewhere over the rainbow" experience!

11. This is an email we received on 3rd August 2014
Dear Friends,
I just wanted to send you all a well deserved THANK YOU for you help and service for my trip to Italy and the Andrea Bocelli concert.
The Armonia Hotel and staff were delightful. Everything was so well organised. I overheard many comments from other guests that had booked with you who felt the same. Your service and care made it possible for me to be able to travel alone with my mobility issues and I thank you most sincerely. If I am able to return to Italy I will certainly be booking with you.
Kind Regards
Penny


10. This is an email we received on 1st August 2014
Liebe Arianna,
nun sind wir wieder Zuhause und das schöne Konzert klingt immernoch nach!!
Wir waren sehr glücklich mit unseren guten Platzkarten und dem charmanten und schönen Hotel San Lino in Volterra!
Nochmals ganz herzlichen Dank für alles.
In der anlage ein kleines Foto vom Abend .
Herzliche Grüße von
Gesima

9. This is an email we received on 29th July 2014
Hello Arianna and Friends:
Sending a couple of pictures to show what a great time we had with some of your
staff. Sorry I don't remember your driver's name, but he was a great part of the tours especially for his
willingness to jump in and help.
Of course Lucca is a great guide. His passion for the area, the people, and his job is infectious. His knowledge of
the area's foods and customs, not to mention wines is impressive and much appreciated by Sue and I.
Congratulations for the work you all do.
Joe and Sue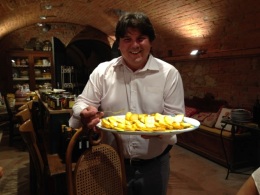 8. This is an email we received on 28th July 2014
Good Morning,
Just want to thank you for the most amazing experience.
It was truly fantastic trip and your organization of everything was so helpful.
I will definitely be referring you to all I know,
Kind regards
Vikki


7. This is an email we received on 26th July 2014
Dear Massimo, here are a few great pix from our pizza making class at Aldo's. Thank you all for everything! I had a fantastic time at Bagni di Pisa, the Bocelli concert and the wonderful pizza making class at Aldo's in the beautiful Tuscan countryside!
Sending my love to you all! Love your style, efficiency, responsiveness to any communication, etc. And of course, your wonderful spirits!
Molte Amore,
Jane (Giovanna)

6. This is an email we received on 25th July 2014
Dear Veronica
Grazie
Ann and I travel around the world a lot and
Also follow Andrea Bochelli on his concerts
We have been MOST impressed with your
Team and organisation
Everything has been very smooth !
Thank u
Yes please keep us informed
Andrea has done concerts in Portofino-we
Would like to see him there as well
Will recommend you to my friends at home
In New Zealand
We will happily entertain you in NZ anytime
Ciao
Parma


5. This is an email we received on 25th July 2014
Hi Arianna,
I am back home now. Thank you to you and your team for your hospitality. Just a reminder to process the credit. Thanks.
Warmest Regards,
Irina


4. This is an email we received on 23rd July 2014
Dearest Arianna,

Susan wrote to you this morning but I would like to add my thanks and it would seem that you and other tour operators have had an influence and the new people who took over the Teatro del Silenzio management this year did a wonderful job.The environment was happy even party like with picnics and bottles of wine popping during the early evening and everybody was relaxed and in a good mood.
If you have the contacts please thank those concerned who helped make this a wonderful evening in Lajatico.

Thank you ,

Dan


3. This is an email we received on 23rd July 2014
Dearest Arianna and ALL your team,



How do we thank you enough??? We arrived home and the opportunity to see Andrea Bocelli again at Lajatico was even better than we could have ever expected.

It is you and your teams attention to detail that makes it so very special. The professionalism, the care, the efficiency, the friendliness gave the evening a party atmosphere to all. No detail was overlooked.It cannot get easier for us .Perfect hotel, good food with great staff !!! Easy transport to the venue and timely return !!! Helpful on site Arianna team staff who looked after us so well.

As for 'Il Maestro' riding past us on horseback at the end of the evening was the 'cherry on the cake'.What world super star takes time to be with his fans in such a way ???

You can book us in for next year.

Once again thank you and your whole team for perfection.

Warmest regards,
Sue & Dan


2. This is an email we received on 22nd July 2014
Dear Veronica,
We would like to thank you for the good organization. We had a wonderful trip. The apartment was on a good location, transportation to the concert was super, a good English speaking driver, the reception with snacks and drinks was very nice and above all; we enjoyed the opera and Andrea. We are very enthusiastic!!!
We love to come next year. Would you please send me an email when the tickets go on sale.
Best Regards,
Belinda


1. This is an email we received on 21st July 2014
Hello Veronica,

Thank you for organizing such a fabulous event for us, everything has been perfect, our friends and ourselves have thoroughly enjoyed our visit to your lovely country. The concert was magnificent and we were pleased with our seats. Thank you again for making this trip another special memory for us to take back to
California.
Best wishes,

Jackie and Haven



30. This is an email we received on 28th July 2013
We would like to add our thanks and appreciation to Arianna and Friends for their expert organisation of this holiday for us. This was our third visit to Lajatico, but our first with Arianna and Friends. We were impressed by the communications that kept us up to date before we left home, and enjoyed the dinner on the first evening in San Gimignano very much. It was a good idea to bring some of us together in advance of the concert, and lovely to find a table reserved for us and everything taken care of, including the bill!
We liked the low-key feel of this holiday, which left us the freedom to do as we liked, but the organisation was there when it mattered most, for the concert evening. We were surprised to see how many people were coming with Arianna and Friends. Being in many different hotels and accommodations, you tended to think there would just be a few of us on the night. How wrong can you be? The seats were fantastic, thank you: brilliant view of the stage, and the concert was as magical as always. These are the memories we shall cherish for ever. And how reassuring it was to find your people at staging posts to direct us back to our buses at the end.
I see lots of people have voiced their concerns about the 90 minute wait to get in, and am heartened to see Arianna has raised it with the organisers. When you consider how long it takes for all those people to get in, queue for the loos, buy programmes and souvenirs, food and drink, and then find your seat, we could have all been in our seats in half the time if they had let us in sooner. And what worries me is that once people realise there is no point standing in a queue, they go off and visit Lajatico etc., coming back much later to avoid the queue, thereby prolonging the start of the concert some more. Another year it could be 10pm before it starts. We would really appreciate a more efficient access system so hope you have the chance to point this out to the organisers.
But all in all, it was wonderful. For me there is nothing to match Andrea Bocelli's singing. He has the power to take you out of all life's problems and send you soaring above it all. We do hope we can come again next year with Arianna and Friends.
A big thank you!



29. This is an email we received on 28th July 2013
Hello Arianna & Friends

I have a few photos to share with you. I hope you will enjoy them as much as I do. Thank you for all of the great tours and assistance and organisation of my holiday in Tuscany. I had a very enjoyable time! You are all great! I made a pizza and foccacia today with Aldo's recipe and the ingredients that I bought in Italy and Presto! they turned out good! Thanks for the great pizza making class at Aldo's. It was so much fun as were all the other tours!

Wishing you all a wonderful summer.

Saluti

Cynthia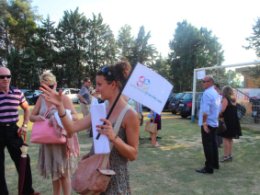 Consuelo directing our guests from the parking area to Teatro del Silenzio



The unexpected waiting line after the barriers to the arena before the entrance


28. This is an email we received on 28th July 2013
Dear Veronica
many thanks for all arrangements , we very much enjoyed the trip, below I've asted our comments for your blog
Best regards
Roger


27. This is an email we received on 27th July 2013
Dear Consuelo,
Thanks a lot for perfect bus transfer service. I'm afraid we did not have a hotel room or a breakfast. Maybe another customer is waiting for your receipt. Please check. We don't need any receipt.
Best regards out of holidays at the Baltic Sea. We have nearly Italian weather (up to 35°C)
Johannes


26. This is an email we received on 27th July 2013
Hello Consuelo
Thank you for the transfers to see Andrea Bocelli. We were very impressed with the organisation, especially as we were picked up from our hotel. It was easy to find someone from Adrianna and friends if we needed help.
I was a travel agent for over 30years and retired as a shop manager for Thomas Cook last December. My friend still works for them as a travel consultant and we shall have no problem recommending you friends and family.
Thank you once again.
Regards
Tina


25. This is an email we received on 27th July 2013
Boun giorno.
Just a quick line to express our appreciation for the excellent arrangement for our trip to the concert. Everything went extremely well, from our pick-up at the airport (an excellent driver and very courteous), to the arrangements on the night itself. Our intention at this point in time, is to return for the event next year and were wondering if you ran a mailing list, informing clients of the opportunity to book well in advance. I would be pleased to hear from you if this is something you offer.
Finally, I have only one criticism, which pertains to the hotel side of the trip. We were attracted to this particular hotel because it offered access to a swimming pool. However, when we arrived we were informed that the pool was not in service, a seasonal closure. We were told that we could use it if we wished, but on inspection it was obvious that the water wasn't circulating and looked quite cloudy. I do think that we should have been made aware of this before we travelled and then given the option of an alternative hotel.
That said, I repeat that we remain very impressed with the attention to detail given by your operation.
Graham & Sue


24. This is an email we received on 26th July 2013
Dear Arianna
We say a big thank you for the organisation for Bocelli. What a beautiful evening although the queue was long and the concert started late.
It was a very special experience for my wife and I. We had originally seen the Vivere concert on TV which inspired us to come.
Tuscany is such a wonderful place and the Hotel and people in Chianni deserve a special mention.
We will be back in Italy soon.
Ciao
Howard


23. This is an email we received on 25th July 2013
Hi,
thank you, we were delighted with the transport and would use your service in the future...just have to get tickets for the next concert now!
Love,
Annie -x-


22. This is an email we received on 24th July 2013
Dear Consuelo,
Thank you very much. We did indeed enjoy our stay very much. And will sure return in the future.
Kind regards,
Erwin


21. This is an email we received on 23rd July 2013
To all of you at Arianna & Friends
Thank you so much for suggesting the truffle tour on Monday 15th - we had a brilliant time and managed to find 4 truffles! The occasion was amazing and Lucca truly inspiring with his little dog.
Thank you also for the organisation of the concert tour from San Gimignano to Lajatico, the bus was totally organised it is a shame the same cannot be said about the wait for the concert!
We would definitely use your services again,
Best Regards
Andy & Lucinda


20. This is an email we received on 23rd July 2013
Dear Consuelo,
thank you very much for the receipt.
Our time in Tuscany was great. Thank you very much for your brilliant organisation and care.
Best regards,
Sonja


19. This is an email we received on 23rd July 2013
Dear Consuelo,
Thank you very much and as we already spoke, we enjoyed every moment of our trip and specially the Bocelli concert, so we are very much looking forward to be back there again next year :)
I tried to find the list of the accommodations/packages at your homepage, that you offered for this year's concert, but guess you have removed it, as the event has passed. Still, is there any chance that you could send me the list of the accommodation packages that you offered this year or at least the list of the accommodations that you had a deal with, so I can do some selection upfront (though it would be nice to know the price and period of the various packages as well).
Thank you very much for everything!
a presto
Kaidi & Eero


18. This is an email we received on 22nd July 2013
Dear Arianna, Veronica and Colleagues
Now that we are home safely, we just wanted to thank you all for the wonderful time we had in Tuscany last week - all the arrangements were perfect, the Andrea Bocelli concert was one of our most memorable evenings ever, and the hospitality of Guiseppe and his family at Fabbiana superb.
We had never been to Tuscany in sunflower season - how beautiful it is.
In this day of the internet, I know that clients can sometimes be extra cautious so if you ever wish to receive a reference from us, please do not hesitate to contact us. It will be "shining" like the Tuscan sun!
With Best Regards
Martin & Gill


17. This is an email we received on 22nd July 2013 (replying to an email she received from us, where we were making sure if an annoying passenger on her bus disturbed her during her transfer to Lajatico)
Dear Massimo

I have only just returned home yesterday evening and just now have read your email. Thank you for your concern. Yes, Angela and Marco are correct, the passenger was very aggressive and his behaviour was uncalled for. Unfortunately, people like that do spoil events for the rest of us. I actually was more concerned for your staff as it was a difficult situation for them to handle and they did very well. Angela remained quiet and Marco parked the bus as he dropped us off and walked away from him and tried to remain calm. They were both very professional and I could see they were concerned for us and eachother. I was worried for them too and could sympathize with their situation. He was very annoying and his swearing and yelling were unpleasant. It is not your fault. He was also seated next to me in the concert. Lucky me! If I could only be so lucky in a lottery! He also made comments during the concert, he didn't like that "opera sh..", and why couldn't Andrea sing some of the other songs on his cd's which weren't opera! Besides that, the woman on the other side of me decided it was a good time for snacks and started crunching on potatoe chips in my ear as Andrea was singing some beautiful songs or singing along with him! ugh!! It is of course not your fault nor your organization's. People's behaviour is not something you can predict or control. They should be more considerate of others around them. The air conditioning on the bus was just fine. I was comfortable and it was already past midnight so it wasn't too hot outside. He just wanted to be difficult. He even swore at the women who got off the bus to exchange thier vouchers for tickets. He was obnoxious about everything!
As it turned out all of us girls walked back to the hotel together and shut the elevator door on him so he had to wait!

After all is said and done, my evening was not spoiled. On the contrary, it was a beautiful evening and the concert was spectacular. Your staff were so kind to me, all of them, every day and every place or on every tour which I took. They all treated me so kindly and I was really pleased with the service they provided. The vans were also very nice and the drivers drove safely and cautiously and were always alert at the wheel. Thank you for taking such good care of me. The hotel in San Miniato was very good and really gave us a good welcome dinner and apero. They too were very kind to me. Additionally, my extended stay in the Villa was also very pleasant. The pool in the hot weather was terrific! They had a bottle of Andrea Bocelli wine which I was able to purchase before I left and will try it on a special occasion.

The location of the concert was not a problem for me, not with your assistance. I was happy to be able to go to the concert and could not have gotten there without you. I have wanted to come for many years but was worried because I know it is not located easily in a location where public transportation is available and since I do not have a car or know the area have shyed away from coming. However, you have shown me that it is possible and I would very much like to come again. If my job and good health remain I will contact Arianna and Friends again next year to arrange all the details and assist me once more.

It was my first time to Tuscany and it is a beautiful region. I would love to visit again! I had a wonderful time!

I have not yet downloaded my photos but will send you a few as soon as I do for you all to enjoy.

Thank you to you and your staff. My holiday in Tuscany will be a very memorable experience.

Saluti and Grazia Mille!

Cynthia


16. This is an email we received on 22nd July 2013
Thank you for making our night so wonderful. We could not have done it without your company. You guys are truly fantastic!


15. This is an email we received on 21st July 2013
Hi Veronica and everyone !!

Just wanted to say a very big 'Thank you' for helping us with our booking and our stay in Tuscany.

We had an amazing time, our hotel, transfers, concert tickets....everything was so well organised we just wanted to thank all of your team.
It was so lovely to meet Arianna and all of the team on the night of the concert, you are all so lovely and it was great to meet you all in person, thank you so much.

We didn't know what to expect but everything worked out perfectly, our only regret is that we didn't stay longer, 4 days wasn't enough but the trip was wonderful and we want to do it all again next year !

We found the concert quite emotional, Andrea is such a brilliant performer and the setting was perfect, our only comment was that the gates didn't open early enough and we all had to wait in the heat for too long, perhaps next year they will do things differently.

Thank you again for making my husband's birthday surprise such an incredible experience to remember

Please pass on our thanks to Arianna and all of her lovely team

Best Regards

Julie and Colin



14. This is an email we received on 21st July 2013
Hello Arianna

It was so nice to meet you in person last weekend. I just wanted to drop you a note to say thank you so much for organising everything, we had a perfectly wonderful time; Andrea's concert was brilliant and staying at Fattoria Giuseppe was fantastic; we had a lovely time there and were able to celebrate our wedding anniversary weekend in a really special and memorable way.

Thank you and your wonderful team again.

Kindest regards
Celene


13. This is an email we received on 20th July 2013
Hi Arianna
It is hard to believe that it is now a week since we were in Lajatico!
It was wonderful and I just want to say thankyou to you, Veronica, Conseula, Massimo and everyone who helped to make the trip a lasting memory. I hope that we will be able to come again in 2014.
With very best wishes
Evelyn


12. This is an email we received on 19th July 2013
Dear Arianna and friends,
We would like to thank you for helping us have the most wonderful few days of our lives to celebrate 40 years of marriage.
The hotel package at Villa Bianca was superb from the welcome we received from Antonio and staff to the room, the food & concert buffet, swimming pool and the grounds and your arrangements which all went like clockwork. The tickets you obtained for the concert were absolutely in the right place and the transport arrangements were excellent including the careful driver. We enjoyed the concert even more than we thought possible - what a beautiful performance all round in such a marvellous setting in the Theatre of Silence - just an experience of a lifetime. We even learnt to walk like happy penguins on the way out!!!
The farm cookery course with Mrs Bocelli and Arianna was really good fun, great location & kitchen and the meal outside afterwards was very tasty!!! We learnt a lot of things and have already used our new knowledge and enhanced our Italian cuisine. We have attached a couple of pictures.
We have already recommended you to some friends who want to visit Tuscany and hope we can meet with you again in the future.
Very best regards
Martin & Carol x


11. This is an email we received on 19th July 2013
Hello
I have written separately to thank you for organizing a very special holiday in Tuscany. I wondered however whether you have had any feedback from the concert ?
If you are able to feed back to the organizers I think they should be aware of the problems caused by the significant delay in the start of the concert and the delay in opening the gates. It was most unpleasant and uncomfortable queuing in the lanes for over an hour and a half. At the end of the concert there was also a problem which prevented a smooth exit which caused difficulties.

Given the distances people had travelled, and we met people from the Caribbean, it would have been nice for guests to be welcomed in English. Overall however the concert was a very special experience.

Kind regards

Anna

Note: Our Tour Operator Arianna & Friends has protested with the organizers of the concert, the company CitySound from Milan. We really hope that this bad management of the event by the organization will not happen again.


10. This is an email we received on 19th July 2013 (replying to an email she received from us, where we were making sure if an annoying passenger on her bus disturbed her during her transfer to Lajatico)
Dont worry about the uneducated person of a single case.We are happy and understand how hard it is for you to arrange and coordinate this event.Was great and thanks for your professionalism.
See you next time. Keep me on your mailing list for all your future events.
Thanks to Veronica,Consuelo,Arianna n all your team
Ciao


9. This is an email we received on 19th July 2013
Hi Veronica
We really enjoyed our stay in Tuscany and hope to return sometime to see more of the beautiful countryside, I would like to take this opportunity
to thank you for a smooth trip with the transfers accommodation ect .
Please pass on my email to Diana as we didn't see her before we left and would like to thank her for her help during our stay.
Kind regards
Wendy


8. This is an email we received on 18th July 2013
Hello Veronica, Arianna and everyone at Arianna & Friends

Just wanted to tell you what a wonderfull time we had on our 'Bocelli Weekend'

We don't normally do packages, we normally like to travel independently and make our own arrangements, so we were a little apprehensive. However we felt at once that we were in safe hands with your excellent communication and friendliness from the start of the booking process right through to our arrival in Tuscany.
We were delighted with the Hotel and all the arrangements were excellent. The management of so may people to the concert
on Saturday was flawless.

We topped this off with the fantastic cooking experience on Sunday, which was such fun.

Your staff are all terrific and still managed to be smiling and happy after such a hectic weekend.
We hope you are all having a well deserved rest now.

Thank you all so much

Best Regards

Alison & Gordon

P.S. How do we go about getting the recipes from our cookery lesson ? Are they on your website ?



7. This is an email we received on 17th July 2013
Dear Veronica and all your colleagues

We just want to say a huge thank you to all of you for arranging the most memorable birthday ever!

Veronica, it was so good to meet you and your colleagues on Saturday, and we are all unanimous in saying that the concert was simply amazing! We were all enthralled from beginning to end, and quite definitely it was the best concert that I have ever attended. The venue is unique, and the stage effects and orchestra from Geneva wonderful.

Andrea was superb as was the whole of the supporting performers..... and the sound! Wow! Bocelli sounded better in the flesh than any recording, as did the other artists. I could rave for hours, but rest assured that it was a concert that will live in our hearts forever! I have to also tell you that our seats were superb so again thank you for your recommendation. The icing on the cake was the encores... I was longing to hear Time to say goodbye and Nessen Dorma, and he sang both. It was a tear jerker!

We also have to thank you for your attention to detail. The hotel was superb, the staff and food wonderful! We love Antonio.... our new best friend. Also Francesca. The planning was all superb and everything went completely without a hitch.

We adored our day in Florence, and thank you for organising that. Our guide was delightful and we saw so much in a short time, yet it was relaxed and very, very informative.

We also made some good friends staying at the hotel. Truthfully, it was like a private house party, with some really lovely people, all going to the concert. Of course we had much to talk about on Sunday! You can imagine.

We shall most certainly book with you again, maybe the cookery course or truffle hunting, but we were thrilled that what we chose was exactly right for us. We could come back to the hotel, and relax by the pool and swim after Florence, and also after walking to Gambassi..

We had good flights both ways, with Easyjet, both on time, and on arrival our son Rob and his lovely wife Linda, drove us to Gambassi with no problems. We have already told people in the flight queue about you and we shall continue to sing your praises to anyone who will listen hehe!.

Our Best wishes to you once again.

Patricia and Bob



6. This is an email we received on 17th July 2013
> Dear All at Arianna and Friends,
>
> I have just heard from my Mum and Auntie who are safely back in the UK.
>
> They were overcome with how wonderful everything was and wanted me to pass on their enormous thanks to you!!
> They were made to feel so welcomed and special by everyone from the hotel, to the taxi drivers, to the wonderful guide in Florence,
> and all the help at the concert from yourselves of course!
>
> I would also like to thank you for making everything so easy to organize - I will definitely recommend you to everyone I know!
>
> Have a wonderful rest of the summer
> Best regards
> Kay


5. This is an email we received on 17th July 2013
Good evening to all
Just a quick note to say a BIG thank you for arranging a hassle free transfer to the Andrea Bocelli concert last Saturday evening, we had an absolutely magical evening thanks to all of you that helped along the way!
With my kindest regards
Paula H.
( coach no:11)


4. This is an email we received on 17th July 2013
Good morning!
I write to thank you for your help in organising our lovely weekend in tuscany. The concert was very enjoyable (despite the delay in getting in to the venue) our seats were superb.
Our hotel - whilst very pretty and clean and very helpful staff, was a little disappointing. The bar was very poorly stocked - only fanta orange or diet coke in soft drinks. They ran out of beers on 2 occasions and had very little choice of drinks available. When it came to checking out yesterday we discovered that we were being charged a service charge of 5€ each time a drink was brought to our table. Whilst this may not sound excessive, if you are only ordering one beer @ 4€ and you find you have been charged 5€ to carry it 5 meters to your table it comes as a bit of a shock when it's time to pay the bill.
I do think they should have made us aware of this charge.
Having said this the staff- in particular, Antonio, were very nice and helpful.
The truffle hunting was superb and something we will and already have recommended to friends visiting the area. - which brings me nicely on to the 2nd reason for this email:
In 2014. 30 of us (23 adults and 7 children under 12) are hoping to holiday in a villa/house in the the tuscany/ Umbria area [...] .
Many thanks
Caroline


3. This is an email we received on 17th July 2013
Dear Arianna and team,

Thank you for everything you did to make our sixth visit to see Andrea Bocelli (Il Maestro) at Lajatico so wonderful. It seems that each year you improve the service your team provides.A great hotel in a perfect location, a good welcome meal and pre concert food.For us everything was brilliant!!! Please thank your whole team for the superb efforts they took on our behalf .Everything was so easy and left us nothing to worry about.
We shall see you next year and look forward to yet another fabulous time.

Warmest Regards,

Sue & Dan M.


2. This is an email we received on 16th July 2013
Dear Arianna and friends,
We have just returned to London after a great experience in Tuscany, staying in San Gimignano and attending the Andrea Bocelli concert.
Thank you very much for organising this for us, it was a great success and we will have no hesitation in recommending you to friends.
Best wishes, Jane and Tom B.


1. This is an email we received on 14th July 2013
Can I just say a big 'thank you' to you all for your great organisation.
Would you add me to your mailing list for next years concert?
Graeme.