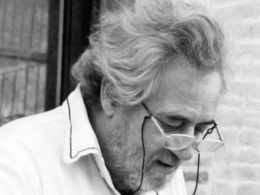 Leopoldo, a skillful Tuscan painter

Located in a panoramic area
Painting with Leopoldo

Tasting the special wines of the property
The working post at the window. The Tuscan landscapes are a good source of inspiration



Leopoldo's original style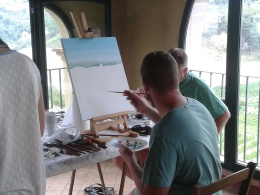 Painting a typical Tuscan countryside
AT THE TUSCAN COUNTRYHOUSE ALONG THE ROWS OF CYPRESS TREES

We arrange half-day private painting classes in Tuscany at our painter's workshop near Terricciola, a picturesque village about 45 minutes from Pisa or 1 hour from Florence. The setting is a wonderful and typically Tuscan winery in a hilly area with a fantastic view over the Pisan hills.

Our artist is Leopoldo, a famous Tuscan painter who developed a very personal and original style through decades of career.
Leopoldo is very skillful not only at painting but also at sharing his wise views about life. He is a patient teacher and a very friendly and welcoming person.



THE VIEW FROM THE TERRACE

You can choose to have the lesson in the terrace of the house or in the workshop by bad weather conditions. If you want you can also walk in the surrounding hills until you find the best location for your inspiration. We will bring any brushes, paint or canvasses to your favorite spot of inspiration. The artist first gives you a demonstration and then helps you plan your creative idea before teaching you how to deal with colors. The subject of the lesson can be the panorama in front of you, a portrait or a still nature.
The painting class is set up according to your previous knowledge and can be personalized if you are interested in any particular technique or specific material.
Regardless of where you choose to paint, your finished artwork will be your unique and personal souvenir of Tuscany.


FOOD AND WINES ARE READY!

During the class you will have the chance to taste a red wine of the property. After the class a light lunch based on Tuscan specialties will be served with matching wines.


WHAT ABOUT THE CHILDREN?

This activity is ideal for families with children. If you have children between 6 and 12 we can arrange special activites for them. Please, inform us while filling in the request form.