Brushes and colours to decorate
ceramics in the Tuscan way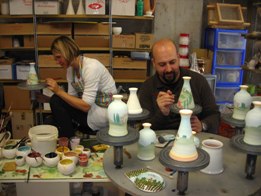 Massimo decorating a typical Tuscan ceramic oil cruet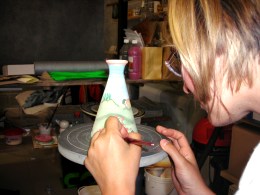 Our decoration classes are personalized
and informal to help you learn and relax
Experience one of the most typical crafts of the Tuscan tradition! Arianna & Friends organizes private classes of decoration on ceramics during your holiday in Tuscany in a traditional ceramic workshope in Montelupo Fiorentino near Florence or provided at your premises.
Pottery is one of the most traditional artistic productions of Tuscany. A town by Florence, called Montelupo Fiorentino, is commonly considered the center of this characteristic Tuscan art.
We bring you to a real workshop, where you learn some techniques for decorating vases, plates or tools. An expert ceramic artisan will lead you through the secrets of colours, forms, brushes etc. Your teacher has got a many year long experience in decorating vases, jugs, plates and many other different objects, after attending the Internation School of Ceramics right in Montelupo Fiorentino. The classes take 2.5 to 3 hours and take place in the workshop of the ceramist. Rememeber that this class can also delivered to your property in Tuscany with a surcharge.
In the end the item you decorated will be your unique and personal souvenir of Tuscany.
Rates and enquiries

PRIVATE CLASS OF DECORATION ON CERAMICS
IN MONTELUPO FIORENTINO

- Rates 2017 -



Number of people
in your party

Total rate

1 to 8 people

€ 460

9 persons

€ 500

10 persons

€ 540

Extra person

€ 40

child 4-11 y.o.

€ 40

DURATION OF THIS CLASS: 2.5 HOURS


RATES INCLUDE:

+ an English speaking tour leader for the whole class
+ teaching by a local artist
+ decoration material
+ tax

RATES DO NOT INCLUDE TRANSPORTATION
For more info on transportation, please see the box below.

The tour leader is available also in German, Spanish, French, Russian or Italian with no surcharge.
Transportation
Rates do not include transportation.

MORE ABOUT TRANSPORTATION FOR THIS TOUR

This class takes place in the area of Montelupo Fiorentino, a rural region between Pisa and Florence where little public transport service is offered.
Here are the transportation options for you to reach the destinations of the tour.

1.

- CAR RENTAL

We can help you find the best car rental solution from your hotel, agriturismo or private villa. We will book your car and give you detailled road instructions to meet us for the tour. If you rented your car on your own we will give you just any necessary road instruction.

2.

- VESPA SCOOTER RENTAL

You can add some action to this tour! Rent a Vespa scooter from our garage in Pontedera and ride it throughout the tour. Our guide will meet you in Pontedera and you will follow him/her to the several destinations.

3.

- CHAUFFEURED CAR RENTAL

Enjoy all the comfort of a private driver collecting you at your location on a luxury van! We will arrange a chauffeured car service from any location in Tuscany for the whole day of the tour.
Testimonials from our guests

This is a message we received from Valerie, who took her young children to one of our ceramic classes while visiting Tuscany:
Veronica,
The kids had a great time and talked about their arts all day long. My husband and I were blown away at all you guys did. It really wasn't what we were expecting! It was so much more. You guys went above and beyond.
We will be singing your praises on Trip Advisor and the like as soon as we get home and I get on my computer. These iPads are so frustrating to type on!
Have a great rest of the week and thanks again,
Valerie
CLASSES OF DECORATION ON CERAMICS IN TUSCANY
ENQUIRE ABOUT A PRIVATE CLASS OF
DECORATION ON CERAMICS