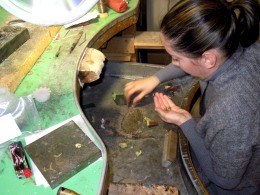 Sandra, your jeweller in Tuscany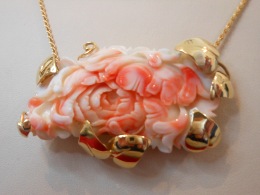 One of the creations of our jeweller



A pendant that could be your souvenir



One of the creations of our jeweller

The most fascinating practical art you can experience during your holidays in Tuscany: a class at a goldsmith's workshop!


Tuscany has got a century old tradition of gold jewellery carried out by goldsmiths that pass their crafts and traditions from parents to children. This is something you can personally experience while visiting Tuscany in a small and authentic workshop in the district of Lajatico, the birthplace of Andrea Bocelli. You enter a welcoming working room in the goldsmith's house, and find yourself surrounded by all sorts of working tools, from pincers to precision instruments. You meet the expert jeweller, a prize winning craftsman who owns a little shop right next to the workshop and decorates all kinds of jems with forget valuable metal. You sit at your working post and take your little pieces of silver 925‰. Then you start remaking what the jeweller shows you. From the initial forging to the final touch you will create your unique and personal jewel!
You can choose to use gold instead of silver and you can personalize it with any sort of gem, adding surcharge corresponding to the value of the gold and the stone.
The lessons take 2.5 hours, from 1.00 pm to 3.30 pm.
This activity is particularly advisable to creative people. In the end of the lesson you will have your personal jewel as a souvenir of Tuscany and a lot of good memories!


Rates and enquiries

PRIVATE JEWELLERY CLASS IN TUSCANY,
IN A WORKSHOP NEAR LAJATICO

- Rates 2017 -



Number of people
in your party

Total rate

2 persons

€ 340

3 persons

€ 375

4 persons

€ 410

5 persons

€ 445

6 persons

€ 480

7 persons

€ 525

8 persons

€ 560

DURATION OF THIS CLASS: 2.5 HOURS


RATES INCLUDE:

+ an English speaking tour leader for the whole class
+ a 2.5 jewellery lesson
+ silver 925‰ and other materials to create your jewel
+ tax

RATES DO NOT INCLUDE:

- Gold or other valuable gems that substitute the silver and the other materials, to be charged extra by weight upon request

RATES DO NOT INCLUDE TRANSPORTATION
For more info on transportation, please see the box below.

The tour leader is available also in German, Spanish, French, Russian or Italian with no surcharge.
Transportation
Rates do not include transportation.

MORE ABOUT TRANSPORTATION FOR THIS TOUR

This class can take place at your premises or at our workshop in the area of Lajatico, a rural region between Pisa and Volterra
where little public transport service is offered.
Here are the transportation options for you to reach the destinations of the tour.

1.

- CAR RENTAL

We can help you find the best car rental solution from your hotel, agriturismo or private villa. We will book your car and give you detailled road instructions to meet us for the tour. If you rented your car on your own we will give you just any necessary road instruction.

2.

- VESPA SCOOTER RENTAL

You can add some action to this tour! Rent a Vespa scooter from our garage in Pontedera and ride it throughout the tour. Our guide will meet you in Pontedera and you will follow him/her to the several destinations.

3.

- CHAUFFEURED CAR RENTAL

Enjoy all the comfort of a private driver collecting you at your location on a luxury van! We will arrange a chauffeured car service from any location in Tuscany for the whole day of the tour.
JEWELLERY EXPERIENCE
IN TUSCANY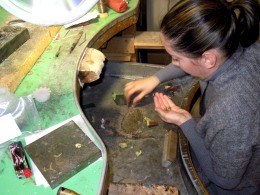 ENQUIRE ABOUT A PRIVATE JEWELLERY EXPERIENCE