A family painting experience in the agriturismo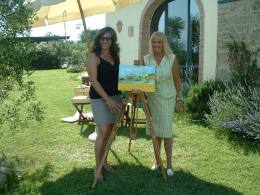 Private painting class in Tuscany

Learning techniques from your painter teacher

Painting is one of the arts Italians are famous for. A skilled artist, inspired by the local movement of the Tuscan post Macchiaioli, will teach you several techniques to reproduce breathtaking landscapes or inspiring still nature compositions. Through her professional assistance, she will also help you understand the spirit of this figurative art by fostering your personal capabilities.



Our 3-hour painting experience takes place in your agriturismo, villa or holiday house or in the countryside surrounding it, in marvellous scenic settings where you can get the best inspiration for your paintings. An English speaking assistant (also German, French, Spanish, Russian available) will also facilitate communication with the artist.
The painting techniques will be agreed during your booking and range from watercolor, to acrylic to oil painting. The half-day painting experience in Tuscany can be repeated in a more-day painting package.

This activity is particularly advisable to creative people and to families with children.
All necessary materials and tools used are provided by the artist and are completely safe.
You create your personally inspired souvenir of your stay in Tuscany in just 3 hours.


Rates and enquiries

PRIVATE PAINTING CLASS
PROVIDED AT YOUR PROPERTY IN TUSCANY

- Rates 2013 -



Number of people
in your party

Total rate

1 person

€ 330

2 persons

€ 340

3 persons

€ 370

4 persons

€ 400

5 persons

€ 430

6 persons

€ 460

7 persons

€ 490

8 persons

€ 520

9 persons

€ 550

10 persons

€ 580

Extra person

€ 30

child 4-12 y.o.

€ 15

DURATION OF THIS CLASS: 3 HOURS


RATES INCLUDE:

+ an English speaking tour leader for the whole class
+ teaching by a local artist
+ painting material and tools
+ tax

RATES DO NOT INCLUDE:

Our classes are provided at your premises. If your premises are located more than 30 minutes driving away from office in Peccioli - Pisa area - a surcharge can apply.

The tour leader is available also in German, Spanish, French, Russian or Italian with no surcharge.
Testimonials from our guests

This is an email we received from Sallie and Karen, who spent 10 days in Tuscany in our farm and enjoyed our pastry shop experience, our painting class and our cooking class:

Hi Arianna,
Just a quick note to thank you and the team very much for the incredible job you all did during our recent trip to Tuscany. Special thanks to Massimo and Consuelo for helping solve the GPS problem, the replacement Tom Tom worked extremely well and was a definite "must have" for foreigners trying to navigate their way around Italy. Also, to Massimo and Veronica for joining us and translating during our Cooking and Painting classes, their knowledge and experience, without a doubt, enhanced our experience during each of them.
With regard to the Pastry & Pizza Cooking Class we did with Massimo, he mentioned that copies of each of the recipes will be emailed to us, can I also remind you about that please, as we haven't received them yet?
Thanks again.
Sallie & Karen

PRIVATE PAINTING
CLASS IN TUSCANY
ENQUIRE ABOUT A PRIVATE PAINTING CLASS IN TUSCANY