Private chef service at your villa in Tuscany
Availability: Mondays , Tuesdays , Wednesdays , Thursdays , Fridays , Saturdays , Sundays
Duration: 2 hours + time for serving meal
GREAT FOOD & TOTAL COMFORT
An experienced chef at your premises to prepare meals based on local specialities right in your kitchen. Nothing to worry about, no rush, no stress! Our friendly cook comes to your premises and provides all she needs for a great service. For large groups an assistant is also included, for serving lunch or dinner. Fresh and seasonal ingredients only, regional and national dishes …
Why a private chef in villa?
If you are visiting Tuscany you cannot miss its delicious cuisine and the hundreds of specialities produced around you, maybe just next to your villa!
Arianna & Friends arranges private chef services for your party, provided at your location, based on traditional recipes and selected fresh ingredients.
When staying in Tuscany, there can be many reasons why you may need a personal cook in your apartment or villa preparing a meal for you and cleaning up in the end:
– If you want to be sure that you taste authentic local recipes, prepared with the best fresh ingredients of the season
– If you want advice on the exquisite wines available in your area
– If you want to be served like at a restaurant but you prefer to stay home and drink wine without being worried about having to drive back safely
– If you have just arrived to your villa in Tuscany, and you do not feel like going shopping, cooking or going out for dinner
– If you just wish to relax with your family and friends and spend a nice evening, maybe by the pool, without worrying about the pots on the stove or in the oven
– If you want to celebrate a special occasion, like your anniversary or birthday.
You can personalize your menu and ask us for advice about the best dishes of the season. Our standard meal includes 1 appetizer, 1 primo main course, 1 secondo main course and dessert. We select the best local wines to match the dishes prepared.
In case of allergies or restrictions, we can suggest alternative menus, still sticking to our philosophy of local traditions and seasonal ingredients.
We provide our chef service through two formulas:
FULL MENU or EASY MENU
Please, see rates below.
Our chef does the shopping and reaches your villa 2-3 hours ahead to prepare your full meal. If your party is over 4 people, an assistant/waiter will help in the service too.
What you taste
This is a list of specialties that you are likely to sample as part of menu of the chef service. Please, note that these are just some examples of what can be prepared. A full list of options is available for you to choose from. Our booking staff will send you detailed information.
Whom you meet
For this service you will meet some of the Tuscan friends involved in the preparation of your meal. Please, see below which friends you are likely to encounter.
Rates
Rates Table
The total rate for this service varies according to the number of people in your party, the distance of your villa from our premises in Peccioli (Pisa area) and the menu formula you prefer.
Check rates in the table below.
PRIVATE CHEF SERVICE AT YOUR VILLA
IN TUSCANY

"FULL MENU" FoRMULA

– RATES 2017 –

NUMBER OF PEOPLE
IN YOUR PARTY
IF YOUR VILLA IS LOCATED
WITHIN 40 MINUTES
DRIVING FROM OUR
PREMISES IN PECCIOLI
IF YOUR VILLA IS LOCATED
BETWEEN 45 AND 90 MINUTES
DRIVING FROM OUR
PREMISES IN PECCIOLI
 2 persons
€ 230
€ 350
 3 persons
€ 265
€ 385
 4 persons
€ 360
€ 420
 5 persons
€ 395
€ 455
 6 persons
€ 430
€ 490
 7 persons
€ 465
€ 525
 8 persons
€ 500
€ 560
 9 persons
€ 535
€ 595
 10 persons
€ 570
€ 630
Extra person
 € 35
Child 4-11 y.o.
 € 25
PRIVATE CHEF SERVICE AT YOUR VILLA
IN TUSCANY

"EASY MENU" FORMULA

– RATES 2017 –

NUMBER OF PEOPLE
IN YOUR PARTY
IF YOUR VILLA IS LOCATED
WITHIN 45 MINUTES
DRIVING FROM OUR
PREMISES IN PECCIOLI
IF YOUR VILLA IS LOCATED
BETWEEN 45 AND 90 MINUTES
DRIVING FROM OUR
PREMISES IN PECCIOLI
 2 persons
€ 200
€ 320
 3 persons
€ 230
€ 350
 4 persons
€ 320
€ 380
 5 persons
€ 350
€ 410
 6 persons
€ 380
€ 440
 7 persons
€ 410
€ 470
 8 persons
€ 440
€ 500
 9 persons
€ 470
€ 530
 10 persons
€ 500
€ 560
Extra person
 € 30
Child 4-11 y.o.
 € 20
Rates include
A private cook
All food & wine
Served dinner or lunch
Final cleaning of the kitchen
Tax
Please note that if your party is made of up to 3 people, the service is carried our by our chef only.
If your party is made of 4 people or more, the service is carried out by our chef and an assistant/waiter.
Rates do NOT include
Extra courses beside the scheduled ones
Testimonials from our guests
Here is a message from Lauren from NYC who enjoyed our chef service arranged by our chef Daniela:
Arianna & Friends is a wonderful company with with a wide array of services. My husband and I celebrated our 1 year anniversary at the Hilton Grand Vacation Club in Tuscany. We used Arianna & Friends for two events – private chef in villa and cheese and olive oil tour. Daniella came to our villa and made us a an authentic Italian meal from scratch with items fresh from the farmers market that morning! It was absolutely delicious, but even more wonderful was the company and culture brought to our own villa that evening.
Luca took my husband and I on a private tour and tasting of a local EVOO mill and separately a cheese farm where we had an incredible and filling lunch, which included excellent wine! It was so personalized and we truly experienced the life and culture of the Tuscan locals. Can't wait to go back and we will only book with Arianna & Friends! Looking forward to it…It looks like we'll be back this summer!!!
This message was published our our YELP profile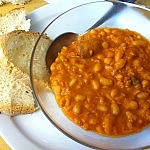 Here is a message of appreciation of Cyndi, who loved our private chef service with Tuscan specialties at her rental villa:
Arianna,
Thank you so much for our help with our trip last week. Everything was fabulous. We ALL loved the chefs that came to our villa to make dinner for the girls. The food was great and the ladies were awesome. Please share our satisfaction with everything with them. It was perfect.
We also loved the cooking classes. You mentioned you would share the recipes with us so that would be great if you could forward them to me. I'll pass out to the others. Also, I don't know if you will share but the ravioli and the wild boar as well as the pine nut custard the chefs made at our villa would be fun to try to recreate here so if you share, those recipes would be great too.
Thanks again for everything – I will recommend your services to anyone I know going to that area and I hope to return to the exact same place soon. Have a good weekend
Cyndi
This is a message we received from Mel who enjoyed a private birthday dinner arranged for her party in her rented villa in Tuscany:
Dear Ariann,
I'm so sorry I didn't get the opportunity to thank you in person on Tuesday night for creating such a wonderful evening for my husband's birthday dinner. The food was amazing and the beautifully laid table etc just added to the ambience. We all had a wonderful time. Thank you again.
I will be sure to pass on your details to any of my friends that holiday in this area.
Kind regards
Mel
This is a message from a nice couple of Dutch people who had us for a cooking class at their villa in Tuscany
An impression of september 10th….. (photo)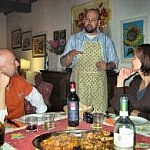 This is an email we received from Anu and Harry, after having our dinner service in their private villa:
Hi Massimo,
Thank you for a lovely evening. It was the best way to start our holiday. My parents were thrilled and talked about the evening many times during our stay. We will recommend you to our friends who decide to come to Tuscany! We voted for the best food we had in Italy and you won by a mile.
We were going to come and visit you at your office a few times, but the office was closed.
Thanks for all your tips. We drove around a lot and saw many beatiful places. The rain didn´t bother us in such lovely sceneries.
I will send you pictures as soon as I´ll get them on to my computer.
We would love to stay in touch.
Yours, Anu&Harri
This is an email we received from the Wiesendangers, who booked a series of chef service in her villa during their Tuscan stay:
Dear Arianna,
We are back in Paris, but we think about our two weeks at the villa often. We had a wonderful vacation. And Veronica and Paolo did a wonderful job. They were not just competent and smart, they were terribly attentive and kind.
Thank you. The Wiesendangers, all 13 of them.
This is an email we received from Mike from the US: we organized a dinner with our cook at his private villa:
Massimo – Thanks again for all your help during our stay in Tuscany. The trip was fabulous and we appreciated your guidance throughout the visit. We enjoyed the tour of the cheese farm, the lunch afterwards, and exploring Volterra.
Now, if only we could emulate the crostini with tomatoes, red onion, celery, etc. back here in the U.S!! If not, I guess we'll have to return to Italy soon.
-Mike
This is an email we received from Cecilia, who booked a series of chef service in her villa during her Tuscan stay:
Dear Arianna,
Back in Mexico..after our nice stay in Villa Antonella..
We were so happy in Tuscany that we are thinkiing to go back but this time with ALL my extended family, we are 85 !!
so I am thinking that you know a lot of this area.
We are looking for a hotel with 40 rooms, just All for the family, 4 or 5 stars, in a little village not city, and very child friendly!
I would appreciate you great help.. thank you very much, Cecilia
Info & Details
LOCATION OF ACTIVITY:
This service is delivered to your villa in any location in Tuscany within 90 minutes driving from our premises in Peccioli, Pisa area. For destinations further than 90 minutes from our premises a surcharge applies, depending on distance and cost of transportation for our chef. Please, ask for a quotation in the enquiry phase.

MEET-UP LOCATION:
Our chef, with or without assistant, meet you directly at your villa at an agreed meeting time. Please, provide us with full details on the location of your accommodation.

TYPE OF SERVICE:
We offer two formulas called FULL MENU and EASY MENU

Full menu offer:
4 courses (1 antipasto, 1 primo, 1 secondo, 1 dessert) + 1 bottle of wine every 4 people

Easy menu offer:
2 courses (a combination of antipasto, primo, secondo) + 1 small complimentary course by chef - no wine included


DURATION OF SERVICE:
This program takes 4 to 5 hours in total for the preparation of the meal, the serving and the kitchen cleaning.

AVAILABILITY:
Available all the year through, any day of the week.

LANGUAGE:
Our chefs speak limited English. For parties of 4 people or more, an English speaking assistant is present too.

FOOD RESTRICTIONS:
The foods served during this tour might contain gluten, lactose, nuts and alcohol. If you have any food restriction, please inform our guide at the beginning of the tour.

PERMISSIONS:
We arrange our private chef service at any villa after asking the owners/housekeepers for their permission. This is also helpful in order for us to check the existence of tools and equipments in the villa for the preparation of the meals.
Trasportation options
Organize your perfect vacation with us!
Booking office opening hours:
Monday through Friday 9am-7pm
Saturday 9am-1pm
Contact us