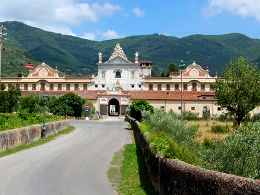 Access to the complex of the Charterhouse of Pisa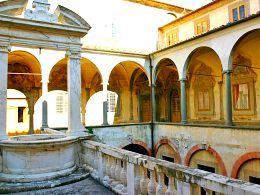 Internal courtyard in the complex of Calci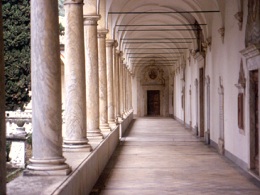 The colonnato in an internal cloister of the charterhouse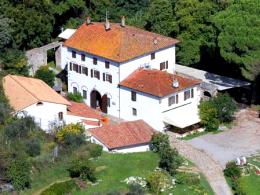 A historical oil mill by Vicopisano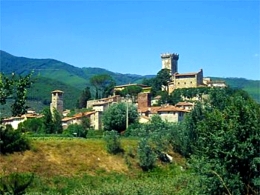 A view of the fortified village of Vicopisano
A fantastic day-tour to the rural attractions around Pisa
The rural area of the lower Valdarno, by Pisa, is full of unexpected art jewels like country churches, fortresses, castles and fortified villages, all streching along a chain of mountains called Monti Pisani. The most renowend product of this region is a delicious and unique extra virgin olive oil. Arianna & Friends arrange an exclusive full-day tour to the most beautiful attractions of the area.



THE CARTHUSIAN MONASTERY OF PISA
You meet our English speaking guide in Pisa or at an agreed meeting point and you get to the monumental monastery of Calci, just 10 kms from the town. The charterhouse was founded in 1366 by Carthusian monks and due to a Napoleonic Bill it was closed in 1808. Yet, monks lived there till 1972. Its central nave and its marble façade are marvellous examples of local 17th century Baroque. In the huge monumental building you will visit the sumptuous church, the internal cloisters and the gardens up to some cells where the monks used to live. The cells were very humble for regular monks and somehow "luxury" for monks of a higher rank. You will learn about the very severe habits of the daily lives of the monks and discover an unexpected jewel of rural art.

OLIVE OIL TASTING AT THE MILL
The tour goes on with the visit to a fascinating olive farm near the village of Vicopisano, just 20 minutes far from the monastery. The farm has got several acres of olive groves and produces some exquisite extra virgin olive oil. The production takes place directly here in a historical oil mill. On the farm we will visit all the premises, learn a lot about the olive oil production while walking along the groves and finally we will have a buffet lunch served during a guided tasting session of extra virgin olive oil. Lunch is made of all the products from the farm.
THE MEDIEVAL TOWN OF VICOPISANO
After lunch we will walk to Vicopisano, a spectacular medieval village, just 20 kms from Pisa, which is still surrounded by huge fortifications and many ancient towers dating back to the XII Century.
The use of building high towers was in fashion in the Middle Ages among wealthy families. The town is spotted with towers and crossed by little winding lanes leading up to an imposing fortress, built by Brunelleschi. The tour ends by the fortress, where you can admire a wonderful view over the valley.
Our day tour to the jewels around Pisa takes about 6 hours. Transportation to the locations is not included.
If you need collection with our chauffeured car, van or minibus, please specify this in the booking form.