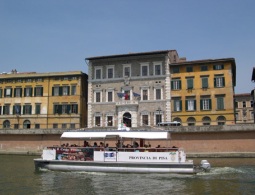 Pisa from the point of view of the river Arno on board a small ferry boat up to the mouth of the river in the Thyrrhenian sea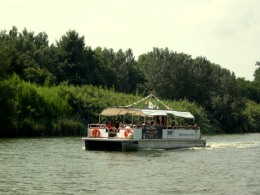 The ferry brings you to the river mouth or to the entrance of the San Rossore Natural Park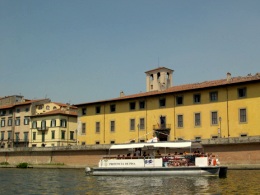 The ferry boat can be taken in many small docks along the Arno river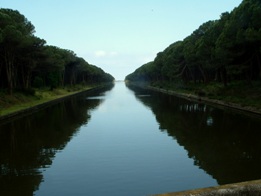 The "new" channel as opposed to the "dead" one at the San Rossore Park

A very original way to discover Pisa
and its region
Pisa lies close to the mouth of the river Arno, just next to an extensive protected area called Parco di San Rossore - Migliarino. You can visit Pisa from a very original perspective taking our small ferry and get to the park from the river.
Mini cruises on ferry boat around Pisa, to the park San Rossore and to the Arno Mouth at the Thyrrhenian Sea

You meet your local English speaking tour leader in Pisa and get on the ferry right in town. We will see the whole town and its spectacular lungarni, with an endless series of Renaissance palaces mirroring themselves into the water, until we get out of town into a charming green area, extending for about 9 kms to the River Arno into the Thyrrhenian sea.
The Natural Park of San Rossore - Migliarino and its pinewoods
On the way back upstream, we stop at the main entrance of the San Rossore natural park. San Rossore Natural Park is a large protected area ranging from Marina di Pisa, just 10 kms from Pisa, to Torre del Lago, very near to Viareggio. Most of its vast territory is covered by pinewood hosting an enormous variety of wildlife, including the wild bore, the deer and above all many different species of birds. In the park the two Tuscan main rivers Arno and Serchio flow into the Thyrrhenian sea forming a unique and highly protected sandy beach. You can see the park from an unusual perspective and learn a great deal about the local flora and fauna.
Download the map of the ferry stops
in Pisa here »
Our mini-cruise from Pisa to the park and back takes about 2 hours. Transportation to Pisa is not included.
If you need collection with our chauffeured car, van or minibus, please specify this in the booking form.

Rates and enquiries




PRIVATE MINI-CRUISE ALONG THE ARNO RIVER
WITH LOCAL TOUR LEADER
- For parties of min. 6 people -
This tour is available from May through August

- Rates 2015 -



Number of people
in your party

Total rate

6 persons

€ 85

7 persons

€ 75

8 persons

€ 65

9 persons

€ 55

10 persons

€ 50

extra person

€ 30

child 4-12 y.o.

€ 10

DURATION OF THIS TOUR: 2 HOURS


RATES INCLUDE:

+ an English speaking tour leader for the whole tour
+ a mini-cruise on ferry for about 1.5 hours
+ tax

RATES DO NOT INCLUDE TRANSPORTATION
For more info on transportation, please see the box below.

The tour leader is available also in German, Spanish, French, Russian or Italian with no surcharge.

You can choose to combine the half-day mini-cruise along the river Arno with either one of our tasting tours or another of our cultural tours and book a full-day excursion.