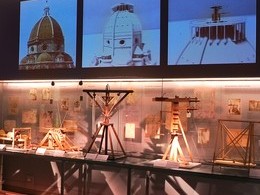 Crane models designed by Leonardo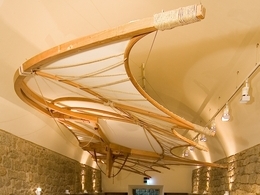 A model of the wings as an experiment for flying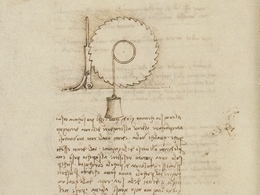 The Da Vinci code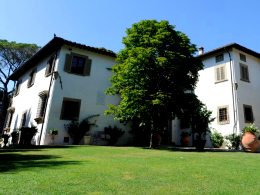 The winery is in a charming Medicean country villa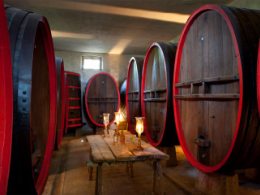 Large oak casks typical of the Tuscany tradition
The birthplace of the genius
A small hilltop village by Florence is the birthplace of probably the most famous genius all times: Leonardo da Vinci.
Vinci is the name of this village and it is a very original day destination when visiting Tuscany. Here you will visit the Museo di Leonardo, an exhibition completely dedicated to him, located right in a historical castle of the town.

Visit to the museum in Vinci
You meet your private English speaking tour leader at an agreed meeting point and together you get to Vinci, about 30 minutes from Florence.
Your tour leader gives you an introduction to the area and to the habits and traditions of the rural Tuscany, as well as to the medieval village of Vinci, as you approach the museum. Vinci is a picturesque little village with the real spirit of the countryside Tuscany. The visit is a good occasion for some shopping of local goods and specialties.
Once at the museum, you will admire a series of Leonardo's full-scale models of machinery and inventions together with many of his drawings and manuscript notes through the guidance of an experienced museum guide. The models are often reconstructions of his ideas listed in the world famous Da Vinci code. The museum is in a medieval fortress whose tower is the end of the visiting route. Here you will enjoy a wonderful view over the valley all around up to the Pisan and Luccan hills.


Visit to a magnificent Medicean villa and its historical cellar with wine tasting
After Vinci, the tour continues at a spectacular 16th century Medicean villa, located just 20 minutes from the town, where a renowned winery has its premises. It is a charming historical chalet that the Medici family from Florence used as a hunting mansion. Nowadays the property is a charming location for wedding ceremonies and wine events. The basement of the villa hosts a fascinating historical cellar which was wisely restored and turned into a sort of museum of old winemaking techniques and instruments. Your tour leader and a local guide will show you the fascinating production rooms in a particularly intriguing atmosphere.
At the end of the visit, you sit in a very elegant tasting room where a delicious full lunch is served and the winemaker introduces you to the best wines of the property. You can taste a Chianti and a Chianti Riserva from the Montalbano region as well as some excellent IGTs.
Our day tour to Vinci, the winery and the charming surroundings takes about 5 hours. Transportation to the locations is not included.
If you need collection with our chauffeured car, van or minibus, please specify this in the booking form.