Historical entrance to the complex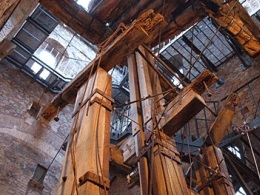 Elevation system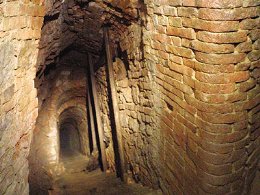 A gallery supported by wooden posts


Winding tunnels in the mine
The mining industry in the Upper Val di Cecina has always been a major local activity. The Museum in Montecatini Valdicecina shows the history of mineral digging out from 1827 to 1907. Enjoy a trip into the misteries of the underground, enter the narrow galleries, discover the rusted original machinery and learn how miners used to dig and bring cupper above ground. Arianna & Friends arranges private half-day tours to Montecatini Valdicecina with a local guide.

The tour starts with the meeting of our experienced local guide in the village of Montecatini Valdicecina. During a fascinating walk among the narrow lanes of this medieval village, you will get to know a lot of anectodes and interesting facts on the former small community of miners. While enjoying spectacular landscapes, your guide will lead you through pathways in the woods surrounding the village up to the former copper mine, which was once the working place for most of the local inhabitants.
The visit to the mining museum starts with a historical introduction to the complex and then goes through the explanation of the extraction techniques and the machinery employed. Probably the most fascinating part of the visit is the walk into the digging tunnels. You can also admire a large collection of original documents of the mining enterprise such as working programmes, pay-rolls and registers as well as outlines of the galleries and plans of the mines.
The tour ends with a marvellous pick nick with local specialities prepared by the guide.

Our half-day tour to Montecatini and the mining museum takes about 3.5 hours. Transportation to the locations is not included.
If you need collection with our chauffeured car, van or minibus, please specify this in the booking form.