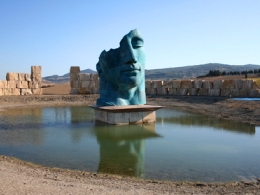 Teatro del Silenzio in Lajatico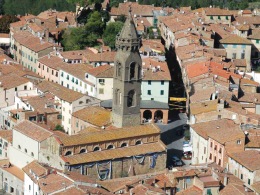 Panoramic view of Peccioli
The typical Italian Loggiato in the middle of Peccioli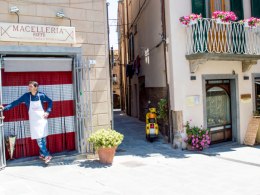 The welcoming restaurant in Peccioli where lunch is served
The Teatro del Silenzio during the concert
Tour of the rural area of the Pisan Hills
One peculiarity of Tuscany is its medieval towns full of narrow crooked lanes, archways, irregular stairways, stone buildings. Discover Peccioli, formerly a castle and later turned into a proper town, and the nearby Teatro del Silenzio, the world famous arena created by Andrea Bocelli in his birthtown Lajatico for yearly concerts that gather thousands of fans.

The medieval town Peccioli and the Etruscan Museum
You meet our local experienced guide at an agreed meeting point. Our tour starts with the visit to a very authentic medieval village called Peccioli, a destination out of the typical touristy routes. The village is a typical example of Italian small village with charming squares, scenic country landscapes and unexpected art treasures. The visit includes a climb up a panoramic hilltop garden and a guided visit to a charming Etruscan museum, recently opened in the mazy basements of a historical palace in town. It is an opportunity to learn a lot about the usages and the history of this original Pre-Roman population through several recent finds belonging to a rural sacred temple.
After visiting the village and its fascinating attractions, the guide brings you to a renowned restaurant in town, for a delicious lunch based on local delicacies. During lunch two wines of Andrea Bocelli's family winery will be served in a guided wine sampling session.


The Teatro del Silenzio in Lajatico
After lunch we visit a spectacular open air arena called Teatro del Silenzio, right by Lajatico, the birthtown of Andrea Bocelli. The theater hosts the yearly concert of maestro Bocelli, who founded it in 2006. You will learn how the concerts are arranged every year as the guide explains the history of the whole project and you will understand the reasons why the event attracts thousands of people every year. Its location is in fact in a breathtaking setting of wheat fields on rolling hills with the Etruscan town Volterra in the background and the atmosphere created during the concert is a unique experience!

Our day tour to the rural area of the Pisan Hills takes about 5 hours. Transportation to the locations is not included.
If you need collection with our chauffeured car, van or minibus, please specify this in the booking form.