Nature tours in Tuscany:
Coach tour of the natural park San Rossore

Arianna & Friends organizes half-day cultural tours to the Natural Park San Rossore. The tour is on board a coach through of the park for 3 hours.
For any of these tours you can choose to drive your own car or ask for a personal driver service.
Coach excursions through the pinewood
of the Natural Reserve of San Rossore by Pisa

The Natural Park of San Rossore - Migliarino and its pinewoods

San Rossore Natural Park is a large protected area ranging from Marina di Pisa, just 10 kms from Pisa, to Torre del Lago, very near to Viareggio. Most of its vast territory is covered by pinewood hosting an enormous variety of wildlife, including the wild bore, the deer and above all many different species of birds. In the park the two Tuscan main rivers Arno and Serchio flow into the Thyrrhenian sea forming a unique and highly protected sandy beach. You can enjoy an unforgettable trip through the forest on board a horse carriage and get to know all the secrets of wild life of the natural reserve.

Meadows and pinewoods




Pathways in the park


The Natural Park San Rossore - Migliarino on board a coach

The easiest way to explore the vast woods of the natural reserve od San Rossore-Migliarino is on board a horse coach.
The tour of the park takes 3 hours all among pinewoods, meadows and pathways leading to the beach parallel to natural and artificial channels.
During the tour a licensed expert natural guide tells you facts and information about the oldest trees, the particular vegetation and all the wild animals living the park, like wild boars, hares, owls and small oaks. During the whole tour an English speaking tour leader (also German, French, Spanish and Russian available) assists and translates. Once arrived at the beach you can get off the coach and spend 30 minutes in a beautiful sandy beach.

The private guide explaining about vegetations and wild animals living the park

The coach and the beautiful horses

We organize half-day cultural tours of the San Rossore Natural Park for two or more people. See rates below.

Rates and enquiries




HALF-DAY SAN ROSSORE NATURAL PARK TOUR ON COACH

- Rates 2015 -


Number of people in your party

2

4

6

Cost per person

€ 95

€ 60

€ 50

Number of people in your party

8

10

More
than 10

Cost per person

€ 45

€ 40

Ask for a quotation

Rates include a visit to the Natural Park San Rossore by carriage, a personal English speaking tour leader (on request also German, Spanish, French, Italian or Russian available) and tax. Transportation not included.




You can choose to combine the half-day San Rossore Park tour with either one of our tasting tours or another of our cultural tours and book a full-day excursion.




Transportation

Rates do not include transportation.


MORE ABOUT TRANSPORTATION FOR THIS TOUR

This tour takes place in the area of Pisa, in a rural region between Pisa and the coast where little public transport service is offered.
Here are the transportation options for you to reach the destinations of the tour.

1.

- CAR RENTAL

We can help you find the best car rental solution from your hotel, agriturismo or private villa. We will book your car and give you detailled road instructions to meet us for the tour. If you rented your car on your own we will give you just any necessary road instruction.

2.

- VESPA SCOOTER RENTAL

You can add some action to this tour! Rent a Vespa scooter from our garage in Pontedera and ride it throughout the tour. Our guide will meet you in Pontedera and you will follow him/her to the several destinations.

3.

- CHAUFFEURED CAR RENTAL

Enjoy all the comfort of a private driver collecting you at your location on a luxury van! We will arrange a chauffeured car service from any location in Tuscany for the whole day of the tour.







SAN ROSSORE PARK COACH TOUR
IN TUSCANY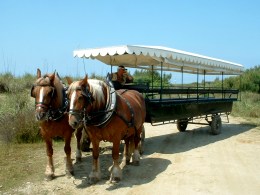 ENQUIRE ABOUT A PRIVATE SAN ROSSORE PARK COACH TOUR IN TUSCANY
DAY-TRIPS & EXCURSIONS IN TUSCANY