A panoramic view of the Ponte Vecchio over the river Arno in Florence. Today the bridge hosts several jeweller shops.

Guided sightseeing tour of Florence
If you want to discover Florence learning a lot about its immense historical and artistic heritage, ask for a half-day or a full-day tour with Arianna & Friends.
We provide skilled and professional licensed city guides that arrange a personal route for you around the city.
When visiting a major town like Florence, you can also focus on specific topics like:

- Handicraft workshops
- Wine cellars
- Deli shops
- Street markets
- The Vasari corridor
- Major museums
- Roman foundations
- Medieval architectures
- Renaissance innovations
- The river flooding of 1966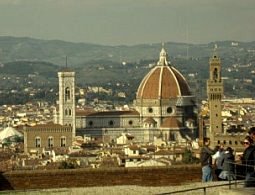 Panorama of the Cathedral of Santa Maria del Fiore and the Bell Tower designed by Giotto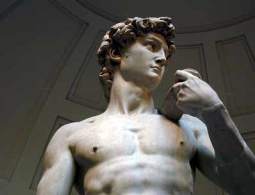 The statue symbolizing Florence: David di Michelangelo.