A giant model of the Vespa PX exhibited in Paris at an international expo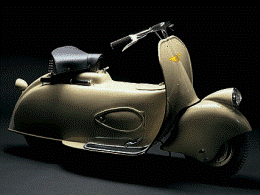 A prototype of the first Vespa scooter in the museum (never commercialized)
From the planning to the commercial success:
a series of early Vespa models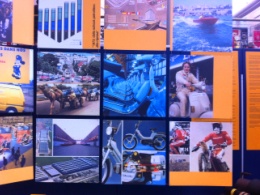 Pictures of a world success
English speaking guided tour of the Vespa Museum in Pontedera - Tuscany

Some people do not know that the world famous Vespa scooter is produced by the company Piaggio, whose premises are located right in the middle of Tuscany, in small a town called Pontedera, near Pisa. In some of the historical premises of the company, some local institutions inaugurated the official Vespa Museum a few years ago.

Arianna & Friends brings you to visit the most interesting industrial museum of Tuscany. An English speaking tour leader (also German, French, Spanish and Russian available) collects you at your premises, or at an agreed meeting point, and leads you for a half-day tour.
We reach Pontedera and you have an introduction to the recent history of the town, so tightly related to the destiny of the Vespa scooter.
At the museum we meet one of the official museum guides who leads us through the history of the company beginning with the historical archive. The Piaggio company was founded in the second half of the 19th century and has followed all the stages of the contemporary Italian history, so through the exhibition you will understand the development of the nation in its last 150 years. Following the archive is a visit to a former working shed of Piaggio, where many old models of the famous scooter and other vehicles are exhibited. Each model is accompanied by interesting stories and legends in which you can find a lot of the local character. At the end of the visit you can browse hundreds of stylish goods of offical Vespa merchandise at the museum shop.
After visiting the museum you can enjoy an aperitif or a good cappuccino in Pontedera and have a walk in its large pedestrian area for a shopping tour of Italian made clothes, bags and shoes.

The Piaggio Museum is an ideal attraction to be included in one of our Vespa Tours in the rural area around Pontedera. Ask for it in the booking form belows.
Special edition of Vespas PX on the occasion of the 150th anniversary of Italy's unification in 2011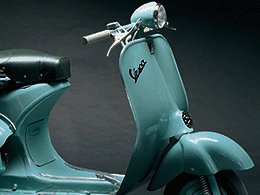 One of the most successful models at the beginning of the Italian industrial boom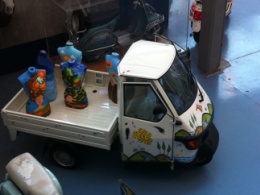 Typical three-wheel vehicle called Ape,
the Italian interpretation of pick-ups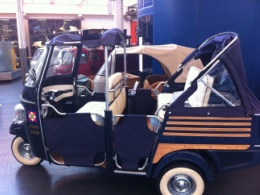 An Ape for the President of the Italian Republic