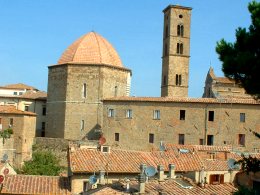 The cathedral and bell tower of Volterra
The medicean fortress with the tower called Maschio
A typical alabaster workshop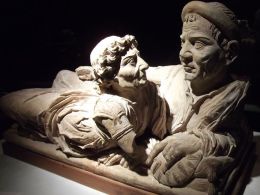 Sculptures decorating an Etruscan urn
The Etruscan Volterra and
the alabaster tradition
Volterra is a world famous perfectly preserved medieval town. Yet, the medieval look is a "recent" intervention on top of one of Tuscany's most important Etruscan settlements. Over the centuries Velathri (as the Etruscans called it) got important also for the handicraft production of an ancient stone given to the city as a present by the sea… the alabaster. Arianna & Friends arrange private half-day tours to Volterra and its treasures.
THE PEARL AMONG THE ETRUSCAN TOWNS
We start our tour directly in Volterra, where you meet our English speaking local city guide for a fascinating walk around this magic town. While passing along narrow winding lanes into sumptuous monumental squares, you will learn a great deal about the very original habits and culture of the Etruscans, a pre-roman civilization that settled in Tuscany as well as in most central Italy. The tour includes an entrance to the Etruscan Museum in Volterra, where you can admire some fascinating sculptures and see charming inscriptions in their original right-to-left alphabet.
The historical introduction will go through all the traces of the cultural and artistic influences that followed the Etruscans: the Roman theater in a breathtaking panoramic side of the town, the late medieval and early Renaissance Piazza dei Priori, the majestic Medicean Fortress, raising right next to a charming and relaxing park and nowadays hosting a maximum security prison.
The walking tour Volterra is completed by the visit to a traditional alabaster workshop, where you can see how the expert hands of the workers produce a nice and elegant vase from a piece of rough stone.
Before you leave the guide, you will relax at a renowned café in town and taste some excellent chocolate, locally produced.
Our half-day tour to Volterra takes about 3 hours. Transportation to the locations is not included.
If you need collection with our chauffeured car, van or minibus, please specify this in the booking form.