Availability: Mondays , Tuesdays , Wednesdays , Thursdays , Fridays , Saturdays , Sundays
Duration: 4 hours
THE CRADLE OF REBIRTH
If you want to discover Florence learning a lot about its immense historical and artistic heritage, our half-day tour is the goal! Florence is certainly the most visited town of Tuscany and the chance to be packed in crowded places is pretty high. This is why we design routes of the town that avoid the most busy places in the most busy moments, for you to fully enjoy the visit to the cradle of the historical re-start of the Western civilization.
Meet the nicest city guide in town
Our professional licensed city guide Laura will meet you at an easy meeting point, often by your train at the station, and arranges a personalized route for you around the city.
When visiting a major town like Florence, you can also focus on specific topics like: handicraft workshops, wine cellars, deli shops, street markets, the river flooding of 1966 etc.
You might also want to see some must-dos like the most important monuments in town, like:
– The Vasari corridor
– Major museums like Accademia, Uffizi or Cappelle Medicee
– Roman foundations
– Medieval architectures
– Renaissance innovations
Laura will be super-happy to customize your route according to your interests and to pre-book tickets to the main museums to avoid long waiting lines.
Whom you meet
In our tour we like showing you places off the beaten track and introducing you to Tuscan people with their personal stories, careers and characters.
You will have one of our guides with your party during the whole tour. Please, see below all the guides who can be with you.
During this experience you can also meet some of the Tuscan friends involved in the events. Please, see below which friends you are likely to encounter.
Rates
Rates Table
The total rate for this activity does not vary according to the number of people in your party.
Check rates in the table below.
FLORENCE HALF-DAY GUIDED SIGHTSEEING TOUR

– RATES 2017 –

NUMBER OF PEOPLE IN YOUR PARTY

TOTAL RATE

from 2 to 20 persons

€ 230

Entrance to the Accademia museum

€ 16.50 per person

Entrance to the Medici chapels

€ 9 per person
Rates include
A private English speaking licensed Florence city guide for the whole tour
Rates do NOT include
Entrance to any museum or monument in town
Transportation
Access to the Accademia museum: €  16.50 per person.
Access to the Medici Chapels museum: € 9   per person.
Transportation is not included in the rates above. For more info on transportation, please see the box "Transportation options".
Testimonials from our guests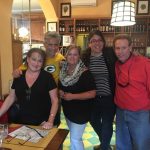 This is a message from Tracey, who appreciated her guided tour with our valued guide Laura:
Wonderful tour with Lara.  Can you please share this picture with her?
This message was sent to us from Laurence who stayed in Florence on the occasion of the 2009 edition of Teatro del Silenzio in Lajatico and enjoyed our walking tour in town with a visit to the Accademia
Sorry for the delay. I have not had Internet access until now. I just want to say THANK YOU for everything from reselling the tickets to making last minute arrangements for our ride from Rome to Florence and accommodations here in Florence. We are having a great time in Florence. And thank you for making the reservations for Uffizi and Dell'Accademia for us. It was a real time saver not having to queue up.
In regards to the credit of 81 Euro, would you be able to credit my credit card? If not, then just keep it as credit until we return to Italy. Thanks again for everything!
Cheers,
Laurence
This is a message we received from Betty, who visited Siena and Florence and met Arianna for one of our cookery lessons.
Dear Arianna,
I cannot thank you enough for the wonderful experiences we had on our Italy trip. Isabelle is a fantastic guide and she enabled us to get the most out of a short journey to such historic sites. Our entire family will not ever forget our cooking class with you and Ester. I will be sure to write the reviews for Trip Advisor since that is how I found you myself.
Thank you for your patience with our bad driving. I am so very glad that we eventually found you!!
Happy Easter! Best regards, Betty
Info & Details
LOCATION OF TOUR:
This walking tour takes place in the city of Florence (Firenze). The meeting point can be reached by public transport.

MEET-UP LOCATION:
Unless differently specified, the meeting point with the guide is in Florence downtown. Detailled instructions will be provided.

DURATION:
This program takes 4 hours. Time for reaching the meeting point not included.

AVAILABILITY:
Available all the year through, any day of the week.

LANGUAGE:
This tour is available in English or Italian with no surcharge. For German, French, Russian or Spanish a surcharge applies.

DIFFICULTY LEVEL:
Easy

CHILD FRIENDLY:
Ideal for children

CLOTHING:
No particular clothing required.

TRANSPORTATION:
This program and its rates do not include transportation to the meeting point and are set on a self-driving base. For further information see the box "transportation options".

Transportation options
The destinations reached during this activity are in the town of Florence, an area that can be reached by private and public transport. It is possible to reach Florence by public bus service and by train.
Yet, the public service is not well diffused in all Tuscany so we highly recommend renting a car or a scooter in order to reach the meeting point.
As an alternative, we can offer a valued service by chauffeured car, van or minibus. Any cost of transportation is to be added to the rates displayed on the rate table of this page.
Organize your perfect vacation with us!
Booking office opening hours:
Monday through Friday 9am-7pm
Saturday 9am-1pm
Contact us