Grape harvest on a Tuscan farm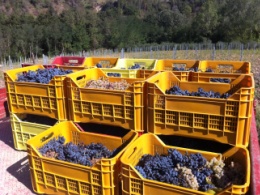 Black grapes collected ready for being squeezed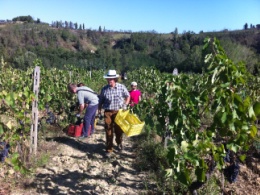 Grape selection: 50% is cut off and falls down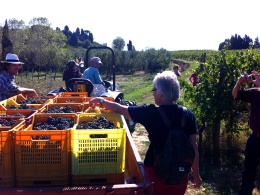 Back to the cellar with the hand-picked grapes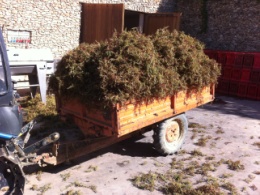 Stems are separated from the grapes

HALF-DAY GRAPE HARVEST EXPERIENCE ON A TUSCAN FARM

THE IDEA
A "vendemmia" (Italian for grape harvest) is one of the most fascinating experiences you can enjoy in Tuscany. It is a wonderful way to learn a lot about the local wine & food traditions but also about the local culture. Those who tried it report that the atmosphere of a working winery is something definitely unique!
THE PROGRAM
we arrange half-day grape harvest experiences for visitors to Tuscany in the end of August and in September. You can participate to a vendemmia on a charming farm, see the process of wine making during the most thrilling operational phases and taste some excellent local wine served during lunch.

FURTHER DETAILS
• Our grape harvest experience takes place in the morning from 9 to 12 am;
• You meet our local guide and have an introduction to the world of vineyards before acting!
• You start collecting the grapes assisted by your guide and by the winemaker for about 1.5 hours;
• With your guide you visit the winery and see all the machinery involved in the process, to understand the wine-making process in detail;
• Finally, you rest in the small restaurant of the property and sample some great wines produced by the winery just when lunch is served.


NOTES:
If the winery is not harvesting on the day of your visit, the harvest experience takes place on an alternative nearby farm.
A personal insurance is necessary for the harvesting experience. Rates may vary depending on your nationality and age. Please, see table of rates below.

The winery is located in Terricciola, in the area of the Pisan hills, known as the wine region "Chianti Colline Pisane".

This experience including lunch time takes about 5 hours.