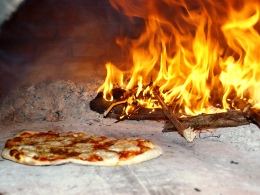 The traditional pizza of Aldo, the pizza maker


Aldo's house in the Tuscan countryside near Casciana Terme - Pisa area


The panoramic working room


Children love making pizzas with Aldo
Have you ever wanted to know how the most famous Italian traditional dish on Earth is usually made? Woud you like to discover what makes a pizza really delicious? You can experience all this during your next holidays in Tuscany!
Arianna & Friends organize private pizza classes in Tuscany directly at the pizza maker's house, a country cottage in the area of the Pisan hills, very close to Pisa, Livorno and Lucca.

Our pizza classes take place in the evening starting from 4 pm or in the morning starting from 10 am for about 3 hours.
You meet our English speaking assistant (also German, French, Spanish and Russian are available) and get to Aldo's (the chef) house, a wonderful stone country cottage on top of a very panoramic hill.
Here you start working with him preparing the dough only using a selected organic wheat flour.
Then you start preparing the dessert, usually an apple pie or the cantuccini biscuits, typical Tuscan almond cookies.
While leaving the dough, you also bake and taste some delicious cecìna, a thin chickpea pie typical of Pisa and the coastal area of Tuscany usually served with focaccia.
You also prepare and taste some quick bruschettas, served with Aldo's home made pickles. Before starting baking the pizzas, you will also prepare all the ingredients that will be on top of them: organic basil and extra virgin olive oil, Tuscan sausage, organic vegetables from Aldo's plot etc..
Finally, you bake several pizzas, served as soon as they get ready, for a great pizza dinner together with Aldo's wines in an amazing terrace just outside of his house.
In rainy days, the pizza making room can be used also as a dining room.
Your pizza making experience at Aldo's will be the most striking day of your holiday in Tuscany!