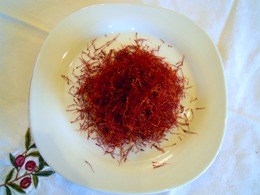 The prestigious Tuscan saffron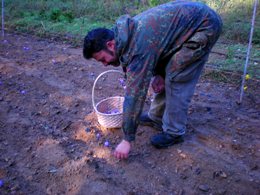 The Saffron harvest in October
Our panoramic tasting room


Sampling of organic products from the farm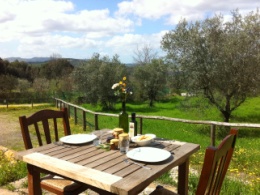 In good weather your tasting room
is the olive grove
AN EXCLUSIVE TOUR IN A HEAVENLY COUNTRYSIDE
Right between the two fascinating medieval towns of San Gimignano and Volterra is a spectacular farm producing organic saffron and extra virgin olive oil. When you visit Tuscany, a guided tour to this farm is a great way to experience the agricultural roots of our area. Arianna & Friends shows you the productions of the farm and invites you to taste a series of delicious specialties.

MORE ABOUT THIS TOUR
Our guide meets you at an agreed meeting point by San Gimignano or Volterra and accompanies you to the farm.
The visit to the farm starts with the meeting with the owner Elena, who gives you an introduction to the history of her small family-run farm just before showing you her treasure: the saffron field.
The saffron production in Tuscany is very restricted and from a whole field the yearly crop consists of a few grams of pistils. Elena will explain all procedures of the harvest and all uses of saffron in the Italian cuisine.

The visit continues with a beautiful guided walk in the spectacular and panoramic estate with several stops at the various fields. You will see a large garden of herbs, where you can smell the fresh flavors of rosemary, sage, thyme, bayleaves, myrtles and where onions, shallots and garlics are farmed. There will be a stop at the vegetable plot, with any seasonal produce like zucchini, eggplants, beans, peppers and fruits. Finally, we will walk through a magnificent olive grove, where you will experience the methods of farming and harvesting of olives in the area.

The visit ends at a charming pergola, or in the garden with good weather, where Elena arranges for you an unforgettable light lunch with all the specialties produced by the organic farm. The lunch includes: several bruschettas with herbs and extra virgin olive oil, a spelt salad, sampling of mixed pickled vegetables, several kinds of jam paired with pecorino cheese, saffron cookies, spelt-based beer or Vernaccia di San Gimignano white wine. Another plate is based on farro (literally "spelt" in English), a very ancient grain that was farmed already back in the Etruscan times in Tuscany.
Our half-day saffron and olive oil tasting tour takes about 3 hours.
Transportation to the locations is not included.