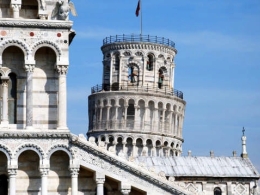 THE TREASURES OF PISA,
BEHIND THE LEANING TOWER

Arianna & Friends organizes a memorable tour to Pisa, one of the most famous towns of Italy, and to a small chocolate workshop for a chocolate class.

Here the outline:
- Private transfer by minivan or minibus from the port of Livorno. Our English speaking operator meets you directly at the ship in the morning at your convenience and tours you for the whole day. The tour leader gives you an interesting introduction to the region Tuscany, its uses, facts and history, while reaching the place. French, German, Russian, Spanish and Italian are also possible.

- Our driver brings us by car or van to an excellent chocolate factory in a little town between Pisa and Florence;
- You wear your aprons and start a two-hour chocolate making experience in the workshop. After a quick theoretical introduction to the world of cocoa beans, from the raw material to the refined chocolate, you start working with proper chocolate and professional tools. You experience a lot of interesting procedures, from the processing of several cocoa blends till the refined chocolate creations. In this activities you learn to make your own chocolate delicacies. When your nougat bonbons are ready, you can pack them and bring them home. While doing all these creations you taste many varieties of chocolate;

- The chocolate experience is followed by a 30 minute transfer to Pisa, where we have lunch in a selected restaurant in the old town. In the afternoon you have guided visit to the Piazza dei Miracoli and access to the spectacular leaning tower (access is not available for children under 8 years of age).
Free time for shopping in town.

- Return within the early evening, depending on the docking time of the cruiseship.
Rates and enquiries





PRIVATE FULL-DAY LUXURY SHORE EXCURSION TO PISA WITH CHOCOLATE WORKSHOP EXPERIENCE AND
ACCESS TO THE TOWER
including lunch, transportation and tour guide

- Rates 2017 -



Number of people
in your party

Total rate

1 person

€ 980

2 persons

€ 1000

3 persons

€ 1080

4 persons

€ 1160

5 persons

€ 1240

6 persons

€ 1320

7 persons

€ 1400

8 persons

€ 1480

9 persons

€ 1540

10 persons

€ 1600

extra person

€ 65

child 4-12 y.o.

€ 40

DURATION OF THIS TOUR: 8 HOURS



RATES INCLUDE:

+ Full-day transfer service by minivan (for parties of up to 7 people) or minibus (for parties of over 7 people);
+ English speaking tour leader for the whole excursion - also German, Spanish, French, Italian or Russian are available upon request. Surcharges may apply for other languages;
+ 2-hour private hands-on chocolate experience with the maitre;
+ Full lunch at a selected restaurant in Pisa;
+ 2-hour private walking tour of Pisa with local guide;
+ Entrance to the Leaning Tower in Pisa;
+ Tax, transfer insurance and fees for harbour access;

RATES DO NOT INCLUDE:

- Entrances to the museums in Pisa



ARIANNA & FRIENDS IS COMMITTED TO EMPLOY OFFICIAL AND LICENSED GUIDES AND DRIVERS ONLY FOR ITS TOURS.

SHORE EXCURSION TO
PISA AND CHOCOLATE
MAKING EXPERIENCE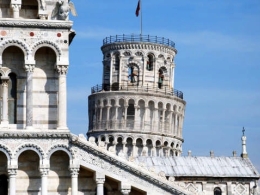 ENQUIRE ABOUT THIS SHORE EXCURSION IN TUSCANY