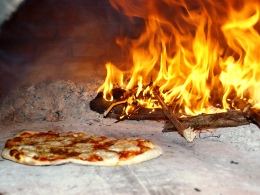 THE MOST ORIGINAL TOUR IN TUSCANY

Arianna & Friends arranges an exciting full-day tour to the hilly area near Livorno for you to learn how to make pizza. We reach the pizza maker's house and start a pizza class followed by a delicious lunch. In the afternoon we drive to a small medieval village for a walking tour in a truly Italian scenery.

Here the outline:
- Private transfer by minivan or minibus from the port of Livorno. Our English speaking operator meets you directly at the ship in the morning at your convenience and tours you for the whole day. The tour leader gives you an interesting introduction to the region Tuscany, its uses, facts and history, while reaching the place. French, German, Russian, Spanish and Italian are also possible.
- Within just 40 minutes drive we reach a picturesque small country house on a very panoramic hill, the pizza maker's dwelling. Here we start preparing the dough and all ingredients to make several delicious pizzas. Aldo, the pizza maker, lives in this house, grows his own fruits and vegetables and makes several specialities. Through his guidance you learn how to prepare and bake pizzas in his stone oven, but also another speciality of the area called cecina, namely a baked chickpea pie. During the class you will also prepare some excellent fruit cakes.
- The lesson is followed by a rich lunch in a panoramic terrace outdoors with a lot of local specialties:

• salami, prosciutto, cold cuts and pickles made by Aldo, served with the foccaccia flat bread you just baked.
• cecina chickpea pie.
• assorted pizza according to your personal taste, including sweet pizza.
• fruit cakes.
• drinks and wine of the house, the real way the Italians drink excellent local unlabelled wine.

- After lunch we drive for about 20 minutes and reach a fascinating medieval village called Peccioli with wonderful panoramas all around. The village is a perfect example of a truly Italian location, with small bars, churches, tiny lanes and hidden squares. The tour culminates on an elevated garden at the level of the rooftops of the buildings in the center of the village, where you have a unique view of Tuscany and an original perspective about how the locals live.
Before departing you will relax at a local bar for a drink or a gelato.

- Return within the early evening, depending on the docking time of the cruiseship.
Rates and enquiries





PRIVATE PIZZA CLASS AT THE CHEF'S HOUSE
ON THE HILLS AROUND LIVORNO
& WALKING TOUR TO THE MEDIEVAL TOWN PECCIOLI
including lunch, transportation and tour guide

- Rates 2017 -



Number of people
in your party

Total rate

2 persons

€ 800

3 persons

€ 860

4 persons

€ 920

5 persons

€ 980

6 persons

€ 1040

7 persons

€ 1100

8 persons

€ 1160

9 persons

€ 1220

10 persons

€ 1280

extra person

€ 60

child 4-12 y.o.

€ 30

DURATION OF THIS TOUR: 8 HOURS



RATES INCLUDE:

+ Full-day transfer service by minivan (for parties of up to 7 people) or minibus (for parties of over 7 people);
+ English speaking tour guide (also German, Spanish, French, Italian or Russian are available);
+ Hands-on pizza making class at the chef's house with full lunch;
+ Walking excursion to the medieval town and drink or ice-cream;
+ Tax, transfer insurance and fees for harbour access;



ARIANNA & FRIENDS IS COMMITTED TO EMPLOY OFFICIAL AND LICENSED GUIDES AND DRIVERS ONLY FOR ITS TOURS.

Testimonials from our guests

This is a message we received on 22nd April from Judy, who took her group from a Cruiseship in Livorno to our private pizza class with Aldo.
Hello Luca,
We are fine and we are in Rome now! We've been so busy since our day together that I haven't had a chance to email and thank you for the wonderful day we had. Everyone in our group was so pleased and happy with the experience. We loved you and your excellent commentary about Tuscany and the things we saw, and we also enjoyed Chef Aldo and his beautiful villa (and the great cooking lessons!) so very much. Even the bus was so comfortable and pleasant. We all learned a lot and had lots of fun as well. It was a day we will never forget!
I must tell you....when we arrived back to the ship, we heard many of our fellow passengers complaining about the activities they had done that day. They complained about uncomfortable buses and big crowds and not being able to hear or understand their guides. We all just smiled and said....WE HAD A GREAT DAY!...There were no crowds, we had a comfortable bus, and our guide was the best. Please let Arianna know how much we enjoyed our day. And THANK YOU for the lovely gifts of Tuscan wine - we are all enjoying that very much too!
Judy
SHORE EXCURSION WITH PIZZA CLASS AND
WALKING TOUR
AT A MEDIEVAL VILLAGE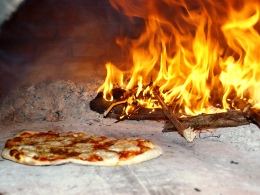 ENQUIRE ABOUT THIS SHORE EXCURSION IN TUSCANY