The ubeatable couple!
A plate of mixed truffle-based appetizers
Tagliolini al tartufo!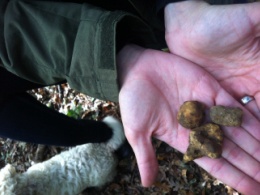 Small Winter white truffles, just found


The dog is waiting for a treat
A fantastic activities for individuals and small groups who want to enjoy half a day in Tuscany in a very original, funny and unforgettable way!
You can join our truffle hunter for a walk in the woods near Palaia in search of the seasonal truffles: from the small and round Spring white truffle, to the thick and hard Summer black one to the famous and unbeatable Winter white truffle!



MORE ABOUT THIS TOUR

Mouthwatering from beginning to end!

Our English speaking truffle hunter (upon request we can arrange for an assistant in German, French, Russian or Spanish with a surcharge) welcomes you in the truffle area of the Pisan hills on the way to Volterra from Pisa. Together with him and his dog, you reach a truffle-growing wood nearby, choosing the right spot that may vary according to the season and the kind of truffle ripening in that time of the year. The tour is for small groups and it is joianble by any party.
The walk is an in-depth introduction to the world of truffle with observation of its natural milieu and understanding of its features and its conditions for growing.
Following the dog's instinct and the hunter's instructions you will see how these underground mushrooms are found and you will smell them as they get dug. The walk is a wonderful occasion to get familiar with this habit of so many Tuscan people.
At your return to the truffle hunter's shop a full meal with fresh truffles will be waiting for you.
The basic menu of the truffle lunch is:
- Truffle hunter's appetizer, with selected crostini and truffle sauces, truffle salami and pecorino cheese and salad with peschiole;
- Truffle pasta dish or truffle risotto;
- Water and one glass of wine

The full menu of the truffle lunch is:
- Truffle finger food, including truffle polenta, crostini and peschiole
- Truffle antipasto, with potato or vegetable soufflé, goat cheese and truffle
- Risotto with truffle fondue and tagliolini with truffle butter
- Fried egg or pork escalope with shaven fresh truffle
- Dessert with truffle
- Wate, wine and coffee
The truffle tour with lunch takes 3,5 hours.
The tour is a great occasion for you to visit the Valdera region, an area with many medieval towns and a breathtaking countryside.

It will be your best memory of Tuscany!