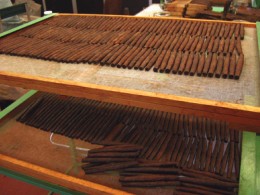 The present day factory produces sigars
by means of modern machinery.
Yet a production line is still by hand.


Hand-made cigars in Lucca


Hand-cut of the cigar
The production of tobacco was formerly one of the most important aspects of Tuscan agriculture. Nowadays most tobacco leaves are imported but a century old tradition of cigar making is still very alive in the area.

Arianna & Friends brings you to Lucca to a tobacco manufacture, where you have the possibility to visit the premises - a large tobacco processing company - with a member of their staff.



MORE ABOUT THIS TOUR

Our English speaking tour leader meets you at an agreed meeting point and accompanies you to Lucca to the premises of the cigar company.
In a very interesting two-hour tour you will go through the stages of the manufacturing, the short-term and the long-term storage, up to the packaging and shipping. A section of the factory is still dedicated to hand-made cigars, where workers still roll tobacco leaves exactly like many women from Lucca called "sigaraie" used to do up to some decades ago. After the visit to the factory, we organize an intense cigar tasting, in which the smoking of 3 different kinds of cigar will be accompanied by some rum and chocolate. After the tobacco tour there is the possibility to visit the town Lucca with its beautiful old center and its huge town walls.