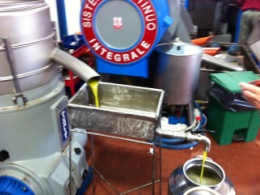 Freshly pressed olive oil
An authentic Tuscan oil mill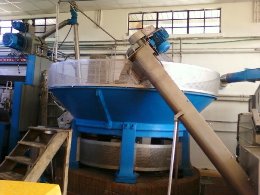 The core of the pressing machinery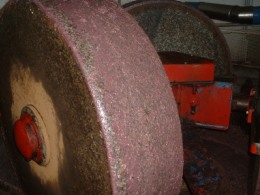 Rotating granite wheels press the olives
A very important part of the overall Tuscan agricultural production is extra virgin olive oil. Thanks to the patient care to the trees and the groves, the result of the olive pressing is an unrepeatable oil that you can taste during a visit to a mill.
Arianna & Friends organizes two-hour olive oil tasting tours at an oil mill in Tuscany.

MORE ABOUT THIS TOUR
An English speaking personal tour leader (on request also German, Spanish, French, Italian or Russian) meets you at your premises or at an agreed meeting point and leads you to a traditional oil mill in one of the best areas of production of extra virgin olive oil in Tuscany.
At first you will get a detailled introduction to the world of extra virgin olive oil in our area, the techniques of olive collection, the kinds of trees available in Tuscany and the "mentality" of the local olive farmers.
Then you enter the mill and see the whole machinery. The tour leader helps you discover all the phases of the olive pressing process and the secrets for a good extra virgin olive oil.
After seeing the machinery, you sit at a table and the tour guide together with an operator from the mill serve you different types of extra virgin olive oil of local production. This is a great occasion for you to learn how to taste exquisite olive oil and to understand the differences between a traditional local production and a massive industrial production.
The olive oil tasting is accompanied by some local olive oil-based delicatessen and good wines. The sampling of olive oil can be accompanied by a light lunch including a delicious soup and several little snacks.
The snacks always include pork cold meats. If you have any dietary restriction please inform us at the booking and we will arrange a different menu. The tour can be combined with the other wine & food tasting tours: in this case the tour is a full-day trip and includes a complete lunch.
From late October to ealy December it is possible to see the squeezing process at the mill.