Explanation about where truffles grow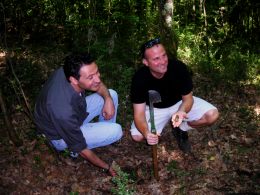 A small spade is a necessary instrument
when going truffle-hunting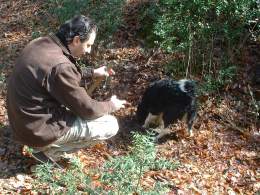 The dog has smelled something!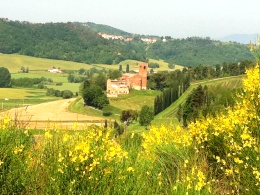 The fairy location of our truffle hunting sessions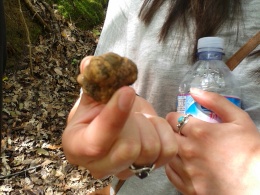 Just found one!
The real treasure of the Tuscan underground is the typical white truffle that grows in the region together with the black truffle. Every year the town San Miniato celebrates a national festival where people can taste a lot of truffle-based products as well as some fresh truffles.
Arianna & Friends organizes half-day truffle hunting tours joined with a truffle based lunch in one of the most famous local truffle shops of Tuscany.



MORE ABOUT THIS TOUR

It is an unforgettable experience both for your nose and your mouth!

An English speaking private tour leader (on request also German, Spanish, French, Italian or Russian are available) meets you and accompanies you to the premises of a local truffle hunter. Together with the hunter, his dog and the guide you walk into the surrounding woods, in the charming area of the Pisan hills, for a truffle hunting session of 1.5 hours. The destination in the woods varies according to the season because the several kinds of truffle available throughout the year grow in different areas.
After the walk in the woods, you get back to the hunter's place, which is also a famous shop of fresh truffles, and enjoy a whole truffle-based lunch. The lunch includes a plate of mixed Tuscan cold cuts, cheese and truffle honey to join with it, a plate with bruschettas topped with truffle-based sauces and truffle olive oil, a plate of seasonal vegetables or beans with truffle dressings, a pasta course with fresh truffles shaven on top. The meal is complete with water and local wine.
BE AWARE ABOUT THIS!
The kind of truffle available is subject to seasonal change.
Between September and December the precious White Truffle of San Miniato will be served.
In the other months, Scorzone black truffle, Marzolino white truffle or Nero Pregiato black truffles will be served instead.

The duration of the tour is 3,5 hours.
The tour is a great occasion for you to visit San Miniato, a medieval town near Florence famous for its truffles, located just 10 minutes from the location of the truffle hunting.

It will be your best memory of Tuscany!

THIS TOUR IS AVAILABLE ON TUESDAYS AND THURSDAYS. .