Explanation about where truffles grow
An oil press working during the olive harvest
Truffle hunter & dog cooperating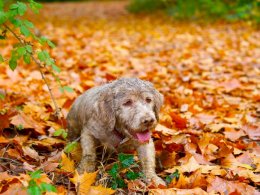 A "lagotto romagnolo", the most common breed
of truffle dog
For people visiting Tuscany one of the most interesting activities is visiting the local producers of exquisite specialties. There is an incredible density of food producers of all sorts and meeting them or seeing how they work is an unforgettable experience.
Arianna & Friends organizes full-day truffle hunting tours followed by a lunch of truffle products along with the visit to a local oil press.



MORE ABOUT THIS TOUR

An English speaking private tour leader (on request also German, Spanish, French, Italian or Russian are available) meets you in the morning and accompanies you to the premises of a local truffle hunter. Together with the hunter, his dog and the guide you walk into the surrounding woods, in the charming area of the Pisan hills, for a truffle hunting session of 1.5 hours.
After the walk in the woods, you get back to the hunter's place, which is also a famous shop of fresh truffles, and taste truffle oil, truffle sauces and very original truffle-based products like honey, balsamico and cheese. The truffle hunting walk is followed by a delicious lunch based on truffle products and fresh truffles.
In the afternoon, you drive for about 25 minutes and reach a lovely oil press in the middle of a very scenic countryside, owned by a company that also breeds cinta senese pigs and produces excellent salami and prosciutto.
At first you will get a detailled introduction to the world of extra virgin olive oil, the techniques of olive collection, the kinds of trees available in Tuscany and the "mentality" of the local olive farmers.
Then you enter the mill and see the whole machinery. The tour leader helps you discover all the phases of the olive pressing process and the secrets for a good extra virgin olive oil.
After the visit, you sit at a table and the tour guide together with an operator from the mill serve you different types of extra virgin olive oil along with some salamis and cold cuts of local production. This is a great occasion for you to learn how to taste exquisite olive oil and to understand the differences between a traditional local production and a massive industrial production.
From late October to ealy December it is possible to see the squeezing process at the mill.

Please, note that during the white truffle season, because of the high cost of white truffle, a surcharge applies. See rates below.