A visit to the winery just after the grape harvest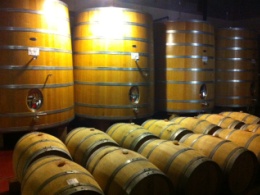 Large oak casks typical of the Tuscany tradition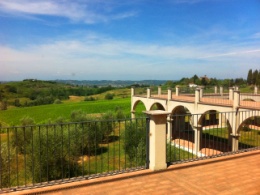 Large modern wine property near Terricciola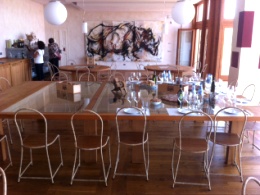 Elegant tasting room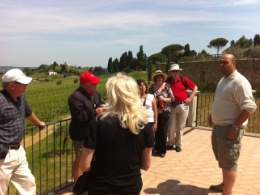 Explanation of the vineyards from the panoramic terrace


Terricciola is a charming wine district in the province of Pisa, about 30 minutes from the town of the leaning tower. It is one of the Chianti production areas of Tuscany and in the last decades many "big ones" of Italy's winemaking sector opened their local branch here. Arianna & Friends helps you discover this wine area off the beaten track.
ALL ABOUT OUR PRIVATE WINE TOUR

We arrange a three-hour wine tour for your party to one very charming winery in the area of Terricciola, between Pisa and Volterra, often called the "New Chianti" area. Many wines produced here are being awarded as excellent supertuscans and the proximity to the coast (just 30 minutes driving from this area) gives them special tones that many wine lovers find just fantastic.
Our wine tour can start directly from your premises (see transportation box below for further details) or from an agreed meeting point: our English speaking personal tour leader (also German, Spanish, French, Italian or Russian available) meets you and accompanies you to the winery, either in the morning or in the afternoon.
On the way to there, the tour leader gives you general and historical information about the region and the art of winemaking. It is the best way for you to discover this enchanting world, deeply rooted in the cultural traditions of Tuscany.
Once there, enter an extraordinarily panoramic, beautiful and very modern winery, whose premises are mostly all underground. The facility has a wonderful view over its vineyards and is the starting point of a nice walk among the vine rows together with the winemaker. The visit to the premises continues with a detailled explanation of the fermentation area, where the grapes boil inside several casks just after being harvested. Following is a visit to other storage areas where the rest of the aging process takes place, up to the most fascinating room in the whole complex: a large and artistically decorated barriccaia full of wooden barrels. The visit is followed by the sampling of unique wines in a very charming tasting room. During the tasting session some snacks are provided to accompany the served wine, including focaccia, cold cuts, bread and pieces of cheese. The duration of this guided tour is about 3 hours and a minimum of 4 different wines are served during the whole winery experience.