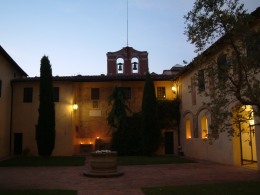 Badia di Morrona is an early Middle Ages monastery
Typology of wines:
white, red, Chianti, Igt, some are aged in wooden barrels;

We recommend this wine:
"N'antia".
Morrona represents one of the biggest wineries in the Province of Pisa, owning about 80 hectares. It is located in a wonderful setting, on the hills around the small village Terricciola. They sell their wines and extra virgin olive oil both in Italy and all over the world. The visit to this estate is split into two steps. The first step is a plunge into history and past times. You will have the pleasure to visit the ancient monastery dating back to the XII century, a tiny romantic church, the Badia, and the ancient barrique store rooms. The tour goes further by visiting the modern cellars, in which the winemakers are adopting the most high-tech advanced equipments and combine them with the knowledge of the past times in order to get high quality wines responding to the market needs. Here you will taste all the wines together with some cheese and local sausages.