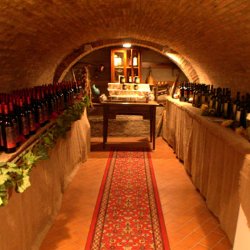 The old cellar of Bellavista Toscana
Typology of wines:
white, red, IGT, not aged in wooden barrels;

We recommend this wine:
"Balenzi".
The farm Lajatico belongs to the property Elisa. It is a family run winery located in Lajatico, near Volterra, the place where the tenor Andrea Bocelli was born. For 70 years the attention and the care of the Fulceri family has been dedicated to producing wine, olive oil, honey, marmalade and breeding animals. All this has made this farm a special one. Beyond the traditional ways of wine making, they have improved the production over the last years through modern research in order to produce high quality IGT wines. You will visit the old and the new cellars, and will taste the wines and the other products of the farm.
A building belonging to the estate has been turned into a tourist farm house, where several apartments are available. A romantic tiny restaurant is also available to taste the specialties of the house.