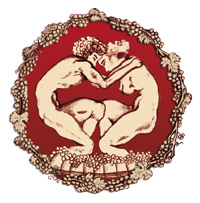 The Zeiro logo
Typology of wines:
white, red, Chianti, IGT, not aged in wooden barrels.
We recommend this wine:
"L' Abbraccio", in English "The Hug"
The farm Capannoli was born many years ago at the beginning of the last century, when the rich family Zeiro bought a XVIII century Villa in a small village near Pisa and many hectares of land on the hills all around. They started producing wine, olive oil and cereal. Nowadays the farm is run by two ladies of the family, mother and daughter, who learnt the genuine art of making wine adopting traditional means, respecting nature and working in a "slow" way.
You will have the pleasure to meet them, to feel the familiar and romantic atmosphere, to visit the small wine cellar and the private villa, still adorned with wonderful frescos and equipped with the original furniture. The visit includes the tasting of the wines they produce, as well as the extra virgin olive oil and the grappa combined with some cheese and bruschetta.