Licia welcomes you to her kitchen

Mum's kitchen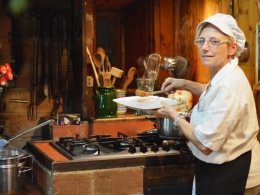 Adding ingredients

Licia's village is Lajatico, birthplace of the famous singer Andrea Bocelli: this is the view from Teatro del Silenzio in May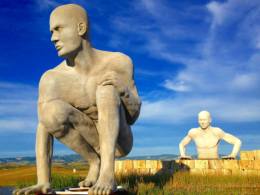 Every year at Teatro del Silenzio different statues are temporarily hosted
Have you ever seen a real grandma's kitchen in Tuscany? Do you want to take part to an interesting and informative cooking experience directly at the cook's house, during your next holiday in Tuscany? Would it be more meaningful if you visited also the village where Andrea Bocelli was born and the theater where he plays his yearly Tuscan concerts?
Arianna & Friends organize private half-day cookery classes in Tuscany right in the kitchen of Licia! Licia is a passionate and experienced cook from Lajatico, a small country village not far from Volterra, famous for being the birthtown of the singer Andrea Bocelli.



A COOKING CLASS AND A VISIT TO ANDREA BOCELLI'S TEATRO DEL SILENZIO

This half- day experience is a very unique opportunity for you to be a guest in a an authentic Tuscan private home. Licia and her family open their door and welcome you in their very picturesque kitchen so you can enjoy great food and wines from a truly Italian perspective.
Our program starts in the early afternoon (3.30 pm) when you meet your local English speaking guide and you get to the world famous Teatro del Silenzio, in Lajatico, a spectacular open-air arena where the singer Andrea Bocelli plays his yearly concerts every summer. On the way to Licia's house you will also have a short walk in the old village of Lajatico.
At around 4 pm we will get to get to Licia's house, a typical Tuscan home in a historical building in the old part of the village with a wonderful view over the Pisan hills.
Here you wear your aprons and then you begin working at the several dishes of the menu of the day: appetizers, primo and secondo and finally a dessert.
During the preparation of the dishes you are encouraged to learn how to chop vegetables by mezzaluna or how to knead an egg-dough for your home-made pasta by means of a rolling pin. At the end of the lesson you will have learnt many of Licia's wise tricks, characteristic of a genuine and spontaneous cookery!
Finally, all the dishes prepared are served in Licia's dining room for a full dinner together with some excellent wines. The wines you will be sampling are produced by Alberto and Cinzia, namely the brother and the sister-in-law of Andrea Bocelli. The family Bocelli has been a dinasty of important farmers and wine makers in the area for generations indeed.
Dinner ends at around 9 pm. This cooking experience is addressed to private parties only for a maximum of 6 participants at the class and 8 guests at dinner.
Your cooking class at Licia's will be the most striking day of your holiday in Tuscany!
During your day in Lajatico you have also the chance to see the world famous open air arena Teatro del Silenzio, founded by Andrea Bocelli.