Fresh white truffles sliced on fried eggs


The cooperation of the hunter with the dog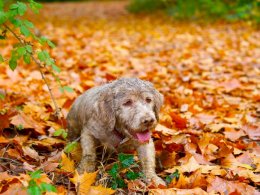 The protagonist of the day


Showing a truffle's location
GOLD FROM UNDERGROUND
Tuscany is lucky enough to have not only wonderful scenery above ground but also a real golden treasure in its soil: the truffle. Whether it is in search of the world renowned and prestigious white truffle of November, or the less expensive but still intensely flavored Summer black truffle, a walk in the peaceful woods of the area of the Pisan hills is the perfect occasion to experience the life of a truffle hunter.


DIGGING OF A DOG
We meet the truffle hunter at his premises (better in the morning) and we let his dog out before leaving for a 1.5 hour walk in the hope of striking gold. While scanning the undergrowth, we are given a lot of interesting information about how and in which conditions truffles grow. When finally some action starts we will see how the hunter and his dog work together to detect truffles. As the dog starts digging and the hunter encourages him to, we can see how truffles hide underground and how the soil must be preserved during the extraction.

LET'S COOK!
After collecting some fresh truffles in the woods we get back to the kitchen of the premises, we get dressed with aprons and chef's hats and we start preparing some specialties that will pair with the truffles. We learn how to clean, slice, process and preserve them and how to highlight their flavor.
At the end of the whole experience the joy for our palate: a complete lunch or dinner made of truffle specialities.
The dinner includes starters, a couple of main courses, dessert, wine and espresso.
Before leaving the truffle hunter's kitchen, you can buy truffle delicacies as your original souvenir of Tuscany. The whole experience takes place in the area of the Pisan hills for 5-6 hours.