The truffle farm of our tour is a charming panoramic hilltop location


The truffle hunter judges the quality of a beautiful white truffle
(Tuber Magnatum Pico)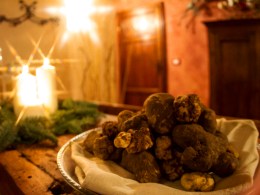 The truffles we find during the tour are yours! We will package them so you can bring them home.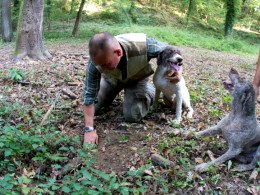 Dogs are fundamental to find truffles.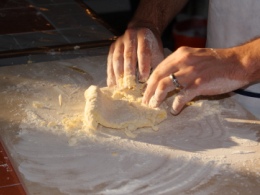 You learn how to make tagliolini, and then we will serve them with fresh truffles
for lunch


The location of the truffle hunting is a private nature reserve
THE MOST EXCLUSIVE TRUFFLE DAY TOUR IN TUSCANY
Are you looking for a spectacular private tour focusing on the excellent truffles of Tuscany in the most beautiful truffle region? Would you like to learn how to use truffles in the cuisine and make your truffle-based lunch? This is the place to go!
We arrange an exclusive VIP truffle hunting tour joined with an interesting short cooking lesson on an organic farm in central Tuscany, for you to see how truffles are found and to understand, how they can be used on the table.


GOOD MORNING TRUFFLE HUNTER!
Our private tour starts in the morning, when you meet our English speaking guide at an easy meeting point (between Pisa and Florence). The drive to the truffle hunting farm is in the middle of spectacular vineyards and rolling hills dotted by cypress trees - the most classical image of Tuscany - until we get to a very panoramic country cottage.
The first encounter with the truffle hunter is in a charming dining room with fireplace where you have a welcome breakfast. Coffee, tea, fruit juices will join a nice bruschetta with some cold cuts and finally a home-made cake. During breakfast, the truffle hunter will introduce to you the world of truffles and instruct you for the following truffle hunting walk.
LET'S GO TRUFFLE HUNTING!
When we are all ready, we start walking in the surrounding woods for about 1.5 hours with the truffle hunter and his dog, in search of seasonal truffles. There are many kinds of truffles we can find depending on the season, from Summer black truffles, to Spring or Winter white truffles. The hunter will show us hidden places and techniques for finding truffles. Other mushrooms or wild plants or berries can be gathered on this occasion.

LET'S MAKE FRESH PASTA!
After collecting some fresh truffles in the woods, we get back to the farmhouse and in the kitchen we learn how to make fresh tagliolini. You will choose some fresh eggs from the chickens' den and mix them with organic flour. With our hands we will prepare the main course of our lunch: tagliolini with fresh truffles. During the short class, a lot of other curiosities and habits about the local food traditions will be presented.
Finally, a delicious truffle-based lunch will be served. Lunch will be made of a nice appetizer with a selection of cheeses, cold cuts and truffle bruschettas, a plate of tagliolini with the fresh truffles just found, fried eggs with shaven truffles, cake with truffles and local wine.
Some of the truffles we found will be your souvenirs of this memorable day in Tuscany!
Before leaving, you can buy truffle delicacies on the farm as your original gift from Tuscany. The whole experience takes place in the area of the Pisan hills for 6 hours.