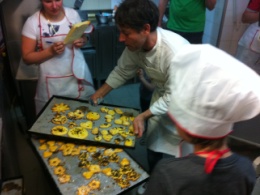 The pastry maker showing the cookies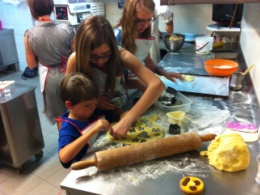 Children enjoy the pastry workshop experience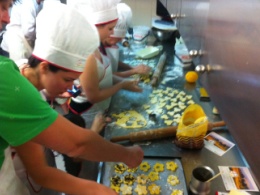 Teamwork during the class


Pizza based lunch after the class
The Tuscan pastry tradition has always been rich of delicious cakes. It is very common to taste a variety of them in small traditional pastry shops, often located in charming villages and little towns.
Arianna & Friends organize a two-hour pastry class in a traditional and welcoming pastry shop called "La Vecchia Carraia", which is also a renowned pizzeria and restaurant in the middle of a small medieval town called Peccioli.

Our classes are always arranged for private parties, either in the morning - followed by lunch - or in the afternoon - followed by dinner. Lessons at the pastry shop can be set for singles, couples or small groups of up to 8 people.
Our pastry experiences in Peccioli are carried out as follows:
- At your arrival our guide meets you and shows you the village of Peccioli in an introductive walk of about 30 minutes; the village is a typical medieval hamlet with little lanes, small picturesque squares and breathtaking landscapes over the Tuscan hills;
- Once at the pastry workshop you meet Andrea, the pastry maker, and wear your aprons and hats, which will be the souvenir of your experience;
- The first part of the lesson is dedicated to the preparation of cakes and biscuits belonging to the Tuscan tradition like cantuccini or the typical festivity cakes called ricciarelli, cavallucci and panforte; the selection of cakes can be personalized if you want to learn something in particular: for example, a typical summer cake is a semifreddo called zuccotto;
- The second part of the lesson is dedicated to the kneading of pizza dough, which you will then stretch and lay into a tin to bake your own unforgettable pizza with all your favorite toppings; the pastry shop and pizzeria "La Vecchia Carraia" only makes use of very selected local ingredients, including flours, extra virgin olive oil and all the toppings of your pizza;
- Finally, all you have prepared will be served in a following lunch or dinner in the small restaurant of the pastry shop together with some local matching wines and with the unique grappa of Colombana vine, a rare vine growing only in a restricted area of the Pisan hills.
- Before you leave, Andrea will pack your cookies and cakes for you to take away as a souvenir to show your friends!