Your Vespa & Food guide in Tuscany
Delicious lardo with honey to sample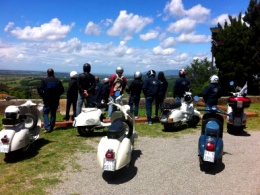 Very panoramic roads along the route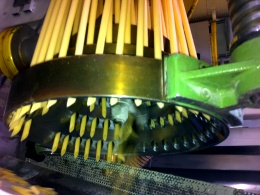 The pasta factory shaping penne


A group of Vespa riders at Teatro del Silenzio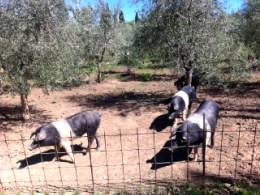 The piglets of the organic farm we visit


The Tuscan scenery of early June

A ROUND TRIP FOR "FOODIES" ON A VESPA ACROSS ROLLING HILLST

Join your bent for freedom and adventure with your passion for the best Italian food!
This is the perfect tour for visitors of Tuscany who want to admire its spectacular landscapes at the ideal pace while riding a Vespa scooter and who are willing to taste as much as possible of its local specialties!
The best way to enjoy Tuscany!
Arianna & Friends arranges a full-day Vespa tour with a local guide with focus on food specialties in the area of the Vespa Museum (not included in the following program) near Pisa and Volterra.

Here the outline of this tour:
- Day Vespa rental (6 hours) starting from the Railway Station of Pontedera (town of the Vespa Museum), 15 minutes from Pisa Central Station and 45 minutes from Florence Santa Maria Novella Station. Alternatively, the tour can start from our main office in Peccioli, Pisa area.
- A fantastic, panoramic and safe route across the rural Tuscany in the area of the Pisan hills, a region very famous for its excellent wines, extra virgin olive oil, salamis as well as picturesque medieval castles and enchanting villages.
- A private English speaking Vespa guide accompanying you for the whole trip. The guide shows you the villages and the attractions along the route with a particular focus on the landscapes, the local traditions and the historical and agricultural framework of the territory.
- More about the route & the food:

- a short visit to the medieval hamlet of Lari with access to a famous small artisanal pasta factory. Possibility to visit a charming medieval castle, with a little surcharge;

- a stop at a typical oil mill, belonging to a cinta senese piglet farm that produces organic salami and cold cuts. Here is where guided sampling of extra virgin olive oils is arranged, with a detailled explanation of the sampling techniques. The sampling of oils is accompanied by a little snack of organic cold cuts produced by the farm.

- a stop at the spectacular Teatro del Silenzio, in Lajatico, the birthplace of Andrea Bocelli. This is the very scenic open air arena where the worldwide famous artist arranges a yearly concert that attracts thousands of people every year;

Upon request, we can arrange a full lunch at the oil mill, made of an antipasto of salami and mixed cold cuts, bruschette with pates, olives and focaccia produced by the farm, along with a primo with spaghetti or maccheroni (from the company we visited in Lari) and pork meat ragù sauce from the farm.
- Helms provided

- Insurance included*

- Roadbook on the route with all information on what you see during your excursion

- Please, note that this offer is for maximum 8 Vespas, for min. 2 max 16 people.