Olive harvest experience at a Tuscan grove
Availability: Mondays , Tuesdays , Wednesdays , Thursdays , Fridays , Saturdays
Duration: 5 hours - In October, November or Dicember 2017
A WHOLE TREE MAKES JUST 4 BOTTLES?
An olive harvest is one of the most fascinating experiences you can enjoy in Tuscany. It is a wonderful way to learn a lot not only about the local wine & food traditions but also about the local culture. Those who tried it report that the atmosphere of a working oil mill and the enthusiasm of olive farmers during the harvesting season is something definitely unique. You can experience the olive harvest, be part of the olive oil production process and learn about the strive to make a high quality extra virgin olive oil!
An olive grove covered by nets
Our olive harvest experiences for visitors to Tuscany are available in the second half of October, November and December. You meet our guide in the morning and you reach a beautiful olive grove where you have a general introduction to the world of extra virgin olive oil and to the harvesting techniques. Then you start collecting olives from some selected trees assisted by your guide and by the olive farmer for approximately 1 hour.
During the whole harvesting experience the guide gives you facts and information about extra virgin olive oils and the culture of olive oil making in Tuscany.
A visit to an oil mill and lunch
After harvesting, your guide leads you to a nearby oil mill, where you see the machinery involved in the process for squeezing the olives and extracting the extra virgin olive oil. You will learn the little yeald that the production is able to reach and how all leftovers are treated to obtain side products.
Finally, you relax in a tasting room at the mill and sample some freshly pressed extra virgin olive oil and other local products in a delicious lunch.
What you taste
This is a list of specialties that you are likely to sample as part of the program of this tour. Please, note that the specialties of the tasting session and/or lunch may vary according to the season and the availability of the products in the day of the tour.
Whom you meet
In our tour we like showing you places off the beaten track and introducing you to Tuscan people with their personal stories, careers and characters.
You will have one of our guides with your party during the whole tour. Please, see below all the guides who can be with you.
During this experience you can also meet some of the Tuscan friends involved in the events. Please, see below which friends you are likely to encounter.
Rates
Rates Table
The total rate for this activity varies according to the number of people in your party.
Check rates in the table below.
PRIVATE OLIVE HARVEST EXPERIENCE
IN TUSCANY WITH LUNCH AND VISIT TO AN OIL MILL

– RATES 2017 –

NUMBER OF PEOPLE IN YOUR PARTY

TOTAL RATE

2 persons
€ 330 – personal insurance included*
3 persons
€ 395 – personal insurance included*
4 persons
€ 460 – personal insurance included*
5 persons
€ 525 – personal insurance included*
6 persons
€ 590 – personal insurance included*
7 persons
€ 655 – personal insurance included*
8 persons
€ 720 – personal insurance included*
9 persons
€ 785 – personal insurance included*
10 persons
€ 850 – personal insurance included*
extra person
€ 65 – personal insurance included*
child 4-11 y.o.
€ 40 – personal insurance included*
* The daily personal insurance is obligatory and will be issued by our staff according to your nationality and age.
More details will be provided in the booking procedure by our staff.
Rates include
A tour guide for the whole experience
General introduction + 1 hour of olive harvest on an olive farm
A guided visit to an operating oil mill
A guided sampling of freshly pressed extra virgin olive oil on the farm
A full lunch at the mill with local delicacies, wines included
* PERSONAL INSURANCE: Rates  include a personal insurance for the olive harvest experience, which is compulsory when working in the olive groves. Details will be defined by our booking staff.
Tax
Rates do NOT include
Transportation is not included in the rates above. For more info on transportation, please see the box "Transportation options".
Testimonials from our guests
This is a series of pictures we received from Lis, who enjoyed our olive harvest experience in November:
Info & Details
LOCATION OF ATTRACTIONS:
This tour takes place in the area of Terricciola, Peccioli and Volterra, a rural district between Pisa and Volterra, or in the area of San Miniato, near Florence.

MEET-UP LOCATION:
Unless differently specified, the tour guide meets you at a meeting point in or near Peccioli.

DURATION:
This program takes 5 hours. Time for transportation not included.

AVAILABILITY:
Available between mid October and mid December. Availability is subject to the havesting plans of the olive groves involved in the program. The olive harvest is in the middle of the fields and is strictly related to the weather conditions of the day. If you are booked in for this experience in a day in which it is impossible to harvest, we will arrange for you an alternative program to get the best from the day.

LANGUAGE:
This tour is available in English, German, French, Spanish, Russian or Italian with no surcharge.

DIFFICULTY LEVEL:
Medium

CHILD FRIENDLY:
Ideal for children

CLOTHING:
Comfortable shoes and clothes recommended. As we walk in olive groves, we recommend to wear no shorts nor sandals. The time we spend in the grove can be quite cool.

FOOD RESTRICTIONS:
The foods served during this tour might contain gluten, lactose, nuts and alcohol. If you have any food restriction, please inform our personnel during the enquiry process.

TRANSPORTATION:
This program and its rates do not include transportation and are set on a self-driving base. For further information see the box "transportation options".

OBLIGATORY INSURANCE:
A personal insurance is necessary for the harvesting experience. Rates may vary depending on your nationality and age. Please, see table of rates.

Transportation options
The destinations reached during this activity are in the Tuscan countryside, in areas off the beaten track that cannot be reached by public transport. We highly recommend renting a car or a scooter in order to reach them. As an alternative, we can offer a valued service by chauffeured car, van or minibus. Any cost of transportation is to be added to the rates displayed on the rate table of this page.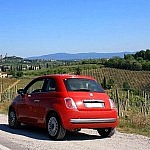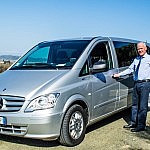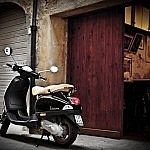 Organize your perfect vacation with us!
Booking office opening hours:
Monday through Friday 9am-7pm
Saturday 9am-1pm
Contact us