Grappa & liquor factory liquor tour
Availability: Mondays , Tuesdays , Wednesdays , Thursdays , Fridays , Saturdays
Duration: 3 hours
Rates
THIS TOUR MAKES YOU HAPPY
A memorable tour dedicated to two meaningful products of Tuscany: ponce coffee and grappa! An original and pleasant half-day tour designed for people who want to learn more about our delicious specialties while visiting a family-run spirit factory and then stopping at a local traditional bar.
A little snack at a typical bar
Our guide meets you at an easy meeting point (full details will be provided during the booking procedure) and gives you a detailled introduction of the rural Tuscany with forcus on the area of the Pisan Hills before leading you to a small medieval village for a short visit with a stop at a panoramic point by the ruins of a medieval fortress. After the visit you have the opportunity to stop at a local traditional bar, where you will enjoy a little snack, with panini and prosciutto.

Ponce alla Livornese, what a treat!
Here you will learn about the Italian habits around coffee and you will taste one of the best coffee-based specialties of Tuscany called ponce alla livornese.
A small family-run liquor factory
After the bar, your guide will accompany you to a special place where grappas and other liquors are produced. This is a very old company that has been making grappas for over 100 years. The family has always created unique liquors using herbs, plants, berries and fruits of local origin and today their methods are a mixture of tradition and modernity. You will visit the production rooms and you will learn about this precious art of treating distillates. Eventually you will have the pleasure to taste several types of their high quality grappas, limoncello and other liquors.
A day dedicated to great drinks!
What you taste
This is a list of specialties that you are likely to sample as part of the program of this tour. Please, note that the specialties of the tasting session and/or lunch may vary according to the season and the availability of the products in the day of the tour.
Whom you meet
In our tour we like showing you places off the beaten track and introducing you to Tuscan people with their personal stories, careers and characters.
You will have one of our guides with your party during the whole tour. Please, see below all the guides who can be with you. During this experience you can also meet some of the Tuscan friends involved in the events. Please, see below which friends you are likely to encounter.
Rates
Rates Table
The total rate for this activity varies according to the number of people in your party.
Check rates in the table below.
Grappa factory tour, with snack

– RATES 2018 –

NUMBER OF PEOPLE IN YOUR PARTY

TOTAL RATE

2 persons
€ 280
3 persons
€ 315
4 persons
€ 350
5 persons
€ 385
6 persons
€ 420
7 persons
€ 455
Extra adult
€ 35
Extra teenager (12-17 yrs)
€ 20
Extra child (4-11 yrs)
€ 15
Rates include
A tour leader for the whole tour
A guided visit to a liquor factory with sampling of grappa and liquors
A visit to a medieval village with stop at a local bar and ponce sampling
Tax
Rates do NOT include
Transportation is not included in the rates above. For more info on transportation, please see the box "Transportation options".
Testimonials from our guests
Here is the message of Joe and Sue, who visited Tuscany with our driver Enzo and our guide Luca and had many stops at our local producers, including the grappa factory:
Hello Arianna and Friends:
Just a quick note to tell you about the great time we had with some of your staff.  Sorry I don't remember your driver's name, but he was a great part of the tours especially for his willingness to jump in and help.
Of course Lucca is a great guide.  His passion for the area, the people, and his job is infectious.  His knowledge of the area's foods and customs, not to mention wines is impressive and much appreciated by Sue and I.
Congratulations for the work you all do.
Joe and Sue
Info & Details
LOCATION OF ATTRACTIONS:
This tour takes place in the rural area of Palaia and Terricciola, between Pisa and Volterra.

MEET-UP LOCATION:
Unless differently specified, the tour guide meets you at a meeting point near Terricciola or Palaia.

DURATION:
This program takes 3 hours. Time for transportation not included.

AVAILABILITY:
Available any day of the week, from Mondays through Fridays.

LANGUAGE:
This tour is available in English, German, French, Spanish, Russian or Italian with no surcharge.

DIFFICULTY LEVEL:
Easy

CHILD FRIENDLY:
Not ideal for children

CLOTHING:
No particular clothing required.

FOOD RESTRICTIONS:
The foods served during this tour might contain gluten, lactose, nuts and alcohol. If you have any food restriction, please inform our personnel during the enquiry process.

TRANSPORTATION:
This program and its rates do not include transportation and are set on a self-driving base. For further information see the box "transportation options".
Transportation options
The destinations reached during this activity are in the Tuscan countryside, in areas off the beaten track that cannot be reached by public transport. We highly recommend renting a car or a scooter in order to reach them. As an alternative, we can offer a valued service by chauffeured car, van or minibus. Any cost of transportation is to be added to the rates displayed on the rate table of this page.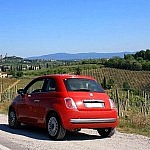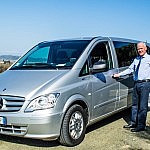 Organize your perfect vacation with us!
Booking office opening hours:
Monday through Friday 9am-7pm
Saturday 9am-1pm
Contact us