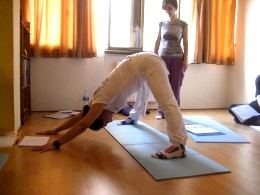 Example of standing pose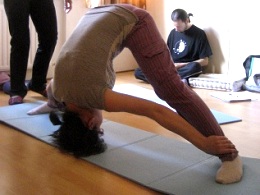 Posing and listening to your Pranayama breathing
One of our group lessons at our studio
PRIVATE HATHA YOGA CLASSES AT YOUR VILLA/HOLIDAY HOUSE

Your stay in Tuscany is the perfect occasion for yoga classes. An unspoiled countryside and a perfect balance between agricultural setting and small inhabited villages make it the ideal location for your relaxation and mental well-being.
You can boost such benefits by taking our private yoga classes. Yoga practice helps you reduce or eliminate anxiety and get the most of your inner energy.
Our yoga teachers meet you directly at your accommodation (your villa, country apartment, agriturismo) and bring mats, covers and personality.
You only need to wear loose clothing. You will choose the best location for your class, for example in the garden, veranda or simply in a silent room at your location. Then you take off your shoes and let the teacher instruct you.
Each class begins with a fundamental part of Hatha Yoga: the Pranayama breathing technique.
Through the Pranayama, the teacher will invite you to pose in 30 different ways, standing, sitting and lying. You will listen to your own breathing and stretch, close or open your muscles, achieving a status of balance and well-being.
The final 10-15 minutes of the training will be dedicated to your full relaxation.
The lessons take 1 hour and 30 minutes. Ideally, our lessons are held in the morning between 10 and 12 am or in the afternoon between 4 and 6 pm. We can vary the timing according to your needs.

PRIVATE HATHA YOGA PRACTICE AT OUR PREMISES
Our yoga studio has its premises in the are of the Pisan hills (Pontedera, Peccioli and Lari). If you want to join us for your private yoga lessons, our teachers welcome you!


We arrange singles 1.5-hour Hatha Yoga classes at your premises or at our studios. If you book more than one lesson, discounts apply.
See rates below.


Rates and enquiries




PRIVATE YOGA CLASSES IN TUSCANY

- Rates 2017 -


Private yoga class provided
at your premises*

Private yoga class
at our studios
* Rates apply for locations within 30 minutes drive from our studios in Pontedera, Peccioli or Lari, in the Pisa area. If your premises are further away, a surcharge for the teacher transfer applies.


Rates include:
+ 1.5 hour lesson held our yoga teacher
+ Mats

Rates do not include transportation to our studios

YOGA CLASS IN TUSCANY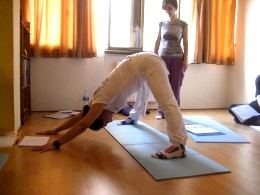 ENQUIRE ABOUT A PRIVATE HATHA YOGA CLASS IN TUSCANY