Private cookery class in Licia's kitchen
Availability: Mondays , Tuesdays , Wednesdays , Thursdays , Fridays
Duration: 5.5 hours - Afternoon classes only  
Rates
COOKING AT THE GRANNY'S IN THE VILLAGE
Have you ever seen a real grandma's kitchen in Tuscany? Do you want to take part to an interesting and informative cooking experience directly at the cook's house, during your next holiday in Tuscany? Would it be more meaningful if you visited also the village where Andrea Bocelli was born along with the theater where he plays his yearly Tuscan concerts?Arianna & Friends organize private half-day cookery classes in Tuscany right in the kitchen of Licia! Licia is a passionate and experienced cook from Lajatico, a small country village not far from Volterra, famous for being the birthtown of the singer Andrea Bocelli and for his Teatro del Silenzio.
A visit to Teatro del Silenzio by Andrea Bocelli
This half- day experience is a very unique opportunity for you to be a guest in a an authentic Tuscan private home. Licia and her family open their door and welcome you in their very picturesque kitchen so you can enjoy great food and wines from a truly Italian perspective. Our program starts in the early afternoon (3.30 pm) when you meet your local guide and you get to the world famous Teatro del Silenzio, in Lajatico, a spectacular open-air arena where the singer Andrea Bocelli plays his yearly concerts every summer. On the way to Licia's house you might also have a short walk in the old village of Lajatico if the weather is good.

A beautiful cooking experience in a charming granny's kitchen
At around 4 pm we will get to get to Licia's house, a typical Tuscan home in a historical building in the old part of the village with a wonderful view over the Pisan hills. Here you wear your aprons and then you begin working at the several dishes of the menu of the day: appetizers, primo and secondo and finally a dessert. During the preparation of the dishes you are encouraged to learn how to chop vegetables by mezzaluna or how to knead an egg-dough for your home-made pasta by means of a rolling pin. At the end of the lesson you will have learnt many of Licia's wise tricks, characteristic of a genuine and spontaneous cookery!
Finally, all the dishes prepared are served in Licia's dining room for a full dinner together with some excellent wines. The wines you will be sampling are produced by Alberto, the brother of Andrea Bocelli. The family Bocelli has been a dinasty of important farmers and wine makers in the area for generations indeed.
Dinner ends at around 9 pm. This cooking experience is addressed to private parties only for a maximum of 6 participants at the class and maximum 8 guests for dinner.
Your cooking class at Licia's will be the most striking day of your holiday in Tuscany!
What you taste
This is a list of specialties that you are likely to sample as part of the program of this class. Please, note that the specialties of the menu prepared at the class may vary according to the season and the availability of the products in the day of the class.
Whom you meet
In our cooking class we like telling you a lot about Tuscan farms and farmers' cooking traditions, introducing you to Tuscan people with their personal stories, careers and characters.
You will have one of our guides as a language assistants and coordinator with you during the whole class. Please, see below all the guides and language assistants who can be with you.
During this experience you will also meet one of our Tuscan cooks who give you the cooking class. Please, see below which cooks you are likely to encounter.
Rates
Rates Table
The total rate for this activity varies according to the number of people in your party.
Check rates in the table below.
HALF-DAY TUSCAN COOKING CLASS
AT LICIA'S HOUSE WITH WINES OF THE WINERY BOCELLI
+ GUIDED VISIT TO TEATRO DEL SILENZIO

– RATES 2019 –

NUMBER OF PEOPLE IN YOUR PARTY

TOTAL RATE

 2 people
€ 440
  3 people
€ 475
 4 people
€ 510
Extra Adult
€ 35
Extra Teenager (12-17 yrs)
€ 30
Extra child (4-11 yrs)
€ 25
This cooking class is available for up to 6 people
Rates include
Guided visit to Lajatico and Teatro del Silenzio
Private teaching by Licia
Private language assistant
3-hour cooking class in Licia's kitchen
All food & wines from the Bocelli winery
Printed material
Personal aprons as souvenirs
Served full dinner
Tax
Rates do NOT include
Transportation is not included in the rates above. For more info on transportation, please see the box "Transportation options".
Testimonials from our guests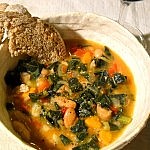 This is the message of Eileen, who learnt how to make ribollita soup at our cooking class during her Tuscan holidays:
Thanks so much for the cooking lesson. The ribolitta was delicious on the second night- even better as you said it would be!! Please send the recipes to my email and I will forward to Donna and Steve. Thanks again for a fun experience with delicious results!!! Eileen
Here the message of a young couple who joined us for a private cookery class in Lajatico at Licia's:
Luca,
Kayla and I had such a great time with you and Licia!  It was by far our best meal of the trip.  I hope you had fun with all the truffle eating on Thursday.  We made it back to Denver late last night.  When you have a chance will you send us the recipes from our meal?
Thanks again,
Thanks,
Jacob and Kayla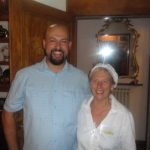 This is an email we received from Craig, who experienced a private cooking class at Licia's in Lajatico and a private chef service at their villa in Tuscany
To All at Arianna & Friends,
We just completed our first vacation to Italy. It was a great success in large part due to the excellent events that your group provided for us.
I am terrible at remembering names so please forgive me.
Our first event was dinner at our condo (HGVC). The food and wine was outstanding and the 2 ladies that did the cooking were very friendly and fun. I cannot remember their names and I apologize for that! But I am sure you can review your records and see.
Our second event was with Licia and Massimo. It could not have been better. Great setting, great food and Massimo was the perfect host. He has a warm personality and we all enjoyed our time with him.
We wanted to say "Grazie!" and hope you can pass along our compliments to both sets of hosts.
Also, Massimo mentioned that some of the recipes might be made available to us if we asked. If possible, and if it is easy enough for you, we would love the pasta, main course and dessert recipes. No worries if you cannot.
Thanks again and have a great summer!
S. Craig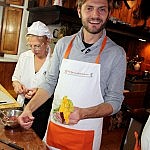 This is an email we received from Luz, who experienced a private cooking class at Licia's in Lajatico:
Thank you for your email, Luca!! We are still raving about our evening with you and Licia! We've posted Lots of pics on my Facebook (please friend me & Lou – Suz Abare & Lou Abare).
When we get back home I will definitely write up our trip using your links!
Again, you were both fabulous and we felt like we were with family just hanging out and cooking!! Words can not express our gratitude.
We will definitely be in touch, refer our friends and return to this lovely area!!
This is a message we received in November 2016 from a lovely couple who took our private class at Licia's:
Luca,
Kayla and I had such a great time with you and Licia!  It was by far our best meal of the trip.  I hope you had fun with all the truffle eating on Thursday.  We made it back to Denver late last night.  When you have a chance will you send us the recipes from our meal?
Thanks again,
Thanks,
Jacob and Kayla
A message of appreciation of Ken and Cheryl after a cookery lesson in Licia's kitchen with Arianna:
Cheryl and I are now home with fond memories of our time in Tuscany this year.  We are very thankful to Arianna and Friends for many fun days.
We look forward to seeing you again next year
A note from Julia who visited us and took a private cookery class at Licia's in Lajatico
Hi Luca!
We just got back to NY last night.  We had a FABULOUS time with you and Licia.  It was truly a memorable experience.  You both were so knowledgable and fun to be with!  I will certainly send you some photos when I upload them.  I will recommend you to any friends going to Tuscany!
Julia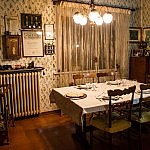 A quick note we received from Mari and Tom after a private cookery lesson with Licia and Massimo
The cooking class was an absolute highlight to our trip.  Massimo and Litia are excellent teachers and we learned so much from them about cooking, Italy and life in general.  We are so grateful for this service and the memories!
And after we replied:
It is so good to hear from you!  We are so grateful for the recipes.  Saturday we made the bruschetti, the ragu and the 'salami' and we were successful.  Our friends asked us to do it again!  I tried to send you a text last week but my phone wouldn't cooperate.  I had a couple of questions – is semola flour  the same as semolina? (we didn't do the tagliatelle  Saturday since we wanted to practice on ourselves first).  And we couldn't find stracchini cheese in our area.  We used cream cheese and it was good (not the same!)  What kind of cheese is stracchini?  The very first thing we did when we got home was to order a mezzaluna!)
The rest of our trip was amazing and wonderful, but I have to say, when people ask us what was the most memorable part, Tom and I both answer "our cooking class!"  This week I will post our a.ppreciation to you and Litia on Trip Advisor.  Thank you for being such a vital part of our adventure!
Always,
Mari and Tom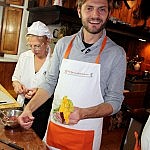 This is a message from Nicole: after she experienced a private cooking class at Licia's with Luca, she immediately wanted to book another of our tours:
I recently was on an Arianna & Friends experience with the Tuscan Cooking Class last Friday. Our chef was Licia and our translator was Luca–the people in our group were named Carolyn, Jared, Steve, and Nicole. I'm Nicole, and I was so excited about that class that when my father and brother arrived here in Italy yesterday, I urged them to pick another Arianna & Friends experience!
So, I'd like to book an Olive Oil & Cheese Experience day with Arianna & Friends. There will be four people (me, Steve, my brother, and my father) attending this experience.
We are currently residing in Pietrasanta and we have no car. We are interested in this experience for this Wednesday, 11 July. If this day doesn't work, we might be able to schedule on another day.
It is better to get in touch with me via email than phone.
Also, I'd like to request Luca as a translator again, if he's available and interested in this experience. He was wonderful company during the previous experience!
Thanks so much! Looking forward to hearing from you!
-Nicole
A note from Monica from South Africa, who took her family to Licia's for a private cookery class and learnt a lot about real extra virgin olive oil
Dear  Masimo and Arianna
We had a lovely  evening  with Lisa in her kitchen !!! Thank you so much – have already found some great South African Olive oil  and will be baking the Cantucinni soon !!!
Monica  and  family
This is a message we got from a young couple from Australia who visited us in Winter and took a perfect activity in Tuscany for this time of the year: a private cookery lesson at Licia's home
Hi Arianna and Massimo,
We came to Italy in December and did a cooking class with Licia at her home and also did the truffle hunting too.
We have arrived home and I just wanted to say a HUGE thank you for the experience.  It truly was fabulous.  We had a great time and have told everyone about it.
I was wondering if you would be able to send us some pictures of our cooking class?  We love to have some for our album.
Also, I seem to have missed a note in our cooking class – do you know how much water you are supposed to put in to make your own pasta?  It's 200g of flour etc etc… but how much water?
Thank you again and we hope you use your services again in the future if we travel to Italy again.
Kind regards,
Sarah and Steven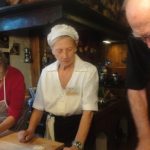 This is an email we received from Theresa, who spent half a day in Lajatico at our chef's house.
Dear Ariana,
We had a wonderful evening with Licia and Massimo last September. Massimo first showed us The Theater of Silence in Lajatico and then led us to Licia's wonderful home. The lesson, dinner, wine and company were excellent – we truly enjoyed ourselves. Massimo told me that I could receive the recipes for our meal and I would love for you to send them to me. I did take notes but in rereading them, I'm missing quite a bit since I was involved in the preparing and the cooking. I am also going to send you some photos – please share with Licia and Massimo.
Thank you,
theresa
Vegetables fried in a light batter
Ravioli with Tuscan meat sauce
Pork filet in bread crust
Tiramisu
This is an email sent to us from Anina and her 5 friends, who spent an evening at our chef's house for an interesting and tasty cooking class:
Dear Massimo,
Just a short note to say thank you very much for a most fantastic and unforgettable evening of cooking ! We mostly enjoyed it, and it was one of our highlights of the trip ! It is mostly recommendable !
Marielize and Monica
Marianne and Massimo
Anina, Lizelle and Marielize
The Group
Best Regards
Anina
Info & Details
LOCATION OF THE COOKING VENUE:
This cooking class takes place in the village of Lajatico, in central Tuscany, among Pisa, San Gimignano and Volterra.

MEET-UP LOCATION:
Unless differently specified, the meeting point with the language assistant is at an easy meeting point near Lajatico. Detailled instructions will be provided.

DURATION:
This program takes 5.5 hours: 3 hours for cooking and the rest for dinner/lunch, visit to Teatro del Silenzio and relaxation. Time for transportation not included.

AVAILABILITY:
Available all the year through, from Mondays through Fridays, in the afternoon only, followed by dinner.

LANGUAGE:
This class is available in English, German, French, Spanish, Russian or Italian with no surcharge.

DIFFICULTY LEVEL:
Easy

CHILD FRIENDLY:
Ideal for children

CLOTHING:
No particular clothing required.

FOOD RESTRICTIONS:
The foods served during this cooking class might contain gluten, lactose, nuts and alcohol. If you have any food restriction, please inform our personnel during the enquiry process.

TRANSPORTATION:
This program and its rates do not include transportation and are set on a self-driving base. For further information see the box "transportation options".
Transportation options
The destinations reached during this activity are in the Tuscan countryside, in areas off the beaten track that cannot be reached by public transport. We highly recommend renting a car or a scooter in order to reach them. As an alternative, we can offer a valued service by chauffeured car, van or minibus. Any cost of transportation is to be added to the rates displayed on the rate table of this page.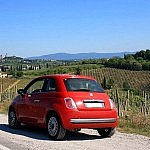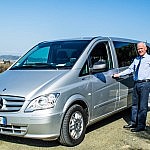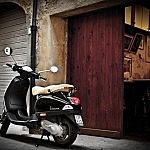 Organize your perfect vacation with us!
Booking office opening hours:
Monday through Friday 9am-6pm
Contact us