Free guided walking tour of Peccioli
Availability: Wednesdays
Duration: 2 hours - According to calendar
Rates
A WALK BACK IN TIME
Free guided walking tour of Peccioli during the weekly street market once a month!
On Wednesdays 5th June, 3rd July, 7th August, 4th September and 16th October 2019 from 10 to 12 am with English and Italian speaking guide.
A free guided tour called "A walk back in time" with a guided visit to the small and very authentic medieval village of Peccioli, on the first Wednesday of the month from June through October in the morning from 10 am to 12 pm. A walk in the town with its local population doing shopping with a visit to a little museum of Etruscan findings, stops at many picturesque places and a free sampling of Tuscany specialties in the end …
PROGRAM:
Guided walk along tiny lanes and small squares in town
Detailed explanation of local art, history and habits
Stop at the "castellaccia" panoramic hilltop garden
Visit to the local Archaeological Museum with Etruscan findings in the impressive location of an ancient cellar
Free time in town for shopping
MEETING POINT
Meeting with the guide at 9:45 am in front of the tourist information office of the Municipality of Peccioli, Piazza del Popolo 5, in the square of the bell tower. Departure of walk with the guide at 10 am.
 A reservation is preferred but not compulsory.
INFO & BOOKINGS:
Tel: +39 0587 672088 – info@ariannandriends.com
This guided walking tour is free of charge as a promotion of the Municipality of Peccioli in cooperation with the Foundation Peccioliper and with the destination management company Arianna & Friends. The tour is led by a tour guide licensed for the territory of Pisa and its province.
What you taste
This is a list of specialties that you are likely to sample as part of the program of this tour. Please, note that the specialties of the tasting session and/or lunch may vary according to the season and the availability of the products in the day of the tour.
Whom you meet
In our tour we like showing you places off the beaten track and introducing you to Tuscan people with their personal stories, careers and characters.
You will have one of our guides with your party during the whole tour. Please, see below all the guides who can be with you.
During this experience you can also meet some of the Tuscan friends involved in the events. Please, see below which friends you are likely to encounter.
Rates
Rates Table
This tour is free of charge. It is a promotional activity offered by Arianna & Friends in cooperation with the cultural foundation PeccioliPer.
Rates include
Rates do NOT include
Testimonials from our guests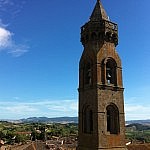 This is an email we received on from Ann and Fred, who booked several tours with our company during their stay in Tuscany.
|…| in addition, we also enjoyed our tour of Peccioli with Moira – I know it was difficult for her to "herd" her group through the streets and market but she did a wonderful job of keeping us together and telling us about your lovely town.
Please let them all know how much we appreciated them and we send them kisses from America.
Again, thank you to Arianna and Friends – we are also your friends now!
Ciao,
Ann and Fred
Info & Details
LOCATION OF TOUR:
This guided walking tour takes place in the small village of Peccioli, in a rural area between Pisa and Volterra.

MEET-UP LOCATION:
The meeting point with the guide is in Peccioli, Piazza del Popolo 5, in front of the tourist information office of Peccioli, at 9.45 am. The tour starts at 10 am.

DURATION:
This program takes 2 hours. Time for reaching the meeting point not included.

AVAILABILITY:
On Wednesdays 5th June, 3rd July, 7th August, 4th September and 16th October 2019.

LANGUAGE:
This tour is available in English and Italian.

DIFFICULTY LEVEL:
Easy

CHILD FRIENDLY:
Not ideal for children. Children under 10 years are not allowed on vespas.

CLOTHING:
No particular clothing required.

FOOD RESTRICTIONS:
The foods served during this cooking class might contain gluten, lactose, nuts and alcohol. If you have any food restriction, please inform our personnel during the enquiry process.

TRANSPORTATION:
This program does not include transportation to the meeting point and is set on a self-driving base. For further information see the box "transportation options".
Transportation options
The destinations reached during this activity are all in the small village of Peccioli and are reached on foot during our walking tour. In order to reach our meeting point in Peccioli, visitors can drive a rented car or take a public bus. For info on the local bus service timetable please click on the following URL http://www.pisa.cttnord.it/Linee_e_Orari/Linee_Extraurbane/L/134 (routes 430 and 460).
The meeting point of this tour is very close to the public underground parking lot of Peccioli, where you can safely park your car.
Private transfer:
As an alternative, we can offer a valued private service by chauffeured car, van or minibus. Please, contact us for a quotation of such a private service.
Organize your perfect vacation with us!
We are in smart working mode
Working hours:
Monday through Friday 9am-6pm
Contact us