Albergo diffuso in Tuscany
Albergo Diffuso or Dispersed Hotel: a WHOLE VILLAGE as your holiday resort
If you want to really enjoy the spirit of the Tuscan people during your holidays, you should stay exactly in the places where they live. Medieval towns and villages of Tuscany are lively and genuine places where all inhabitants know each other and feel to belong to the local community.
Living in small and non touristy towns of this beautiful region is not only an affordable solution for your vacation but also a life experience that you will never forget. The other people living where you are accommodated are local inhabitants.. and the access to your unit is through picturesque little lanes of a medieval village.
In the village where Arianna & Friends is located, Peccioli, you have the chance to stay in cozy and comfortable units in town and use all the services of the village, as if you were in a resort:
– the pastry shop of the town will be your breakfast room
– you will park your car in the communal underground parking lot of the Municipality, with elevator accessing the old town
– little squares and public sitting areas will be the lounge of your accommodation
– your rooftop terrace will be a stunning garden on the top of the hill right in the middle of the village
For further info and details:
Rates
Rates Table
Rates for this type of accommodation varies according to the unit and the lenght of your stay.
Email us for a detailled quotation:
Rates include
Rates do NOT include
Testimonials from our guests
This is an email we received from Sabine. Sabine and her party stayed in the medieval village of Peccioli in one of the units belonging to our Albergo Diffuso "Borgo Medievale di Peccioli":
Good afternoon Massimo,
We just would like to tell you THANK YOU for helping us finding this beautiful apartment where we were able to stay for 3 nights.
The location was excellent and everything was super clean.
We appreciated the most that we did not feel like a customer. It felt more being treated like friends. For us, it was an amazing experience, because we were able to live like local italians and not like tourists.
Your office was so helpful and carrying, we never experienced before.
We tell all our friends about this experience, location and friendliness in this town and
recommend your city to everybody. Hopefully, this will bring you more visitors.
We will come back for sure. Just, the date is not decided, yet.
Many greetings from Canada
Jean & Sabine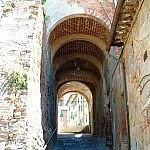 These are recommendations we received on our Linkedin profile  from Carol, who spent a week here in our Albergo Diffuso in Peccioli (a dispersed hotel inside a medieval village) and took part to many of our activities, and from Richard, who came several times to the concert of Andrea Bocelli at Teatro del Silenzio through our organization.
Details of the Recommendation: "As co-owner of Arianna and Friends, Arianna Fazio been instrumental in building a very successful inbound tour operator business. Her company provides a wide variety of day tours in the vicinity of Peccioli in Tuscany as well as "live local" accommodations. Their tours can be customized for individuals or groups and cover a variety of local customs and culture. I would highly recommend Arianna and her company to anyone wanting to get off the beaten path in Tuscan."
Service Category: Tour Operator
Year first hired: 2012
Top Qualities: Expert, Good Value, High Integrity
Here is a feedback on the professional service of Arianna at arranging a stay in Peccioli:
Details of the Recommendation: "Arianna Fazio, and friends have the ability to organise your holiday itinerary , whether it be for family , but also for Concerts, exhibitions
Arianna has the personal touch and attention to detail, she has a deep and detailed knowledge in the travel industry and holidays achieving great results at a reasonable cost to their clients.
A person of high integrity."
Service Category: Business Consultant
Year first hired: 2013 (hired more than once)
Top Qualities: Expert, Good Value, High Integrity
Organize your perfect vacation with us!
Booking office opening hours:
Monday through Friday 9am-6pm
Contact us