Private pasta & pizza making class and walk in Pisa on your own
Availability: Mondays , Tuesdays , Wednesdays , Thursdays , Fridays , Saturdays , Sundays
Duration: 8.5 hours
Rates
Would you like other passengers of your cruise to join you for this tour?
If the number of participants increases the cost per person reduces much!
POST INFORMATION ON THIS TOUR ON YOUR PASSENGERS BOARD – COPY THIS LINK
https://www.ariannandfriends.com/shore-excursions/pizza-making-pisa-shore-excursion
LEARN THE DIFFERENCE BETWEEN PISA AND PIZZA!
Arianna & Friends arranges an exciting full-day private shore excursion to the hilly area near Livorno for you to learn how to make fresh pasta and pizza. You reach a lovely country house where you enjoy a private pasta & pizza class followed by a delicious lunch. In the afternoon you reach Pisa downtown for a walk around the leaning tower and the monumental square on your own.
Details of our shore excursion:
– Private transfer by minivan (up to 8 people) or minibus (9 people or more) from the port of Livorno. In case of minivan our driver meets you directly at the ship in the morning and drives you for the whole day. In case of minibus our driver meets you at a bus parking area near the ship that you will reach by a fast free shuttle service organized by the port. On the way back our mininus will drop you off directly by the ship.
– You drive for about 50 minutes and reach a beautiful country cottage with a stunning view over Tuscan hills. Here you meet an English speaking assistant who gives you an interesting introduction to the rural Tuscany, its rural habits, facts and history, while showing you the marvellous property where the cooking venue takes place. You will learn about farming in the Tuscan countryside and you will see the friendly animals living on the farm. The assistant is available also in French, German, Russian, Spanish and Italian.
–  Our private pizza & pasta making lesson starts when you wear your personal apron, which will be your souvenir of the cooking experience with us. Following the instruction of a local very nice chef and pizza maker, translated by our assistant, you will start making the pizza dough and the pasta dough before passing to a careful preparation of all toppings for the pizzas and a delicious sauce for the pasta.
– All delicious foods prepared are served in an informal and joyful lunch: the delicious pasta you just made will be served with great local wines and drinks and then you will practice making pizzas in our wood burning oven and you will taste them immediately as they get out of the oven! You will make plenty of assorted pizzas with any topping prepared.
– After lunch our chauffeur will drive you to the monumental area of the Leaning tower of Pisa. You will get directly to the stunning marble complex of the Miracles' Square as our driver is licensed to enter any restricted area in town. You will have 1,5 or up to 2 hours in town on your own for some shopping or a great gelato. Upon request with a surcharge it is possible to have a licensed Pisa city guide for a guided walking tour. For groups of 9 ore more people transportation is by minibus. Minibuses are subject to traffic restrictions in Pisa and are not allowed to reach the monumental square directly. A walk of 15 minutes from the bus parking to the leaning tower is necessary.
– Return within the early evening, depending on the docking time of the cruiseship.
What you taste
This is a list of specialties that you are likely to sample as part of the program of this tour. Please, note that the specialties of the tasting session and/or lunch may vary according to the season and the availability of the products in the day of the tour.
Whom you meet
In our tour we like showing you places off the beaten track and introducing you to Tuscan people with their personal stories, careers and characters. You will have one of our guides with your party during the whole tour. Please, see below all the guides who can be with you. During this experience you can also meet some of the Tuscan friends involved in the events. Please, see below which friends you are likely to encounter.
Rates
Rates Table
The total rate for this activity varies according to the number of people in your party.
Check rates in the table below.
SHORE EXCURSION FROM LIVORNO PORT

 Private pASTA & Pizza making class aT A TUSCAN FARM AND PISA ON YOUR OWN

– RATES 2019 –

NUMBER OF PEOPLE IN YOUR PARTY

TOTAL RATE

2 persons
€ 810
3 persons
€ 870
4 persons
€ 930
5 persons
€ 990
6 persons
€ 1050
7 persons
€ 1110
8 persons
€ 1170
9 persons
€ 1440
Extra adult
€ 50
Extra teenager (12-17 yrs)
€ 45
Extra child (4-11 yrs)
€ 40
Rates include
Full-day transfer service by car (for parties of 2 people), minivan (for parties of 3 and up to 7-8 people) or minibus (for parties of 8-9 people or more). In case of use of minibus a bus parking fee applies in Pisa, which is included in the rates.
English speaking assistant at the cooking venue (also German, Spanish, French, Italian or Russian are available). The assistant can meet you at the harbour. In this case a surcharge of 100 Euro applies. Please, note that in this case a minivan will accommodate max 7 passengers
Hands-on pasta & pizza making class at a Tuscan farmhouse with full lunch;
Free time in Pisa;
Tax, transfer insurance and fees for harbour access;
ARIANNA & FRIENDS IS COMMITTED TO EMPLOY OFFICIAL AND LICENSED DRIVERS ON BOARD LEGALLY INSURED VANS AND BUSES ONLY FOR ITS TOURS.
Rates do NOT include
Extra for English speaking assistant meeting you directly at the harbor and dropping you off at the ship in the end of the day: € 100
Extra for private licensed Pisa city guide: € 170
Testimonials from our guests
This is the email Judy send us after stopping in Livorno and taking our private shore excursion to the pizza maker's in Tuscany
Hello Luca,
We are fine and we are in Rome now!  We've been so busy since our day together that I haven't had a chance to email and thank you for the wonderful day we had.  Everyone in our group was so pleased and happy with the experience.  We loved you and  your excellent commentary about Tuscany and the things we saw, and we also enjoyed Chef Aldo and his beautiful villa (and the great cooking lessons!) so very much.  Even the bus was so comfortable and pleasant.  We all learned a lot and had lots of fun as well.  It was a day we will never forget!
I must tell you….when we arrived back to the ship, we heard many of our fellow passengers complaining about the activities they had done that day.  They complained about uncomfortable buses and big crowds and not being able to hear or understand their guides.  We all just smiled and said….WE HAD A GREAT DAY!…There were no crowds, we had a comfortable bus, and our guide was the best.  Please let Arianna know how much we enjoyed our day.  And THANK YOU for the lovely gifts of Tuscan wine – we are all enjoying that very much too!
Judy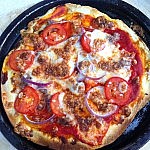 This is an email arrived from Lana, who met Massimo for a one-day shore excursion starting from the port of Livorno.
Bonjourno Massimo,
I have to say that our day with you at Aldo's house making pizza was one of the highlights of our trip! It was truly a magical day! The cruise was very nice but a little large for our liking. The other trip that we enjoyed was to Naples, Pompeii & the Amalfi coast. We had lunch at a beautiful restaurant in Positano. Bellisima!
Thanks so much for making our trip so special. Russell and I may be traveling back to Tuscany next September as he will be having his 50th birthday. I will definitely be in touch if we make the trip back.
Please give our thanks again to Aldo.
Best regards, Lana
Info & Details
LOCATION OF ATTRACTIONS:
This tour takes place in the rural area of Palaia, between Pisa and Volterra.

MEET-UP LOCATION:
Unless differently specified, our driver meets you at your ship in the harbor of Livorno. If your ship is docking in other harbors of Tuscany like La Spezia or Piombino, different rates and time schedules apply.

DURATION:
This program takes 8,5 hours. Time for transportation included.

AVAILABILITY:
Available any day of the week, all year through.

LANGUAGE:
This tour is available in English, German, French, Spanish, Russian or Italian with no surcharge.

DIFFICULTY LEVEL:
Easy

CHILD FRIENDLY:
Ideal for children

CLOTHING:
No particular clothing required.

FOOD RESTRICTIONS:
The foods served during this tour might contain gluten, lactose, nuts and alcohol. If you have any food restriction, please inform our personnel during the enquiry process.

TRANSPORTATION:
This program and its rates include full-day transportation on board luxury cars (for 2 passengers), minivans (from 3 to 8 passengers) or minibuses (from 9 to 17 passengers). All drivers are fully licensed and allowed to enter the harbor of Livorno. All our cars, vans and buses are fully licensed and insured for transporting visitors. Minibuses are obliged to pay a bus parking fee in Pisa of € 200.
Transportation options
The destinations reached during this activity are in the Tuscan countryside, in areas off the beaten track that cannot be reached by public transport. As a consequence, a full-day driving service on board luxury cars, minivans or minibuses is included in this program.
ARIANNA & FRIENDS IS COMMITTED TO EMPLOY OFFICIAL AND LICENSED DRIVERS ON BOARD LEGALLY INSURED VANS AND BUSES ONLY FOR ITS TOURS.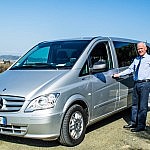 Organize your perfect vacation with us!
Booking office opening hours:
Monday through Friday 9am-6pm
Contact us