Vespa Shore Excursion in Tuscany
Availability: Mondays , Tuesdays , Wednesdays , Thursdays , Fridays , Saturdays
Duration: 8 hours
Rates
Would you like other passengers of your cruise to join you for this tour?
If the number of participants increases the cost per person reduces much!
POST INFORMATION ON THIS TOUR ON YOUR PASSENGERS BOARD – COPY THIS LINK
https://www.ariannandfriends.com/shore-excursions/vespa-shore-excursion-in-tuscany
THE MOST ADVENTUROUS SHORE EXCURSION IN TUSCANY
Arianna & Friends arranges the most original and adventurous shore excursion across the rural Tuscany on board Vespa scooter with an experienced private vespa tour guide. It is a full discovery of a magnificent territory at the perfect pace by a mythical scooter, which is produced exactly here!
Details of our shore excursion:
– Private transfer by minivan (for up to 8 people) from the port of Livorno. Our driver meets you directly at the ship in the morning and drives you to the meeting point where you meet the guide and rent your vespas for the day tour. The driver collects you from there and drives you back in the end of the day.
– One-day Vespa rental with helm and insurance included*
– Private English speaking vespa tour guide for the whole route on the vespa. German, French, Spanish or Russian available with no surcharge.
– A very amusing and extremely panoramic route of 60 kms along back roads with very limited traffic across stunning rolling hills, vineyards, woods and olive groves.
– Routes can be personalized according to your preferences with some surcharge.
– Lunch is included in the program in a traditional oil mill along the route. Lunch is made of two courses and it includes drinks. Wine can be included in the menu at a limited amount.
– It is possible to arrange this excursion both with 1 or with 2 passengers on each Vespa scooter.
– Please, note that this a private tour and you can book it for maximum 8 people.
* Please, note that the insurance refers to liability against third parties. The regular insurance does not cover the vespa riders themselves nor their own vespa.
What you taste
This is a list of specialties that you are likely to sample as part of the program of this tour. Please, note that the specialties of the tasting session and/or lunch may vary according to the season and the availability of the products in the day of the tour.
Whom you meet
In our tour we like showing you places off the beaten track and introducing you to Tuscan people with their personal stories, careers and characters.
You will have one of our guides with your party during the whole tour. Please, see below all the guides who can be with you.
During this experience you can also meet some of the Tuscan friends involved in the events. Please, see below which friends you are likely to encounter.
Rates
Rates Table
The total rate for this activity varies according to the number of people in your party.
Check rates in the table below.
SHORE EXCURSION FROM LIVORNO PORT

Vespa Tour in Tuscany

– RATES 2021 –

NUMBER OF PEOPLE IN YOUR PARTY

TOTAL RATE

2 persons
€ 670
3 persons
€ 810
4 persons
€ 860
5 persons
€ 1000
6 persons
€ 1050
7 persons
€ 1190
8 persons
€ 1240
Fuel
€ 10 per vespa – to be paid cash on site
Extra vespa
€ 90 per vespa
Rates include
Vespa rental for a full-day – Rates refer to 1 vespa for 2 passengers
Helm and insurance*
Private English speaking tour guide for the whole vespa tour – German, Russian, French or Spanish also available. The guide can meet you at the harbour and spend the whole day with you. In this case a surcharge of € 100 applies.
Stops in several villages and guided walks
Lunch at a local olive oil mill
Transportation from Livorno harbor to the meeting point in Peccioli and back on private minivan or minibus
* Please, note that the insurance refers to liability against third parties. The regular insurance does not cover the vespa riders themselves and their own vespa.
ARIANNA & FRIENDS IS COMMITTED TO EMPLOY OFFICIAL AND LICENSED DRIVERS ON BOARD LEGALLY INSURED VANS AND BUSES ONLY FOR ITS TOURS.
Rates do NOT include
Fuel: fuel is not included in the offer. It is to be paid cash on site: € 10 per vespa
Extra Vespas – in case each guests would like to ride one scooter: € 90 per vespa
Guidance for the whole day from the harbour and back: € 100
Testimonials from our guests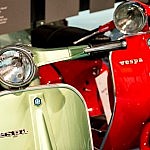 This is an email we received from Peter and Samantha, who booked a day excursion on Vespa scooter throughout Tuscany on their cruiseship stop at Livorno port:
Arianna,
I wanted to thank you again for the wonderful experience my wife and I had in Tuscany during our last trip. The tour you and your fantastic staff arranged for us during our brief stay in tuscany was memorable and unforgettable.
We were picked up and driven to Pontadera (Home of Vespa) for a tour of the Vespa Museum and then jumped on our vespa to tour the countryside of Tuscany on our own (with a little help from your laminated directions).
I want you to know that that day was the absolute highlight of our entire Mediteranean cruise and one day which will be with us both forever.
I look forward to our next visit to your beautiful part of the world and I guarentee that I will be in contact with you and your staff as soon as arrangements are made to travel.
I will not hesitate to recommend you and your tours to all of my friends and work collegues as it was a wonderful experience for us both.
Regards and best wishes,
Peter and Samantha
Sydney
Australia
Info & Details
LOCATION OF ATTRACTIONS:
This tour takes place in the rural area around Livorno.

MEET-UP LOCATION:
Unless differently specified, our driver meets you at your ship in the harbor of Livorno. If your ship is docking in other harbors of Tuscany like La Spezia or Piombino, different rates and time schedules apply.

DURATION:
This program takes 8 hours. Time for transportation included.

AVAILABILITY:
Available any day of the week, all year through

LANGUAGE:
This tour is available in English, French, Spanish, Russian or German or Italian with no surcharge.

DIFFICULTY LEVEL:
Medium

VESPA RENTAL:
At the beginning of the tour the guide will help any rider to fulfill the documents necessary in order to rent vespa scooters from a local rental company. The scooters rented for this tour are modern vespa scooters with automatic transmission (no manual gear).

INSURANCE:
The insurance on the scooters is a basic civil liability policy as per legal requirements. This policy only covers damages to third parties and does not cover damages to the rider or the passenger, nor damages to the scooter itself. As a consequence, the rental agreement is valid only when filled in with valid credit card details of the rider, which might cover any damage in the event of an accident.

LICENSE REQUIRED:
Riders must have an international driving license and must be over 18 years of age.

EXPERIENCE ON SCOOTERS IS REQUIRED - THIS TOUR IS NOT FOR BEGINNERS:
Before booking this tour it is essential for you to understand that the tour is addressed to people who have previous experience in riding a scooter, a vespa or a motorbike. If you never rode a scooter it is impossible for you to be able to ride it along the routes that the guide selects. Every tour starts with a 15-20 minute practice that is necessary for the rider to get confident with the scooter, especially in order to understand how brakes and accelerator work. The time for the practice is absolutely not enough to learn how to ride a scooter, for which people might need long hours or even days. So we need to make sure that you are already familiar with riding a 2 wheel vehicle, and the tour will not be your first occasion to ride a scooter. This is a necessary prerequisite for safety reasons and for guaranteeing a pleasant tour to you and the other participants in your party.
If you are not able to ride the scooter properly on the day of the tour, the guide can refuse to give the tour and you are not entitled to a refund.

CHILD FRIENDLY:
Not ideal for children. Children under 10 years are not allowed on vespas.

CLOTHING:
No particular clothing required.

FOOD RESTRICTIONS:
The foods served during this tour might contain gluten, lactose, nuts and alcohol. If you have any food restriction, please inform our personnel during the enquiry process.

TRANSPORTATION:
This program and its rates include transportation to the meeting point. For further information see the box "transportation options".
Transportation options
Organize your perfect vacation with us!
Working hours:
Monday through Friday 9am-6pm
Contact us