VIP Vespa & Truffle Hunting Tour
Availability: Mondays , Tuesdays , Wednesdays , Thursdays , Fridays , Saturdays
Duration: 6 hours
Rates
VESPA TOUR & TRUFFLE FOCUS
Are you fond of Tuscan truffles and you would like to sample them while enjoying a Vespa ride? Here you go!
This is the perfect tour for visitors of Tuscany who want join a fantastic tour on a Vespa scooter and want to sample black or white truffles!
Two icons of a unique territory: truffles and vespas!
Arianna & Friends arranges a VIP full-day Vespa tour with a local guide with focus on truffle specialties in the area of Terre di Pisa, between Pisa and Volterra, near San Gimignano.
OUTLINE OF TOUR:
– Vespa rental for 6 hours starting from our main office in Peccioli, Pisa area.
– A fantastic, panoramic and safe route across the rural Tuscany in the area of the Pisan hills, a region very famous for its vineyards and olive groves as well as picturesque medieval castles and enchanting villages.
– A private English speaking Vespa tour guide accompanying you for the whole trip. The guide shows you villages, hamlets and other attractions along the route with a particular focus on the landscapes, the local traditions and the historical and agricultural framework of the territory.
THE ROUTE AND THE FOOD:
– We start this great tour from the village of Peccioli and reach a panoramic point in Montefoscoli.
– Going on we will pass through the medieval village of Palaia and quickly stop at another breathtaking viewpoint.
– We continue riding to Forcoli and we reach the fantastic place of a famous truffle hunter. Here we have the great occasion to have a short truffle hunting walk in the woods for 1 hour with the truffle hunter and his dog in search of fresh truffles. At the end of the truffle hunting session we enjoy a memorable lunch of two fantastic courses: a generous appetizer with several truffle-based specialties including sauces, cold cuts, cheese and other curiosities; a delicious primo with tagliolini and freshly shaven truffles from the season. After lunch we ride back to the starting point through a charming country road.
– Between mid September and mid December the precious white truffle instead of the regular black truffle or the spring white truffle (at a surcharge).
– Helms provided
– Insurance included*
– Please, note that this offer is for maximum 6 Vespas, for min. 2 max 12 people.
* Please, note that the insurance refers to liability against third parties. The regular insurance does not cover the vespa riders themselves and their own vespa.
What you taste
This is a list of specialties that you are likely to sample as part of the program of this tour. Please, note that the specialties of the tasting session and/or lunch may vary according to the season and the availability of the products in the day of the tour.
Whom you meet
In our tour we like showing you places off the beaten track and introducing you to Tuscan people with their personal stories, careers and characters.
You will have one of our guides with your party during the whole tour. Please, see below all the guides who can be with you.
During this experience you can also meet some of the Tuscan friends involved in the events. Please, see below which friends you are likely to encounter.
Rates
Rates Table
The total rate for this activity varies according to the number of people in your party. From September through December lunch will include winter white truffle at a special rate. Check rates in the table below.
VIP VESPA & TRUFFLE HUNTING TOUR IN TUSCANY

– RATES 2019 –
Valid from MARCH through August with lunch based on black truffle

NUMBER OF PEOPLE IN YOUR PARTY

TOTAL RATE

2 persons (on 1 vespa)
€ 700
3 persons (on 2 vespas)
€ 850
4 persons (on 2 vespas)
€ 900
5 persons (on 3 vespas)
€ 1050
6 persons (on 3 vespas)
€ 1100
7 persons (on 4 vespas)
€ 1250
8 persons (on 4 vespas)
€ 1300
Fuel
€ 10 per vespa – to be paid cash on site

EXTRAS

Extra vespa
€ 90 per vespa
BETWEEN MID SEPTEMBER & NOVEMBER – SEASON OF WHITE TRUFFLE – A SURCHARGE APPLIES ON THE COSTS ABOVE.
ASK FOR A QUOTATION.
Rates include
Vespa rental for a full-day – Rates refer to 1 vespa for 2 passengers
Helm and insurance*
Private English speaking tour guide for the whole tour – German, Russian, French or Spanish also available
A 1-hour truffle hunting walk in the woods
Full truffle-based lunch with rich antipasto and primo, water and 1 glass of wine included. All rates refer to black truffles or marzolino truffles. For Winter white truffle a surcharge applies.
Coffee or cappuccino break at a traditional pastry shop with local cookies
Visit to the medieval village of Peccioli
* Please, note that the insurance refers to liability against third parties. This kind of insurance does not cover the vespa riders themselves and their rental vespa.
Rates do NOT include
Fuel  – € 10 per Vespa
Extra Vespas – in case each guests would like to ride one scooter
Transportation to the meeting point in Peccioli – near Pisa
Surcharge for white truffle from mid September to November.
Testimonials from our guests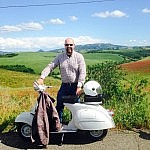 This is an email we received from Peter and Samantha, who booked a day excursion on Vespa scooter throughout Tuscany on their cruiseship stop at Livorno port:
Arianna,
I wanted to thank you again for the wonderful experience my wife and I had in Tuscany last October. The tour you and your fantastic staff arranged for us during our brief stay in tuscany was memorable and unforgettable.
We were picked up and driven to Pontadera (Home of Vespa) for a tour of the Vespa Museum and then jumped on our vespa to tour the countryside of Tuscany on our own (with a little help from your laminated directions).
I want you to know that that day was the absolute highlight of our entire Mediteranean cruise and one day which will be with us both forever.
I look forward to our next visit to your beautiful part of the world and I guarentee that I will be in contact with you and your staff as soon as arrangements are made to travel.
I will not hesitate to recommend you and your tours to all of my friends and work collegues as it was a wonderful experience for us both.
Regards and best wishes,
Peter and Samantha
Sydney
Australia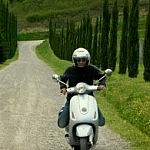 This is an email sent to us by Sapnoti and her husband, a very nice young couple from India who shared two cooking lessons with Massimo:
Dear Massimo,
Karthik and I want to thank you and the whole family at Giuseppe's for the wonderful time we had in Italy. We cant stop talking about the trip to all our friends. We have already started trying to cook some simple pasta and later we hope to cook gnocchi and ravioli. Thanks to you and Carla for making the classes so enjoyable. It was a pleasure spending time with both of you.
Please thank Giuseppe for letting us stay at the farmhouse. We felt quite pampered during our stay there. And a big thanks to Pedro for being such a lovely escort. We enjoyed travelling around Tuscany on the vespa. You told us so much about the history and culture of Tuscany that we almost felt like locals. After your recommendations and directions from Giuseppe we successfully made it to many more towns than we had planned. Karthik and I agree that San Gimignano is our favourite town in Tuscany. Of course, the fantastic ice-cream may be affecting our judgement 🙂
I attach a few pictures that we had taken during our trip. The first few are of the cooking classes. The next is of Karthik with his new love, the vespa. The second last is of Pedro trying to chew Karthik's shoes. And the last one of me in Volterra.
Although we dont have any immediate plans, but we do know that this was not our last trip to Italy. Thanks again
Ciao,
Sapnoti & Karthik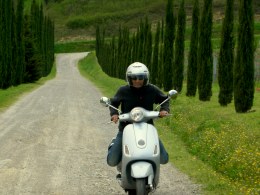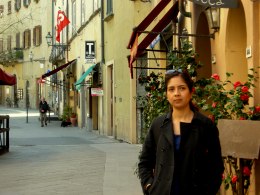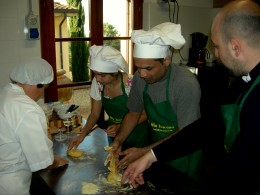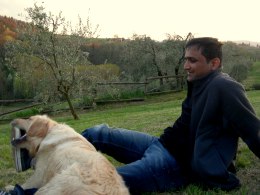 Info & Details
LOCATION OF TOUR:
This round trip takes place in the municipalities of Peccioli, Palaia and Terricciola, in a rural area between Pisa and Volterra.

MEET-UP LOCATION:
Unless differently specified, the meeting point with the guide is in Peccioli. Detailled instructions will be provided.

DURATION & LENGTH OF ROUTE:
This program takes 7 hours, from 9 am to 4 pm. Time for reaching the meeting point not included. The route as described in this activity covers approximately 40 kms.

AVAILABILITY:
Available from April through October, from Mondays through Saturdays.

LANGUAGE:
This tour is available in English, German, French, Spanish, Russian or Italian with no surcharge.

DIFFICULTY LEVEL:
Medium

VESPA RENTAL:
At the beginning of the tour the guide will help any rider to fulfill the documents necessary in order to rent vespa scooters from a local rental company. The scooters rented for this tour are modern vespa scooters with automatic transmission (no manual gear).

INSURANCE:
The insurance on the scooters is a basic civil liability policy as per legal requirements. This policy only covers damages to third parties and does not cover damages to the rider or the passenger, nor damages to the scooter itself. As a consequence, the rental agreement is valid only when filled in with valid credit card details of the rider, which might cover any damage in the event of an accident.

LICENSE REQUIRED:
Riders must have an international driving license and must be over 18 years of age.

EXPERIENCE ON SCOOTERS IS REQUIRED - THIS TOUR IS NOT FOR BEGINNERS:
Before booking this tour it is essential for you to understand that the tour is addressed to people who have previous experience in riding a scooter, a vespa or a motorbike. If you never rode a scooter it is impossible for you to be able to ride it along the routes that the guide selects. Every tour starts with a 15-20 minute practice that is necessary for the rider to get confident with the scooter, especially in order to understand how brakes and accelerator work. The time for the practice is absolutely not enough to learn how to ride a scooter, for which people might need long hours or even days. So we need to make sure that you are already familiar with riding a 2 wheel vehicle, and the tour will not be your first occasion to ride a scooter. This is a necessary prerequisite for safety reasons and for guaranteeing a pleasant tour to you and the other participants in your party.
If you are not able to ride the scooter properly on the day of the tour, the guide can refuse to give the tour and you are not entitled to a refund.

CHILD FRIENDLY:
Not ideal for children. Children under 10 years are not allowed on vespas.

CLOTHING:
No flip-flops but shoes or closed sandals required. It is advisable to wear trousers and not shorts and depending on the season it is recommended to bring a light jacket or a wind jacket.

FOOD RESTRICTIONS:
The foods served during this tour might contain gluten, lactose, nuts and alcohol. If you have any food restriction, please inform our personnel during the enquiry process.

TRANSPORTATION:
This program and its rates do not include transportation to the meeting point and are set on a self-driving base. For further information see the box "transportation options".
Transportation options
The meeting point where this activity starts is in an area in the rural Tuscany that is not easy to reach by public trasport. We highly recommend renting a car to reach it. As an alternative, we can offer a valued service by chauffeured car, van or minibus. Any cost of transportation is to be added to the rates displayed on the rate table of this page.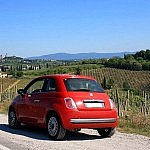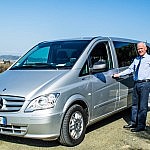 Organize your perfect vacation with us!
Booking office opening hours:
Monday through Friday 9am-6pm
Contact us