Incentive holiday offers in Tuscany
Arianna & Friends organizes conferences or meetings or any event in rural settings like country villas and castles or in medieval villages as well as in major towns. In cooperation with the most professional staff of the area we can provide smart and smooth solutions for all sorts of incentive travel.
If your company wants to organize an incentive travel to Tuscany we can also provide entertainment services for the visitors.
Here is what we usually arrange:
Accommodation in luxury hotels, holiday farms, Renaissance villas in the middle of the Tuscan countryside or in any Tuscan major town;
Conference rooms or halls in historical buildings, hotels or rural country houses;
Transfers to and fro Pisa or Florence airports as well as trasfers to and from any Tuscan railway station on board luxury cars, vans, minibuses or coaches;
Private chauffeur services;
Buffets and typical dinners in local top level restaurants, inns or wineries;
Catering service for coffee breaks or light lunches;
All necessary equipment and English speaking assistance staff (on request also German, French, Spanish, Russian or Italian);
Tours and entertaining activities for the partakers;
Tailor made solutions for small and large groups.
Rates
Rates
Rates Table
INCENTIVE TRAVEL OFFERS IN TUSCANY
We provide customized offers according to your needs. Please, contact us providing number of participants, services you require
and dates of arrival and departure and we will be happy to provide the offer that best suits you.
Send us a message to:
Rates include
Rates do NOT include
Testimonials from our guests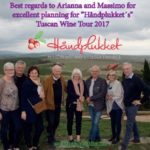 Here the group picture sent us by Asle, who took a group of cooperators to Tuscany for a winery trip: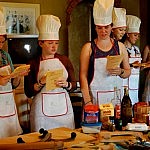 This is an email we received from Laurie, a teacher who took her class to Tuscany for a weekly cultural tour to all historical towns:
Hi Massimo,
Just a quick note to let you know how much we all loved our trip.
Mainly thanks to you. When anyone asks Paul how the trip was all he talks about is "Massimo"! Everything was GREAT, Tatiana's, Angy's, the tours, the food, the cooking lesson, the bus. I will have to write this on Arianna and Friends facebook page!
The trip home went smoothly and we returned to a heat wave here. So between jet lag and the heat it's been a hard adjustment being back home. I've been going through my photos and will send some to you soon. Of course I wish I had taken al lot more….It was a trip the kids and I will never forget.
Hope all is well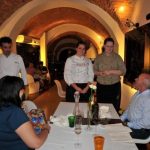 This is a letter sent to Arianna from Merete and Johan from Norway, who organized a student exchange program of a month in Tuscany with us. The project was part of the Leonardo da Vinci European Program. The best students of a Norwegian culinary school were invited to practice in excellent restaurants of Tuscany. The same experience was repeated in the following years.
Thank you very much for taking part in this project. Would not have been possible without you!
Your way of "thinking ahead" and finding solutions before things become a problem – makes everything seem so easy – BUT just want you to know that we know it takes experience and skills and the right attitude to work like you do.
Your friendliness – your working capacity – your organizing skills – YOU – made this a wonderful experience for both us and the students!
Looking forward to working with you in the future – and seeing you in Norway in 2010
Kind regards
The Norwegian project team
Merete & Johan
International coordinator Head of Department Restaurant Trades
GRAZIE
TUSEN TAKK – THANK YOU VERY MUCH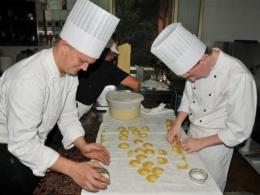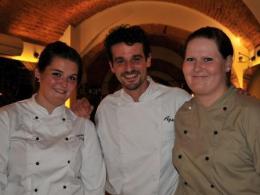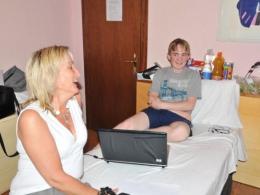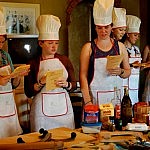 This is an email we received from Vicky, a teacher of an academy in Rome who brought her students to Tuscany for a trip.
Dear Arianna and Massimo,
Now that we are back in Rome after our Tuscan weekend, I wanted to thank you again for all your help and particularly in this instance where I had to plan a student trip under especially difficult circumstances.
I always say to my students that you are my "right hand in Tuscany".
Arianna as soon as they give me new dates for the spring trip I will contact you. In the mean time however, please do let me know of any possible activities happening next spring that I could schedule for my students.
Hope you have enjoyed the Chianti riserva, as a small token of my appreciation for your help and hard work.
Warmest regards,
Vicky
This is another message we received from Vicky, who took her class to Volterra on a school trip a second time and experienced our day tour with truffle hunting experience, visit to the medieval village of Peccioli and visit to a winery with wine sampling:
Dear Arianna,
I wanted to thank you again for all the wonderful suggestions and organization of our study trip with the students.
We thoroughly enjoyed our trip, met wonderful people, ate delicious food and we look forward to organize similar future events.
The students absolutely enjoyed Massimo's tours and experience and were particularly happy to have met professionals and locals of the culinary topography of Tuscany.
I am positive we can have many more fruitful experiences in Tuscany with your agency in the future.
All best wishes and a presto!
Vicky
Dr. Vicky K.
This is an email we received from Elisa, who took 50 girls on a school trip to one of our farms for an exciting cooking class with focus on pasta making:
Dear Arianna,
Thank you so much for the fantastic day you provided for the girls last week. It really was the highlight of their trip, one girl texted home that day and said 'this is the best day of my life'. You can't ask for more praise than that.
Lots of the girls were saying that as soon as they got home they were going to make pasta and tiramasu! They were impressed!
If I can do anything for you in terms of reccommendations please let me know. When we return in two years I will be asking you to provide the same if that is ok.
Thank you again. Everything about the day was so professional and so fantastic.
Love
Elisa x
Organize your perfect vacation with us!
Booking office opening hours:
Monday through Friday 9am-6pm
Contact us