Private driver in Tuscany
Professional and experienced drivers for your tours and routes in Tuscany on board of vans, cars, mini-bus and buses
Our company is located in central Tuscany and offers transfer services with private chauffeur on board comfortable sedans for 2-3 people, minivans for 3-8 people, minibuses for up to 20 people or bus for large groups. Full air-conditioning, punctuality, impeccable cleanliness are our pluses.
RELIABLE AND PROFESSIONAL DRIVERS FOR YOUR TOURS AROUND TUSCANY ON BOARD SEDANS, VANS, MINIBUSES & BUSES
Our skilled drivers are available for private tours and services during your stay in Tuscany.
Our drivers operate in the following areas:
Pisa, Florence, Siena, Casole d'Elsa, Colle Valdelsa, Volterra, San Gimignano, Montaione, Livorno, Lucca, Chianti area, Selvatelle, Pontedera, San Miniato, Palaia, Peccioli, Lajatico, Terricciola.
Below a list of services we can arrange for you and your friends:
– Pick-up services in Florence or Pisa airports or at any railway station in Tuscany
– Pick-up services at Roma Fiumicino or Milano Malpensa airports with transfer to any destination in Tuscany
– Private wine tours to the best wineries of the region, off the beaten track and not touristy
– Transfer services from any town of Tuscany, castles, villas, hotels or country resorts in central Italy
– Private foodie tours to the best cheese, olive oil, prosciutto producers in the most beautiful farmland of Tuscany
– Day-tours or half-day tours to any destination in Tuscany and the rest of Italy
– Shore excursions from Livorno port and from La Spezia ports to Pisa, Florence and the rural Tuscany
– Escorted shopping tours to Tuscany's outlets: the Mall, Prada, Barberino del Mugello
– Congress and incentive logistics for corporate events
– Sightseeing & tasting tours in the countryside
THE ADVANTAGES OF BOOKING OUR SERVICES
– All our drivers are allowed to enter any ZTL in Italy (restricted traffic areas) and know any good diversion in case of traffic jam or blocked traffic.
– All our drivers and our cars/vans and minibuses or buses are fully licensed. Our staff is constantly updated on any current restriction or regulation as regard driving services and necessary professional insurance.
– If you require a guided tour, we provide a licensed and knowledgeable professional guide together with our driver. Our guide will speak very good English and will be fully qualified for your guidance providing plenty of interesting and detailled information.
– During the booking procedure our booking agents will thoroughly inform you of any logistic difficulty or any extra fee for accessing main towns such as Florence, Rome, Pisa, Siena etc., as obligatory access fees apply for minibuses and buses in most Italian tourist destinations. No last minute surprises.
– Our strict cancellation policy is a sign of our professionalism. We provide the best service and make any proper arrangement fairly in advance and we require that all is paid upfront instead of last minute improvising.
OUR POLICY IN COMPLIANCE WITH RULES AND LAWS
Arianna & Friends is committed to contrast any abusive service offered by drivers with no full license or full insurance. Please, beware of such drivers who just aim at providing more competitive rates but in fact put the lives of their passengers into serious risks and provide illegal service.
Whom you meet
Rates
Rates Table
Rates for this service vary according to the number of people in your party and to the locations of pick-up and drop-off.
Please, provide any detail for our booking office to provide a customized quotation for the service you require.
ASK FOR A QUOTATION
Please, send an email to us with your request:
For a swift reply, please, provide as many details as possible in your request.
Such details can be:
Number of people in your party
Pick up point and destinatios
Date(s) of service
Necessity of baby seats
Any mobility issue in your party
Rates include
A driving service with professional and fully licensed chauffeur on board fully insured cars, minivans, minibuses and buses
Elegant suits of the personnel and fully clean vehicles
Any permit and access to restricted areas in major towns (ZTL – areas of restricted traffic)
Baby seats if required
English spoken for basic instructions
Rates do NOT include
Guidance or historical/touring information
Service in languages other than English or Italian
Testimonials from our guests
This is an email we received from Juby who booked a private tour with Moira and a chauffeur service with our driver Diego
Dear Moira
Just finished our trip. I can't wait to say thank you so much for your service today. My friend didn't join us yet you still provide me a big new van. We do enjoy the spacious ride. Not to mention the driver Diego. He is polite, helpful and professional. All these have make our trip a wonderful journey in Italy. Really really appreciate!
Sincerely
Juby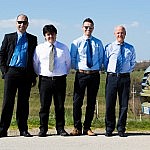 This is an email we received from Josephine from the USA:
Arianna,
This is to thank you for the wonderful service you provided us during our stay in Montelopio.
You and the drivers were a delight to work with. You and they were so patient with our often changed plans. The drivers frequently went out of the way to show us special sites and panoramic views during the excursions. They were excellent drivers, very polite and considerate.
We will certainly recommend your services to any friends travelling in the area.
Sincerely, Josephine (USA)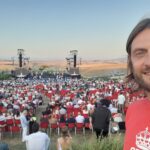 This is an email we received from Joe and Sue, who took part to a small group biodynamic cheese farm tour for guests coming to the Andrea Bocelli concert in Lajatico.
Hello Arianna and Friends:
Sending a couple of pictures to show what a great time we had with some of your
staff. Sorry I don't remember your driver's name, but he was a great part of the tours especially for his
willingness to jump in and help.
Of course Lucca is a great guide. His passion for the area, the people, and his job is infectious. His knowledge of
the area's foods and customs, not to mention wines is impressive and much appreciated by Sue and I.
Congratulations for the work you all do.
Joe and Sue
Info & Details
LOCATION OF SERVICES:
Pisa, Florence, Siena, Casole d'Elsa, Colle Valdelsa, Volterra, San Gimignano, Montaione, Livorno, Lucca, Chianti area, Selvatelle, Pontedera, San Miniato, Palaia, Peccioli, Lajatico, Terricciola.

MEET-UP LOCATION:
During the booking procedure full details will be provided for our pick-up.

DURATION:
Our drivers are available for services of max 8 hours per day. A surcharge will be applied to every extra hour

AVAILABILITY:
Available all year through, any day of the week.

LANGUAGE:
Our drivers speak basic English. Their knowledge is suitable to optimize a driver service. They do not speak English like tour guides, for which another service and professionalism is required.

CHILD FRIENDLY:
Our driving services are child friendly. If you have young children in your party, please inform us during the booking procedure, as baby seats will be necessary for this service.

Organize your perfect vacation with us!
Working hours:
Monday through Friday 9am-6pm
Contact us