Hiking tour with private nature guide in Tuscany
Availability: Mondays , Tuesdays , Wednesdays , Thursdays , Fridays , Saturdays , Sundays
Duration: 3 hours or 6 hours
Rates
HIDDEN TREASURES IN PARADISE
Tuscany is beautiful everywhere. No matter what you are staring at, its territory is full of beauty provided even by the smallest details. Our private hiking routes show you exactly this! We arrange private walking excursions for a half-day (4 hours) of a full-day (7 hours) with the aim of showing you how sensational the rural countryside of this area is.
You meet our experienced English speaking nature tour guide in Terricciola or at an agreed meeting point and you leave across poetic gravel roads across rolling hills spotted with stunning farmhouses and lined by majestic cypress trees.
The routes are personalized according to your level of preparation and always include a series of stops at any point of interest or at any beautiful view.
Our routes are a perfect mixture of natural elements with focus on vegetation, rivers, geology and the morphology of the Tuscan soil as well as a cultural elements, with detailled descriptions of lovely rural churches, country houses, palaces or castles.
In our full-day programs a stop for lunch or a pick-nick is always included in the route.
What you taste
This is a list of specialties that you are likely to sample as part of the program of this tour. Please, note that the specialties of the tasting session and/or lunch may vary according to the season and the availability of the products in the day of the tour.
Whom you meet
In our tour we like showing you places off the beaten track and introducing you to Tuscan people with their personal stories, careers and characters.
You will have one of our guides with your party during the whole tour. Please, see below all the guides who can be with you.
During this experience you can also meet some of the Tuscan friends involved in the events. Please, see below which friends you are likely to encounter.
Rates
Rates Table
The total rate for this activity varies according to the number of people in your party.
Check rates in the table below.
HIKING excursions in Tuscany WITH NATURE GUIDE
WITH PICK NICK – 4 HOURS

– RATES 2021 –

NUMBER OF PEOPLE IN YOUR PARTY

TOTAL RATE

2 persons

€ 280

3 persons

€ 305

4 persons

€ 330

5 persons

€ 355

6 persons

€ 380

7 persons

€ 405

8 persons

€ 430

9 persons

€ 455

10 persons

€ 480

extra person

€ 25

extra child or teen

€ 25
Trekking excursions in Tuscany
WITH PICK NICK – 7 HOURS

– RATES 2021 –

NUMBER OF PEOPLE IN YOUR PARTY

TOTAL RATE

2 persons

€ 420

3 persons

€ 445

4 persons

€ 470

5 persons

€ 495

6 persons

€ 520

7 persons

€ 545

8 persons

€ 570

9 persons

€ 595

10 persons

€ 620

extra person

€ 25

extra child or teen

€ 25
Rates include
A private English speaking nature guide for the whole tour
A little refreshment along the route
Rates do NOT include
Full lunch
Transportation
Transportation is not included in the rates above. For more info on transportation, please see the box "Transportation options".
Testimonials from our guests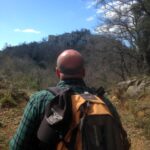 This is an email we received on 23rd October from Ann and Fred, who booked several tours with our company during their stay in Tuscany.
Dear Consuelo,
I want to thank you and your team for the fun and informative tours we took during our stay at Borgo alle Vigne.
We very much enjoyed the trek with Chiara and her traditional Tuscan picnic lunch prepared just for us with the vegetables from her mother's garden and her grandmother's ham – what a special treat! Chiara's knowledge of Colle Val d'Elsa and the area's history is of high value to your company.
We were also extremely pleased with our day with Luca touring the olive processing plant and the cheese farm – both wonderful experiences – we learned so much. Luca is also knowledgeable and entertaining – we so much enjoyed chatting with him about life in Italy.
Both Chiara and Luca are professional and charming – true valuable assets to Arianna and Friends. We hope to see all of you next year during our stay at Borgo to learn about and enjoy your beautiful country.
In addition, we also enjoyed our tour of Peccioli with Moira – I know it was difficult for her to "herd" her group through the streets and market but she did a wonderful job of keeping us together and telling us about your lovely town.
Please let them all know how much we appreciated them and we send them kisses from America.
Again, thank you to Arianna and Friends – we are also your friends now!
Ciao,
Ann and Fred
Info & Details
LOCATION OF TOUR:
This activity takes place in the Tuscan countryside in the area between Volterra, San Gimignano and Pisa. The are is served by poor public transport

MEET-UP LOCATION:
Unless differently specified, the meeting point with the guide is in Peccioli. Detailled instructions will be provided.

DURATION:
This program takes 4 hours or 7 hours. Time for reaching the meeting point not included.

AVAILABILITY:
Available all the year through, from Mondays through Saturdays.

LANGUAGE:
This tour is available in English or Italian with no surcharge. For German, Russian, French or Spanish a surcharge applies.

DIFFICULTY LEVEL:
Medium

CHILD FRIENDLY:
Not ideal for children

CLOTHING:
Sport clothing recommended.

FOOD RESTRICTIONS:
The foods served during this tour might contain gluten, lactose, nuts and alcohol. If you have any food restriction, please inform our guide at the beginning of the tour.

TRANSPORTATION:
This program and its rates do not include transportation to the meeting point and are set on a self-driving base. For further information see the box "transportation options".

Transportation options
The meeting point for this tour is in Peccioli, a destination reachable by public transport.
Yet, the public service is not always available so we highly recommend renting a car or a scooter in order to reach the meeting point.
As an alternative, we can offer a valued service by chauffeured car, van or minibus. Any cost of transportation is to be added to the rates displayed on the rate table of this page.
Organize your perfect vacation with us!
Working hours:
Monday through Friday 9am-6pm
Contact us