Adventurous truffle hunting experience at Alessio's with full lunch
Availability: Mondays , Tuesdays , Wednesdays , Thursdays , Fridays , Saturdays
Duration: 4 hours
Rates
FINDING TRUFFLES: IS IT REALLY SO TOUGH?
The most authentic truffle experience in Tuscany! Meet a skilled truffle hunter near Volterra and visit his private truffle growing reserve, following the instict of trained truffle dogs. A real adventure in authentic woods of autoctonous vegetation, with little water streams and plenty of scents, followed by an unbelievably tasty full lunch!
A fairy-tale agriturismo near Volterra
Our tour is a voyage into the fascinating culture of truffle hunting. Our guide meets you at an easy meeting point near Volterra and leads you to a spectacular agriturismo in the green countryside surrounding the Etruscan town. In a peaceful setting of olive trees, vineyards and vegetable plots, we meet Alessio, one of the most important truffle hunters in the whole region, and his mum, a fantastic chef. After a short briefing we head to a private truffle reserve owned by the truffle hunter for an adventurous walk in search of truffles.

A stunning truffle reserve in the wood
Following the hunter's instructions and the instinct of his dog, we walk in a real wood, along a pathway through original vegetation in search of seasonal truffles. The direction we take is chosen by the truffle dog, constantly encouraged by the hunter to smell and scan the underwood. We will learn all about the techniques for training truffle hunting dogs and see how they cooperate with the hunter in order to detect and undig the precious underground mushrooms.
A great lunch
Finally, we get back to the agriturismo where a delicious lunch will be waiting for us: fresh truffles served with eggs and tagliolini, a set of cold meats with local focaccia and a truffle-flavored cheese fondue, all accompanied by wines from the farm and delicious extra virgin olive oil.
The half-day trip of a life time!
What you taste
This is a list of specialties that you are likely to sample as part of the program of this tour. Please, note that the specialties of the tasting session and/or lunch may vary according to the season and the availability of the products in the day of the tour.
Whom you meet
In our tour we like showing you places off the beaten track and introducing you to Tuscan people with their personal stories, careers and characters. You will have one of our guides with your party during the whole tour. Please, see below all the guides who can be with you. During this experience you can also meet some of the Tuscan friends involved in the events. Please, see below which friends you are likely to encounter.
Rates
Rates Table
The total rate for this activity varies according to the number of people in your party and the kind of seasonal truffle.
Check rates in the table below.
Adventurous truffle hunting experience with Alessio
with lunch based on black or marzolino truffles
– from THE 10th january through the 30th SEPTEMBER –

– RATES 2020 –

NUMBER OF PEOPLE IN YOUR PARTY

TOTAL RATE

2 persons
€ 400
3 persons
€ 500
4 persons
€ 600
5 persons
€ 700
6 persons
€ 800
7 persons
€ 900
Extra adult
€ 100
Extra teen (12-17 yrs)
€ 85
Extra child (4-11 yrs)
€ 55
ADVENTUROUS TRUFFLE HUNTING EXPERIENCE WITH ALESSIO
WITH LUNCH BASED ON WHITE TRUFFLES
– FROM the 1st october THROUGH 31st december –

– RATES 2020 –

NUMBER OF PEOPLE IN YOUR PARTY

TOTAL RATE

2 persons
€ 460
3 persons
€ 595
4 persons
€ 730
5 persons
€ 865
6 persons
€ 1000
7 persons
€ 1135
Extra adult
€ 135
Extra teenager (12-17 yrs)
€ 120
Extra child (4-11 yrs)
€ 60
Rates include
A tour leader for the whole tour
A guided truffle hunting walk in a truffle reserve with a truffle hunter and his dog
A truffle-based full lunch with wines include
Tax
Rates do NOT include
Transportation is not included in the rates above. For more info on transportation, please see the box "Transportation options".
Testimonials from our guests
This is a message of Beth after enjoying a private truffle hunting tour with Massimo in 2018 right on Christmas Eve!
Arianna and Veronica,
I just wanted to be sure you knew that today as always the tour was fantasico but today was even more fantastico! Our guide and the family was soooo wonderful. It was the best experience!!!
Please book us primarily with this guide whenever possible for future travel as it was such a good fit, it felt like we spent the day with family!
We are back in February and Ill get you dates to see what else we can do!
Thank you, Beth
Here a message of our friends from Philadelphia, who enjoyed a day at Alessio's focusing on truffle hunting on 1st October 2018:
Hello from Philadelphia.
John, Allison and I want to thank you for the wonderful day we spent with you for the truffle hunt and lunch. The experience in the woods with Danieli and Pato was great, as was the cooking and lunch time with Alessio, Paula and Maria. (Sorry if the spelling of their names is not correct).
The day was the highlight of our daughter's trip and left a wonderful impression of the landscape and people of Tuscany and the joy John and I experience each time we visit. We will be back next year and will hopefully find another adventure to book with Arianna & Friends.
Sincerely,
Marilyn
---
Arianna,
I wrote a 5 star message the last time we were with you. I went back using the link you provided to write another one, and the Trip Advisor site would not let me post it. I'll try another time. Hope all is well with you.
Marilyn
This is the message of appreciation of Kerry, who visited Tuscany and enjoyed our truffle hunting tour with Alessio in December 2017:
Hello Massimo,
It has been a very hectic time since our return from our trip in Italy.
I wish to thank you so much for your time on our trip on the truffle hunt with Daniell and Parko.
We enjoyed the day and delicious lunch immensely and wish to return once again.
I am still uncertain at this time on the Bocelli Tour for 2018 but hope to make it in 2019 definitely.
Also to do other tours with Arianna and Friends.
Thank you so much once again.
A Merry Xmas to you and all the members of your staff and a prosperous 2018.
Saluti di Australia,
Kerry, Lorenza, Aaron, Janine and Ava.
Info & Details
LOCATION OF ATTRACTIONS:
This tour takes place in the rural area of Volterra, in central Tuscany.

MEET-UP LOCATION:
Unless differently specified, the tour guide meets you at a meeting point near Volterra.

DURATION:
This program takes 4 hours. Time for transportation not included.

AVAILABILITY:
Available all year through, from Mondays through Fridays.

LANGUAGE:
This tour is available in English language. German, French, Spanish, Russian or Italian are also available with no surcharge.

DIFFICULTY LEVEL:
Medium

CHILD FRIENDLY:
Ideal for children

CLOTHING:
Comfortable shoes and clothes recommended.

FOOD RESTRICTIONS:
The foods served during this tour might contain gluten, lactose, nuts and alcohol. If you have any food restriction, please inform our personnel during the enquiry process.

TRANSPORTATION:
This program and its rates do not include transportation and are set on a self-driving base. For further information see the box "transportation options".
Transportation options
The destinations reached during this activity are in the Tuscan countryside, in areas off the beaten track that cannot be reached by public transport. We highly recommend renting a car in order to reach them. As an alternative, we can offer a valued service by chauffeured car, van or minibus. Any cost of transportation is to be added to the rates displayed on the rate table of this page.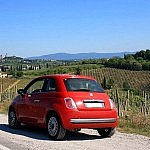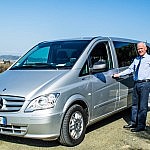 Organize your perfect vacation with us!
Booking office opening hours:
Monday through Friday 9am-6pm
Contact us