Cheese & olive oil tasting tour in Tuscany
Availability: Mondays , Tuesdays , Wednesdays , Thursdays , Fridays , Saturdays
Duration: 6 hours
Rates
TWO SPECIALTIES VOLTERRA IS FAMOUS FOR
If you are staying in Tuscany for your holiday, a very original idea is spending a day visiting a local farm specialized in the production of fully organic cheese, from fresh ricotta to seasoned pecorino, as well as traditional oil mill, where olives are processed to make excellent extra virgin olive oil. Both the farm and the oil mill are located near the Etruscan town Volterra, a jewel on the top of a hill, surrounded by a unique landscape.
An oil mill in the countryside
Our guide meets you at an agreed meeting point by Volterra and takes you to an authentic oil mill where you can learn a lot about a very important part of the Tuscan agricultural production, the production of extra virgin olive oil. While visiting the mill, the guide helps you discover all the phases of the olive pressing process and the secrets of a good extra virgin olive oil. Eventually you will have the chance to taste and compare different types of olive oil of local production. The olive oil tasting is accompanied by some local olive-oil-based delicatessen. From late October to early December it is possible to see the squeezing process at the mill.

An organic cheese farm on a hill
After visiting the mill you will follow the guide to a scenic organic farm, where you the visit starts in the workroom where the production of cheese takes place. The production may vary according to the season, from milk curdling, to cheese salting or cheese-mould rinsing. You will also visit the barn where sheep and piglets have lodging. The visit to the farm is completed only when you meet the fabulous Orazio, a very nice donkey who acts like a pet. The encounter with all these animals make this tour ideal for groups and families with children.
This tour adapts to the production of cheese at the farm. If the farm is producing cheese in the day of the visit you will see the operations in the dairy. In case of no production, you will still see all the rest, like the ageing phase.
In the end you will enjoy a genuine buffet lunch by tasting different kinds of pecorino cheese, caciottas together with local hams, different kinds of salami – all of them deriving from the pigs of the farm -, salads and vegetables, a cheese fondue and dessert.
What you taste
This is a list of specialties that you are likely to taste as part of the program of this tour. Please, note that the specialties of the tasting session and/or lunch may vary according to the season and the availability of the products in the day of the tour.
Whom you meet
In our tour we like showing you places off the beaten track and introducing you to Tuscan people with their personal stories, careers and characters.
You will have one of our guides with your party during the whole tour. Please, see below all the guides who can be with you.
During this experience you can also meet some of the Tuscan friends involved in the events. Please, see below which friends you are likely to encounter.
Rates
Rates Table
The total rate for this activity varies according to the number of people in your party.
Check rates in the table below.
PRIVATE DAY CHEESE, SALAMI AND OLIVE OIL TASTING TOUR IN TUSCANY
with lunch

– RATES 2022 –

NUMBER OF PEOPLE IN YOUR PARTY

TOTAL RATE

2 persons
€ 350
3 persons
€ 410
4 persons
€ 470
5 persons
€ 530
6 persons
€ 590
7 persons
€ 650
8 persons
€ 710
9 persons
€ 770
Extra Adult
€ 60
Extra teenager (12-17 yrs)
€ 50
Extra child (4-11 yrs)
€ 40
Rates include
A tour leader for the whole tour
A visit to the dairy and the farm
A visit to the oil mill
A cheese and salami based full lunch, dessert included
A guided blind olive oil tasting with snacks
Tax
Rates do NOT include
Transportation is not included in the rates above. For more info on transportation, please see the box "Transportation options".
Testimonials from our guests
We received this message in January 2019 from Skye and Jonathan, who visited Tuscany in Autumn and enjoyed a private cheese tour of our organic pecorino farm with Arianna:
Hi Arianna,
I was looking through pictures from our amazing tour that you gave us in October 2018 and forgot to send you the picture. You are a phenomenal tour guide and Jonathan and I cherish the time that we got to spend with you. Your tour was a highlight of our vacation. Thank you so much for taking the time to make our trip memorable!
…
You have my permission to use that photo however you would like. I hope that it brings in more people to the tours and other services you offer. Jonathan and I truly enjoyed everything about that cheese tour experience and getting to know more about the Tuscan culture and of course getting to know you. That filled our hearts with joy! Thank you again Arianna! We hope to see you again next time we are in Tuscany.
With love,
Skye
Here is a message that Lauren from the US posted on our yelp page:
Arianna & Friends is a wonderful company with with a wide array of services. My husband and I celebrated our 1 year anniversary at the Hilton Grand Vacation Club in Tuscany. We used Arianna & Friends for two events – private chef in villa and cheese and olive oil tour. Daniella came to our villa and made us a an authentic Italian meal from scratch with items fresh from the farmers market that morning! It was absolutely delicious, but even more wonderful was the company and culture brought to our own villa that evening.
Luca took my husband and I on a private tour and tasting of a local EVOO mill and separately a cheese farm where we had an incredible and filling lunch, which included excellent wine! It was so personalized and we truly experienced the life and culture of the Tuscan locals. Can't wait to go back and we will only book with Arianna & Friends! Looking forward to it…It looks like we'll be back this summer!!!
This message was published our our YELP profile
Here a message from Tracy who booked last minute our cheese and olive oil tour for her family:
Eric and I just wanted to thank you all again for arranging our cheese and olive oil tour yesterday on such short notice.
We all had a fabulous time with Luca. He was a wonderful guide — so obviously passionate and knowledgeable about that area of Tuscany. His enthusiasm was contagious! He has a way of not just giving you information but also turning the facts into a lively stories. We loved it. I hope we did not frustrate him with our many questions!
Although our kids were tired (still a little jet-lagged, plus we biked all over Lucca the day before . . .) they told me that the tour was their favorite thing so far, especially Luca's stories about his family and their olive grove, seeing the "moldy cheeses in the cheese cellar", and of course eating the terrific food and trying the olive oil. When we asked them questions about what they learned, they seemed to have gotten it all — thanks, I am sure, to Luca's patient storytelling.
So, thank you all, especially Luca!
Best regards,
Tracy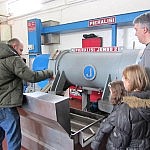 This is a message we got from Christy, who wrote a great article on her blog after a day tour with focus on pecorino cheese and extra virgin olive oil with Massimo.
All our staff is very thankful for posting such an article!
Hi,
We loved our tour with Massimo back in April to the olive mill and cheese farm. It was the highlight of our trip! Massimo was so informative! We loved learning about extra virgin olive oil and peccorino cheese. He was so much fun and we had a wonderful day.
I wrote about our experience on my blog at http://luxadventure.blogspot.com/2013/05/an-authentic-taste-of-italy.html. It was a great day and we will always treasure the time we had in Tuscany! Thanks again for a wonderful tour! Our kids still talk about going to the olive mill and seeing the baby lambs at the sheep farm. Massimo was the best!
Thanks again,
Christy
Here the comment of Nancy after meeting Luca for a half-day tour around Volterra with stops at our cheese farm and our olive oil mill
Luca
We are on our way to Pisa now, our last stop before heading home. We loved the tour!  It was definitely a highlight of our trip. Once I'm home and have uploaded my pictures, I'll send you some. If you're ever in Southern California, please let us know.
Nancy
These kind words were sent to us on the New Year's day from Stacey who had taken a cheese farm and oil mill tour with Massimo months before!
Hello and Happy New Year!
This note is to thank Massimo for a WONDERFUL morning and afternoon at the olive oil factory and organic cheese fam near Volterra!  We had a great time and I cannot stop thinking about what a wonderful experience it was.  We enjoyed every minute of it and feel like we got a true slice of Tuscany while we were with you.  I hope you will call us if you are ever visiting Philadelphia!
Best Regards for a Happy & Prosperous New Year!
Stacey & Marty
And here further after our reply:
Hi!  Thanks for your note.
We keep telling stories of our experience on the farm!  It was so memorable.  And the olive oil we purchased as gifts for friends is receiving rave reviews!
We'd love to take you to dinner in Philadelphia, so do let us know when you plan to be in the US.
Buon Anno to you too!
Stacey
This is an email we received on from Robin, who came with her friends to our cheese and olive oil tour.
Hi Massimo
I have been very tardy in sending you this overdue photo from a few months ago…..so sorry!
And also just wanted to say thankyou so much for a lovely day yesterday….I did enjoy it! And made some new friends…..looking forward to when we next meet….
Ciao
Robinox
This is an email we received from Lisa:
Arianna and Massimo,
I just wanted to write and let you know how much we enjoyed
our tour with your company. It was wonderful. We really enjoyed Massimo's company and his information about the area. We loved our time in Tuscany and hope to return again soon. We'll be sure to recommend your services to others who are traveling your way.
Thank you again and keep up the good work!
All my best,
Lisa (USA)
This is an email we received from Karin, spending one day with us at the organic cheese farm:
Hi Arianna,
Hope the sun is shining in Tuscany, and that you are fine!
We all have had a nice program at the farm.
Again I would like to thank you for your kind welcome.
And the lunch with the beautiful table presenting all the delicious
cheese, I liked very much. (long tables, nice people and nice food!!!!)
Whatmore do we need?
So, I hope you are able to send me the recipy of the "spelt" salade.
I hope you like the foto which I have attached.
Here in Holland, the weather is nice and we are enjoying spring-
time. Although I always want to go to Italy.
Next time, when we are in the neighbourhood, I let will you know.
with kind regards,
Karin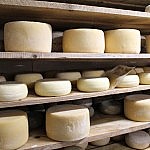 This is an email we received from Ilene & Gary, from the Arizona. They spent a day with us in the area of Volterra for an olive oil and cheese tasting tour:
Greetings from back in Phoenix, Arizona. Karen, we just wanted to take a quick moment to thank you from the bottom of our hearts for the most wonderful day of our entire vacation. You were so kind and generous with your information, we will never forget what a great time we had. I hope Massimo has recovered but thank you for filling in for him. I will get on trip adviser this week and give you guys rave reviews.
Also, the organic farm outside of Volterra. Was that part of "town" considered part of Volterra or another name?
Again, we could not have asked for anything better (except for weather perhaps) but I will send you a picture of that quilt once I get it done. I have a few other projects ahead of it but will make sure I send you a picture. Hope everything went well at your son's school and things worked out. If you don't mind, we might be back in touch for some real estate advice!! You never know… our dreams might come true.
Hope all is well and again, thank you. Keep in touch!
Best Regards,
Ilene & Gary
This is an email we received from Barbara, who took our half-day tour including a visit to an organic cheese farm and an oil mill.
Hi Arianna,
Jay and I just wanted to thank you so much for arranging our tour with Massimo. We had a great time and thought that Massimo was a fantastic and very informative guide!. The Olive Mill and Cheese tour was wonderful. We really enjoyed it.
All the best –
Barbara
Info & Details
LOCATION OF ATTRACTIONS:
This tour takes place in the rural area of Volterra, in central Tuscany, about 20 km far from Selvatelle, Montaione and San Gimignano.

MEET-UP LOCATION:
Unless differently specified, the tour guide meets you at a meeting point near Volterra.

DURATION:
This program takes 6 hours. Time for transportation not included.

AVAILABILITY:
Available all the year through, from Mondays through Saturdays.

LANGUAGE:
This tour is available in English language. German, French, Spanish, Russian or Italian are also available with no surcharge.

DIFFICULTY LEVEL:
Easy

CHILD FRIENDLY:
Ideal for children

CLOTHING:
No particular clothing required.

FOOD RESTRICTIONS:
The foods served during this tour might contain gluten, lactose, nuts and alcohol. If you have any food restriction, please inform our personnel during the enquiry process.

TRANSPORTATION:
This program and its rates do not include transportation and are set on a self-driving base. For further information see the box "transportation options".
Transportation options
The destinations reached during this activity are in the Tuscan countryside, in areas off the beaten track that cannot be reached by public transport. We highly recommend renting a car or a scooter in order to reach them. As an alternative, we can offer a valued service by chauffeured car, van or minibus. Any cost of transportation is to be added to the rates displayed on the rate table of this page.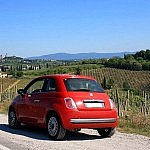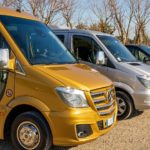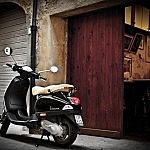 Organize your perfect vacation with us!
Working hours:
Monday through Friday 9am-6pm
Contact us