A historical winery & a contemporary winery
Availability: Mondays , Tuesdays , Wednesdays , Thursdays , Fridays
Duration: 6 hours
Rates
SO MANY EMOTIONS IN JUST ONE DAY!
A full-day wine tour dedicated to two very important wineries in the area of the Pisan Hills: a contemporary winery, built on the occasion of the full recovery of an extended farm with new vines, modern plants and totally advanced technology, and a historical winery, run by a family of nobles whose wines made the history of a whole territory. Learn about their differences and analogies and become an expert of Tuscan wines!
A technologically advanced winery with stunning views
The area of the Pisan Hills, Terre di Pisa, is experiencing a boom in investments by important winemakers from all over Italy. Our day tour shows you some protagonists of this important development in a morning guided visit to a contemporary winery where the most advanced technology in winemaking is joined to wise farming methods deriving from centuries of cultivation of the vine in this area. Our guide will give you an introduction to the terroir before showing you stunning working areas where the grapes are transformed into fantastic wines. The visit to the winery ends in a charming tasting room where the best wines are served along with local specialties.
Before reaching the second winery of the day program, the guide shows you one little rural village in a quick but interesting walk, in which you will learn a lot about the local traditions and lifestyle.
An ancient winery in a noble property
The rest of the afternoon is dedicated to another winery that produces renowned wines in the old cellar of an ancient property, owned by a family of counts. The setting is very different from the first winery since in this case the historical wine property is set in a small medieval village and the premises have been used for decades by a dinasty of famous winemakers. Here we visit the main villa and the beautiful gardens before entering the historical cellar in the basement of an old palace, where wines are aged in oak barrels lined in underground tunnels.
The visit ends with a guided sampling of the best wines of the estate accompanied by cold meats.
A full-day wine tour that gives you a complete picture of the local winemaking scenario!
What you taste
This is a list of specialties that you are likely to sample as part of the program of this tour. Please, note that the specialties of the tasting session and/or lunch may vary according to the season and the availability of the products in the day of the tour.
Whom you meet
In our tour we like showing you places off the beaten track and introducing you to Tuscan people with their personal stories, careers and characters.
You will have one of our guides with your party during the whole tour. Please, see below all the guides who can be with you. During this experience you can also meet some of the Tuscan friends involved in the events. Please, see below which friends you are likely to encounter.
Rates
Rates Table
The total rate for this activity varies according to the number of people in your party.
Check rates in the table below.
A historical winery & a contemporary winery

with wine samplings and lunch

– RATES 2019 –

NUMBER OF PEOPLE IN YOUR PARTY

TOTAL RATE

2 persons
€ 390
3 persons
€ 475
4 persons
€ 560
5 persons
€ 645
6 persons
€ 730
7 persons
€ 815
Extra Adult
€ 85
Extra Teenager (12-17 yrs)
€ 50
Extra Child (4-11 yrs)
€ 30
Rates include
A tour leader for the whole tour
A guided visit to a contemporarty winery with sampling and snack
A guided visit to a historical winery with lunch
A quick guided walk in a small rural village
Tax
Rates do NOT include
Transportation is not included in the rates above. For more info on transportation, please see the box "Transportation options".
Testimonials from our guests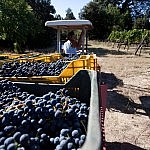 Here the message of Bianca from Canada, a touring consultant whose guests met Massimo for a wine tour during their holidays in Tuscany:
The wine tour was fabulous. Our guests were talking about it all week!
Massing was fantastic, knowledgable and clearly passionate about wine making. The luncheon was absolutely delicious. Thank you for a wonderful day!!
Cheers
Bianca
Info & Details
LOCATION OF ATTRACTIONS:
This tour takes place in the rural area of Peccioli and Terricciola, between Pisa and Volterra.

MEET-UP LOCATION:
Unless differently specified, the tour guide meets you at a meeting point near Peccioli.

DURATION:
This program takes 6.5 hours. Time for transportation not included.

AVAILABILITY:
Available all year through, from Mondays through Fridays.

LANGUAGE:
This tour is available in English language. German, French, Spanish, Russian or Italian are also available with no surcharge.

DIFFICULTY LEVEL:
Easy

CHILD FRIENDLY:
Not ideal for children

CLOTHING:
No particular clothing required.

FOOD RESTRICTIONS:
The foods served during this tour might contain gluten, lactose, nuts and alcohol. If you have any food restriction, please inform our personnel during the enquiry process.

TRANSPORTATION:
This program and its rates do not include transportation and are set on a self-driving base. For further information see the box "transportation options".
Transportation options
Organize your perfect vacation with us!
Booking office opening hours:
Monday through Friday 9am-6pm
Contact us