Pasta factory, medieval castle and oil mill tour with lunch
Availability: Mondays , Tuesdays , Thursdays , Fridays , Saturdays
Duration: 6 hours
Rates
THE BEST OF A NATION: PRIVATE TOUR FOCUSING ON PASTA & EXTRA VIRGIN OLIVE OIL
A very original private foodie tour dedicated to two very symbolic specialties of Italy: extra virgin olive oil and pasta! This tour shows you one of the most enchanting minor villages of Tuscany, where you will find a very original pasta factory  as well as a panoramic medieval castle. The final part of the tour is at a traditional oil mill where you can taste the best extra virgin olive oil and the pasta that you saw being produced a few moments before!
A visit to the smallest spaghetti factory in the world
Whether the pasta workshop of the family Martelli is the smallest in the world or not is difficult to say. It is definitely the most original! Our exciting tour to Lari, the Hamlet of Wonders, starts with a visit to an artisanal pasta factory where spaghetti and penne are made in the "old way". Our guide introduces you to the history of the family-run company and explains how a small artisanal production is able to reach the markets of all the world. The visit continues with an extremely interesting walk through the working rooms, from the giant bags of flour to the yellow packages, ready for shipping.

The medieval castle of the Vicars
Why are castles often on hilltops? Why are they built that way? What were they used for through the centuries? Why are their dungeons so gloomy? If you want to know the answers to these questions and you want them while admiring the enchanting view from a perfectly preserved century-old castle, the castle of the vicars in Lari is the right place to go! You can personally experience how the prisoners could feel when they were locked in the "inferno" dungeon.

Visit to an oil mill with sampling of extra virgin olive oil and lunch with pasta Martelli
At the end of the tour in Lari, you will follow the guide across a spectacular typically Tuscan countryside until you reach an olive oil mill. The property is in a scenic place, half-way between Pisa and Volterra. Here you will have a guided visit to the oil mill, with an in-depth explanation of all extraction methods to get the best extra virgin olive oil. The mill is owned by a farmer who is also famous in the area for the farming of Cinta Senese piglets. They give the best meat for producing excellent salami, prosciutto, lardo and finocchiona, namely the most renowned Tuscan cold meats. The tour ends with a delicious lunch made of an appetizer of the locally produced cold meats and bruschetta with olive oils from the mill, and of a main course with the pasta from the Martelli company, which you visited in Lari before.
What you taste
This is a list of specialties that you are likely to sample as part of the program of this tour. Please, note that the specialties of the tasting session and/or lunch may vary according to the season and the availability of the products in the day of the tour.
Whom you meet
In our tour we like showing you places off the beaten track and introducing you to Tuscan people with their personal stories, careers and characters.
You will have one of our guides with your party during the whole tour. Please, see below all the guides who can be with you.
During this experience you can also meet some of the Tuscan friends involved in the events. Please, see below which friends you are likely to encounter.
Rates
Rates Table
The total rate for this activity varies according to the number of people in your party.
Check rates in the table below.
PRIVATE TOUR TO THE PASTA FACTORY AND THE MEDIEVAL CASTLE IN LARI

WITH LUNCH AT THE OLIVE OIL MILL

– RATES 2019 –

NUMBER OF PEOPLE IN YOUR PARTY

TOTAL RATE

2 persons
€ 310
3 persons
€ 360
4 persons
€ 410
5 persons
€ 460
6 persons
€ 510
7 persons
€ 560
8 persons
€ 610
9 persons
€ 660
Extra Adult
€ 50
Extra Teenager (12-17 yrs)
€ 40
Extra Child (4-11 yrs)
€ 40
Rates include
A tour leader for the whole tour
A guided visit to the Castle for about 1 hour
A guided visit to the pasta factory for about 1 hour
A quick visit to a butcher's shop in town and little samplings of cold meats
A a visit to an oil mill for about 1 hour
Short stop at a local butcher's shop
Lunch with cold meats and olive oils and a pasta dish
Tax
Rates do NOT include
Transportation is not included in the rates above. For more info on transportation, please see the box "Transportation options".
Testimonials from our guests
This is an email we received from Adam who booked a weekly program of wine & food tasting tours and foodie activities.
Dear Massimo,
What can I say…actually an awful lot!
I will start out by saying that i probably had one of the most enjoyable weeks of my life with you this past week!!!
That is a mighty strong statement from someone who considers themselves a well seasoned traveler, foodie, chef and person in the know….lol!
The amount of knowledge my entire family came away with this week was nothing short of REMARKABLE!
I am as you know a trained Culinary Institute of American Chef…what the USA calls it best Chef School….the things I learned this past week i am over the moon about…I was like a kid in a candy store with you….your passion for your craft is without compromise!
Your patience and attention to detail is so refreshing that you would not move off a topic until you were certain that your point hit home….and you knew the exact moment that you hit pay dirt each time…
We have been reliving the entire week for the past few hours…we still can't decide which day or which experience we loved the most…there were so many to choose from…
Cooking with Ester for me was off the charts….her techniques and her touch can't be taught in books….it is just not possible….and to be surrounded by the scenery just sends the entire experience into lunar orbit…
I want to finish up by saying….I made you a promise….
when and if YOU can pull off a visit to NYC…you will be my guest, and it will be my extreme pleasure to show you and your family MY CITY!…..I of course will have to hire a guide to give you the history lesson that you gave me…but I will give you a food tour of NYC like no other….
From the bottom of our hearts…
Thanks to you and Andrea for a fantastic week!!!
All the best to lots of business this coming year
Adam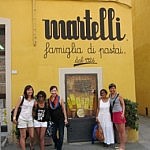 This is an email we got from Anthea, who spent a day with Arianna visiting a medieval castle and a small pasta factory in Lari before getting to an olive farm for a lunch based on local specialities.
Come stai, Arianna? It was very nice meeting you – and thanks much for a wonderful day exactly a week ago. It's hard to believe that it was only 7 days ago when we were in your beautiful country. Our hearts are still there….
Per your request, here are the photos from my camera for your keepsake. Good luck with the business and keep that beautiful smile of yours shining. Mostly, keep Tuscany the way it is…. and keep Lucca the hunter in check! 🙂
Big hugs
Anthea
Info & Details
LOCATION OF ATTRACTIONS:
This tour takes place in the rural area of Lari and Terricciola, between Pisa and Volterra.

MEET-UP LOCATION:
Unless differently specified, the tour guide meets you at a meeting point near Lari.

DURATION:
This program takes 5,5 hours. Time for transportation not included.

AVAILABILITY:
Available on Mondays, Tuesdays, Thursdays, Fridays and Saturdays (on Saturday only in the morning).

LANGUAGE:
This tour is available in English, German, French, Spanish, Russian or Italian with no surcharge.

DIFFICULTY LEVEL:
Easy

CHILD FRIENDLY:
Ideal for children

CLOTHING:
No particular clothing required.

FOOD RESTRICTIONS:
The foods served during this tour might contain gluten, lactose, nuts and alcohol. If you have any food restriction, please inform our personnel during the enquiry process.

TRANSPORTATION:
This program and its rates do not include transportation and are set on a self-driving base. For further information see the box "transportation options".
Transportation options
The destinations reached during this activity are in the Tuscan countryside, in areas off the beaten track that cannot be reached by public transport. We highly recommend renting a car or a scooter in order to reach them. As an alternative, we can offer a valued service by chauffeured car, van or minibus. Any cost of transportation is to be added to the rates displayed on the rate table of this page.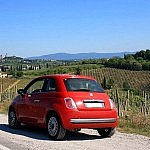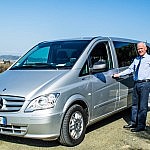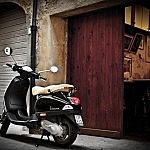 Organize your perfect vacation with us!
Booking office opening hours:
Monday through Friday 9am-6pm
Contact us